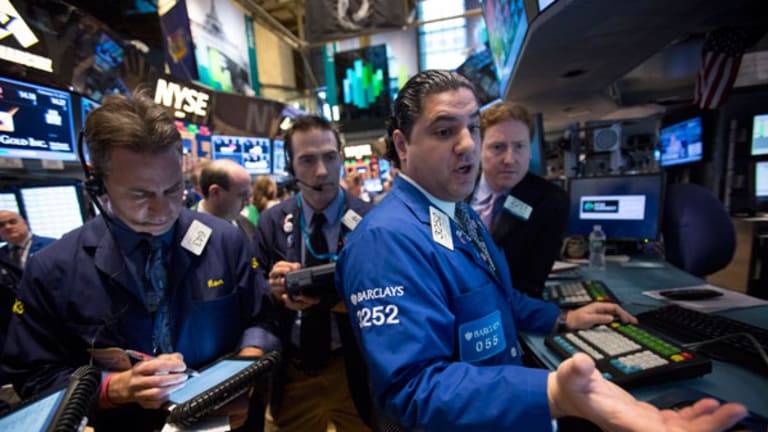 Why Rallies in S&P 500 Are Falling Short
The latest growth figures in the U.S. indicate strength, but limited rallies in stocks suggest market attention is centered on other factors.
NEW YORK (TheStreet) -- The S&P 500 has been attempting to rally after U.S. growth data indicated that the economy expanded at a rate of 2.5% during the second quarter -- more than double the rate posted during the previous three months. This result was well above the 1.7% that was initially expected by the market consensus, and the positive news is being taken alongside the reduced possibility of military actions in Syria.
With emerging markets in freefall and the potential reductions in
Fed
stimulus programs in the next few weeks, bullish investors have taken every available opportunity to capitalize on evidence of reduced uncertainty.
Read: Syria Strikes Gold Mining Stocks
However, low volumes and a longer-term outlook that involves several key event risks means that the broader arguments for continued range trading remain intact.
On the positive side, discussions over collaborative agreements between
Verizon
(VZ) - Get Verizon Communications Inc. Report
and
Vodafone
(VOD) - Get Vodafone Group Plc Report
have helped sentiment. Also,
Guess?
(GES) - Get Guess? Inc. Report
saw single-session gains of more than 10% after its second-quarter earnings report showed a better-than-expected performance on the profit side. However, falling energy stocks are helping limit rallies because reduced concern over Syria conflicts has led to lower oil prices.
GDP Not Enough to Sustain a Rally
While the latest GDP figures are encouraging (and help support the Fed's view for growth into the latter part of the year), there is little reason to believe this data will be interpreted as positive enough to generate a sustainable rally. To be sure, the 2.5% GDP reading virtually ensures the Fed will have enough positive economic momentum to begin tapering its quantitative easing programs, but these reductions in stimulus will provide additional headwinds in equities for the next few months.
Read: 5 Stocks Under $10 Triggering Breakouts
Since Fed stimulus has been one of the central drivers in the 150% rally in equities that we have seen since the March 2009 lows, reductions here could have unanticipated effects on investor sentiment as this historically accommodative era comes to an end. For those investing on broader time horizons, any dips fueled by changes in Fed policy will ultimately create buying opportunities -- but the most important figures going forward will be indicators of strength or weakness in the labor market, rather than headline GDP.
So far, tapering speculation and concerns over Syria have led to August declines of nearly 3% in the S&P 500, as rising energy costs and general market uncertainty keep bulls on the sidelines. The potential conflict in Syria is starting to look like a short-term risk, however, and market attention will soon turn back to developments in the labor market.
The main question will be whether the gradually improving unemployment rate can continue to move toward the Fed's target rate of 6.5%.
Read: Apple's iPhone 5S: What to Expect
Market performance during the month of September will be a crucial indicator of how stocks are likely to progress into the fourth quarter, as we revisit the U.S. debt debate and the Federal Reserve is forced to commit to a more definitive policy stance. A majority of the market expects the Fed to announce stimulus cutbacks at its next meeting, and analyst surveys have shown little change in this regard, even in cases where economic data has indicated weakness.
At this stage, it looks as though the market is largely prepared for the Fed to "take off the training wheels," and allow the economy to move ahead in a more natural fashion. All of this points to continued range-trading scenarios in the coming weeks, as the market waits for its next driver of sentiment.
At the time of publication the author held no positions in any of the stocks mentioned.
This article is commentary by an independent contributor, separate from TheStreet's regular news coverage.
Richard Cox is based in China, and has lectured at several universities there on international trade and finance, focusing primarily on macroeconomics and price behavior in equity markets. His articles appear on a variety of Web sites, including MarketBulls.net, Seeking Alpha, FX Street and others. Investing strategies are based on technical and fundamental analysis of all the major asset classes (stock indices, currencies, and commodities). Trade ideas are generally based on time horizons of one to six months.