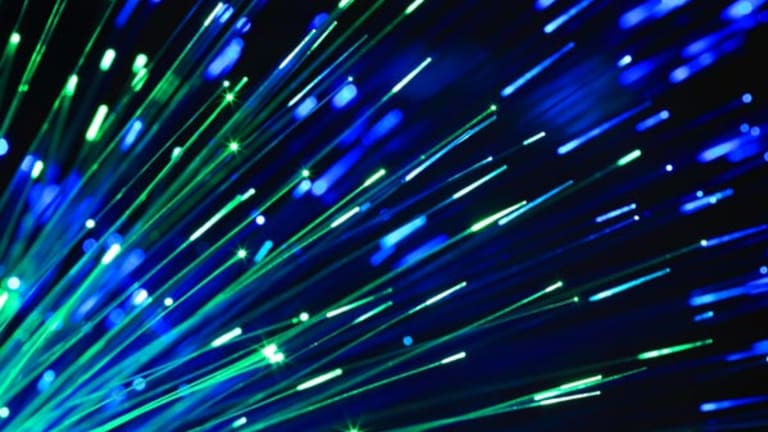 Publish date:
Why Is Kingtone Ringing Nasdaq's Bell?
Kingtone Wirelessinfo, whose chairman and founder is the chairman and founder of a Chinese reverse-merger company being probed by the SEC, rings Nasdaq's opening bell.
Kingtone Wirelessinfo, whose chairman and founder is the chairman and founder of a Chinese reverse-merger company being probed by the SEC, rings Nasdaq's opening bell.
NEW YORK (TheStreet) -- When Tao Li, the chairman and founder of tiny Kingtone Wirelessinfo (KONE) , rings the opening bell for the Nasdaq Stock Market on Monday, it could amount to an awkward moment for the equities exchange.
That's because Li, who hails from the city of Xi'an in central China, is also the chairman and founder of
China Green Agriculture
(CGA) - Get China Green Agriculture, Inc. Report
, a controversial reverse-merger company, and one of the first to draw the suspicions -- more than a year ago -- of short sellers and private investigators, who say they've unearthed evidence that the company may have committed fraud.
China Green, whose stock is listed on the
New York Stock Exchange
, not Nasdaq, has disputed the allegations made against it. But the
Securities and Exchange Commission
has nevertheless seen fit to launch an inquiry into the company. Since September, the agency's regulators have been conducting an "informal inquiry" into China Green, which completed its reverse merger in 2007. (The exact nature of the inquiry hasn't been disclosed; the SEC has declined to comment and China Green has only said that it's cooperating with the agency.)
The China Green probe is, however, part of a much broader investigation by the SEC into the possibility of widespread accounting and stock fraud at a raft of small Chinese companies that have sold equity in the U.S. over the last five years or so, according to people with knowledge of the investigation. Most of these companies have gained stock registrations in the U.S. through the controversial (but legal) reverse-merger process. Critics say the process is sometimes abused by dubious stock promoters and company executives who want to dodge the stricter due-diligence inspections that regulators use to examine straight-forward IPOs. Defenders say reverse mergers are an efficient and cost-effective way to help small companies raise needed funds.
The regulatory heat on reverse merger companies from China in particular has been so intense this year that Nasdaq has just recently moved to make it harder for reverse-merger stocks to gain listings on its exchange -- a development
first reported by TheStreet last month
.
And yet Nasdaq has chosen to invite Tao Li to its podium in Times Square. An exchange spokesman declined to comment on the matter, except to say, in a prepared statement, "Market open and close ceremonies are visibility opportunities for our listed companies and other organizations including non-profits as well as for individuals such as entertainers, athletes and politicians."
Both Nasdaq and the NYSE Amex have come in for some sharp criticism for their dealings with Chinese small caps, especially those that have emerged onto U.S. markets through reverse mergers, sometimes called reverse takeovers, or RTOs. Critics say the exchanges have missed (or, worse, ignored) the dubious nature of many Chinese companies -- refraining from performing suitable due diligence -- just to expand their listings business and increase revenue.
True, Kingtone isn't a reverse merger. It arrived in the U.S. through an initial public offering in May 2010. (Li's bell-ringing on Monday is meant to celebrate the one-year anniversary of Kingtone's Nasdaq debut.)
But the links between China Green and Kingtone run deep. The two companies have shared the same office building in Xi'an for the last decade. A Kingtone subsidiary owns the property and serves as CGA's landlord. Kingtone's 36-year-old CFO, Ying Yang, served as China Green's CFO for 19 months starting in September 2008. (She made the switch right before the Kingtone IPO last year and will stand next to Li at the Nasdaq opening-bell ceremony.)
One of Kingtone's underwriters, the California investment bank
Roth Capital
, has served as a China Green underwriter.
China Green is also a Kingtone customer. Although it bills itself as a "China-based developer and provider of mobile enterprise solutions," Kingtone manufactured and installed "fertilizer processing equipment" for China Green in 2009, according to SEC filings made by the two companies. Those documents show that Kingtone received more than $1.3 million for those service. Kingtone, which reported revenue of $14.5 million in 2010, also received about $450,000 for outfitting China Green's "smart greenhouses" with sensors and other wireless monitoring gadgetry, according to the filings.
Like many Chinese entrepreneurs who have tapped U.S. equities markets, Li has built a sprawling, complex enterprise in China over the last 15 years or so. He controls a diverse array of businesses and companies and has carved out certain of them to spin off in the U.S., selling stock on this side of the Pacific and taking the money back to the mainland.
As it turns out, it's been an inauspicious 12 months for Li's Kingtone Wireless. The stock priced at $4 in its May 2010 debut -- netting $16 million for the company -- but has deflated since spiking above $5 in December. It traded recently at $1.88. The stock never gained much traction with institutional investors. As of Dec. 31, a paltry 3.66% of the company's common stock was held by a total of six institutions, according to data compiled by
.
China Green, on the other hand, has been waging a war of words since the middle of 2010 with short sellers and the research firms they hire to investigate companies they're interested in betting against. China Green came public in the U.S. through a reverse merger in 2007 and has seen its stock trade as high as $18. It reached that point in December 2009, not long after it switched to the NYSE from the Amex, to which it was uplisted eight months earlier from the over-the-counter bulletin board.
-- Written by Scott Eden in New York
>To contact the writer of this article, click here:
Scott Eden
.
Readers Also Like:
Chinese Reverse Mergers Continue Wild Ride
Fund Guru Loses on AIG, Citigroup, Goldman
Disclosure: TheStreet's editorial policy prohibits staff editors and reporters from holding positions in any individual stocks.