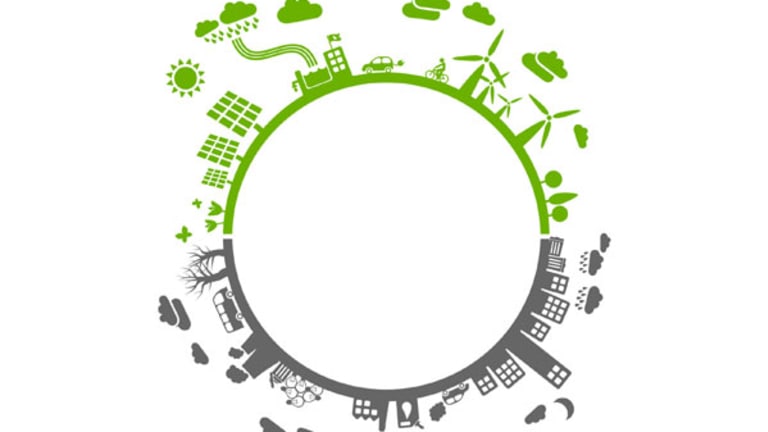 Why is Cash-Strapped LDK Solar Opening Its Wallet?
China's LDK Solar agrees to pay German solar giant $225 million over the next two years, but that's just the tip of LDK's cash-short iceberg.
NEW YORK (TheStreet) -- Investors have shown recent interest in shares of Chinese solar company LDK Solar (LDK) , but some might be wondering why the perennially cash-strapped LDK is opening up its wallet for Germany solar company Q-Cells.

LDK announced earlier this week that it would repay Q-Cells roughly $225 million resulting from a dispute over a long-term solar wafer supply contract, with $135 million being paid before the end of this year, and the entire payment by the end of 2011.
The LDK payment removes the legal issue -- though both companies had agreed to not head to court last year. The LDK early repayment of the money originally loaned to it by Q-Cells also may have helped to seal the terms of a long-term supply contract - LDK and Q-Cells agreed on a new contract through 2018.
The deal does not put an end to supply contract legal disputes for either LDK or Q-Cells.
Q-Cells began a legal dispute with
Suntech Power
(STP)
this month. LDK began a legal fight with
Canadian Solar
(CSIQ) - Get Canadian Solar Inc. Report
over early termination of a 10-year supply contract, which LDK claims Canadian Solar was not honoring and for which Canadian Solar wasn't making required payments.
>>Suntech Power, Q-Cells in Legal Spat
Bachman said the prepayment to Q-Cells is not the disease, but a minor symptom highlighting how serious the cash issues continue to be for LDK Solar. The Q-Cells payments to be made in 2010 and 2011 simply add more stress to an already seriously stressed balance sheet. LDK Solar has one of the worst, if not the worst, balance sheets in solar, especially since investors are interested in shares of the Chinese solar wafer maker.
Close to 5 million shares of LDK were traded on Tuesday -- 1.5 million more shares than average trading volume -- and LDK shares are at their highest price since May.
There was some market chatter on Tuesday that LDK trading volume was higher because of take-out speculation, though it's hard to imagine what company would want to take out LDK given its near $2 billion in debt.
There was a new research report on Tuesday from solar analyst Mark Bachman of Auriga Securities making the argument that there's a fair chance that LDK Solar will soon be forced back to the equity markets to complete a dilutive secondary.
"There are very few possibilities for them to raise dollars right now," the Auriga Securities analyst concluded.
In particular, Bachman cautions investors interested in LDK to consider its outstanding $400 million in convertible notes, which investors have the right to demand payment on by April 2011.
"With the stock trading around $8, and a strike price on the 2013 convertible debt of ~$39/ADS, we find it likely that the $400 million in outstanding convertible bonds will be put back to the company in April 2011," the Auriga analyst wrote in a note on Tuesday.
The overall cash situation for LDK is difficult. The Chinese solar company has roughly $1.6 billion in short-term obligations and another $500 million in long-term debt. Operating cash flow was estimated between $100 million and $150 million on the second quarter conference call and the company has previously committed $200 million in capital spending in the second half of this year.
The LDK balance sheet position leads Bachman to the conclusion that a dilutive equity deal is on the horizon. If LDK wanted to raise $250 million, it would need to issue 30 million shares, compared to its outstanding ADS share count of 130 million shares.
The analyst thought it was important to note the likelihood of an equity deal because investors seem interested in making a play on LDK as an undervalued stock that could have significant upside due to its continued wafering ramp up and its new polysilicon plant production. Wafer pricing has also been rising.
LDK is also planning to build a solar manufacturing facility with 1 gigawatt of solar cell and 500 megawatts of solar module capacity.
The Auriga analyst said some investors are only thinking of the convertible notes in terms of the 2013 conversion date, not the right to demand repayment next April.
"People are always trying to figure out the upside, but there are serious cash flow problems," the analyst said.
That said, it's not as if the shorts are unaware of the LDK balance sheet. There were more than 11 million shares short of LDK Solar as of the last Nasdaq report on Aug. 31.
Additionally, even analysts skeptical of LDK Solar cash position aren't yet convinced that the Chinese solar company has run out of options.
Paul Leming, the Soleil Securities analyst who has covered LDK Solar for a long time, thought that the Chinese solar company actually improved its cash position as of the last quarterly report. Nevertheless, the improvement didn't change the basic nature of the game for LDK, which remains trying to balance a seriously stressed balance sheet.
Leming says that the question being asked by the Auriga analyst, as to whether LDK has no choice but to compete a dilutive secondary equity deal, is a fair one to ask. However, Leming thinks that being a Chinese solar company had its advantages when it comes time for jingling the cup.
"There is a bias on my part of thinking that the banking and capital markets structure in China operates by a different set of rules than what we are used to, and I think one way or another financing is always available to these very large, visible, well-known China-based companies," Leming said.
As a result, the Soleil analyst finds it hard to believe that LDK will ever face a true liquidity crisis, due to China's version of the 'Too Big to Fail' mentality in supporting its own green energy stocks. Some continue to claim that China's support for its green energy companies violates fair trade laws.
>>Steelworkers Union Attacks Chinese Green Energy
The Soleil analyst says the way to avert any immediate crisis for LDK is for the Chinese solar company to always have a significant credit line available. Additionally, LDK can probably find refinancing to roll much of its short-term debt into long-term debt. Yet even if LDK Solar gets all of its short-term debt off its balance sheet, Leming concedes there could still be a liquidity crisis as of April 2011 when the convertible notes come up for cash out.
Leming said that LDK's chairman has not hidden the fact that it would do an IPO of its polysilicon plant business. "They would like to get a few hundred million out of that business by tomorrow morning if they could," Leming said.
LDK sold off a 15% stake in the polysilicon business last year, and both Leming and Bachman think that another equity stake deal for the polysilicon business is probably a likely cash raising strategy for LDK. Leming would not rule out LDK facing the convertible coming due by issuing yet another convertible note, though it remained an open question as to whether it could executive a deal like this on attractive terms.
In any event, it seems that for LDK Solar the date of April 2011 and the convertible note repayment option might force the company's hand even more than Q-Cells demands.
"I go through every option, and find that an equity offering is the leading candidate and will be highly dilutive," Bachman said.
Solar stocks have not been testing the U.S. capital markets appetite lately.
Jinko Solar
(JKS) - Get JinkoSolar Holding Co. Ltd. Report
was the only significant IPO of the year, and it's also been rumored as a potential candidate for a secondary raise, though its management hasn't spoken about that option. Auriga's Bachman said Jinko has already positioned itself to grow to capacity of 700 megawatts, but if it wants to get to 1 gigawatt -- and what Chinese solar company doesn't? -- the secondary becomes something for investors to monitor.
Trina Solar
(TSL)
was the only Chinese solar stock to do a secondary in the U.S. this year, and that was way back in March.
--Written by Eric Rosenbaum in New York.
>To contact the writer of this article, click here:
NAME
.
RELATED STORIES:
>>Suntech Power, Q-Cells in Legal Spat
>>Steelworkers Union Attacks Chinese Green Energy
>To follow the writer on Twitter, go to
.
>To submit a news tip, send an email to:
.
RELATED STORIES:
Copyright 2009 TheStreet.com Inc. All rights reserved. This material may not be published, broadcast, rewritten, or redistributed.