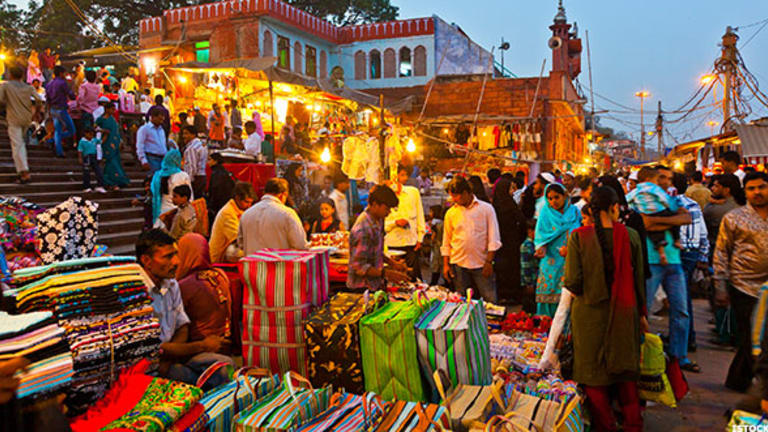 Publish date:
Why India, the Last BRIC Champ Standing, is Losing Its Edge
Narendra Modi's election as India's prime minister in 2014 was supposed to bring riches to investors in the country's stock market. Lately, it's been nothing but disappointment.
Narendra Modi's election as India's prime minister in 2014 was supposed to bring riches to investors in the country's stock market. Lately, it's been nothing but disappointment.
India, the last great hope of emerging-market investors, is losing its charm.
The MSCI India Index, which tracks the country's stock market, has plunged 11% in 2016, more than double the emerging-market average. Foreigners pulled a net $1.9 billion out of Indian stocks in January alone, wiping out more than half of last year's inflows into the market.
Indian share prices had held firm in recent years even as Brazil, Russia and China -- the other three so-called BRIC countries, which collectively were supposed to be engines of global growth -- floundered. The speculation was that Prime Minister Narendra Modi, who took office in May 2014, would institute sweeping economic changes such as a nationwide goods and services tax and more powerful eminent-domain laws, while also narrowing stubborn budget deficits.
Instead Modi's proposals have been stymied in the upper house of Parliament by his main opposition party, the deficit has hung around 4%, and global investors are now in full retreat from risky emerging-market assets, including India's.
"You're used to seeing India outperform, and all of a sudden it's getting hit," said Craig Botham, an emerging-market economist in London for the $450 billion money manager Schroders. "People started to lose faith."
Such fading optimism compounds losses for investors who have suffered three consecutive annual declines in the benchmark MSCI Emerging Markets Index, capped by a 15% drop last year.
In India, the past year's worst performers include State Bank of India, down 45% in rupee terms as bad loans surged. Port operator Adani Ports has tumbled 37% on declining shipments of dry-bulk commodities such as coal; investors are also disappointed with the pace of government infrastructure spending. The Indian currency has weakened 10% against the dollar, further increasing losses for U.S.-based investors.
Even after the recent slide, there are concerns Indian stocks haven't fallen far enough. That's partly because so many emerging-market investors are still clinging to the country as the one bastion where growth remains sound. So demand for the shares is buoying valuations.
"We got to a position where everybody was and is overweight in India," said John-Paul Smith, a former Deutsche Bank analyst who now runs the emerging-market analysis firm Ecstrat in London. "Our view has been you won't make money there in absolute terms."
There are still reasons to be bullish on India, though, especially at a time when economists are cutting global growth estimates. India grew 7.3% in 2015, overtaking China as the world's fastest-growing major economy, according to the World Bank.
India's growth is projected to accelerate to 7.8% in 2017, based on estimates compiled by Bloomberg. Brazil and Russia, meanwhile, are mired in multi-year recessions while China is slowing from a 2015 clip of 6.9% that many investors suspect is inflated.
"India is a market that, from a long-term perspective, is compelling," said Jorge Mariscal, chief investment officer for emerging markets at UBS Wealth Management. "It's been punished along with other emerging countries because risk appetite has been very low."
Eurasia Group founder and political scientist Ian Bremmer wrote in the January issue of Forbes magazine that India was the only BRIC country "not imploding."
The term BRIC was coined in 2001 by former Goldman Sachs Chief Economist Jim O'Neill to signify the four developing countries that were going to siphon economic power away from established markets in the U.S., U.K., Europe and Japan.
Unlike Russia, Venezuela and other developing countries that are big commodity exporters, India imports most of its oil, so it's benefitting from this year's plunge in crude prices below $30 a barrel. Another plus for India is a labor force that's set to grow for at least 25 years, while China's shrinks because of its three-decade-old one-child policy, said Marten Hoekstra, chief executive officer of Emerging Global Advisors, a New York-based money manager that oversees $1.6 billion, including three India funds.
The country's stocks are trading at an average 14 times forecast earnings, versus 11 for the broader emerging-market index, he said.
"India is definitely priced at a premium, but it also has a premium growth rate," Hoekstra said.
A big test of the country's budget discipline will come Feb. 29, when Modi's administration is scheduled to unveil its plans for fiscal 2016-2017. Currently the government is targeting a deficit of 3.5%. Although that's down from 6.5% in 2010, the original goal of 3% for the coming year has been pushed back to 2018. There's a risk of further slippage if the government fails to slash fuel and food subsidies, Moody's Investors Service said in a report this week.
Tim Love, director of emerging-markets equity strategies for the $125 billion fund manager GAM in London, said he likes drugmaker Sun Pharmaceutical and Asian Paints, both poised for fast-growing sales in the Indian market.
Those easy picks are few and far between, he said.
"It's been very difficult to extract consistent outperformers with so much noise in the macro backdrop," Love said. "Market patience is getting pretty thin at this point."