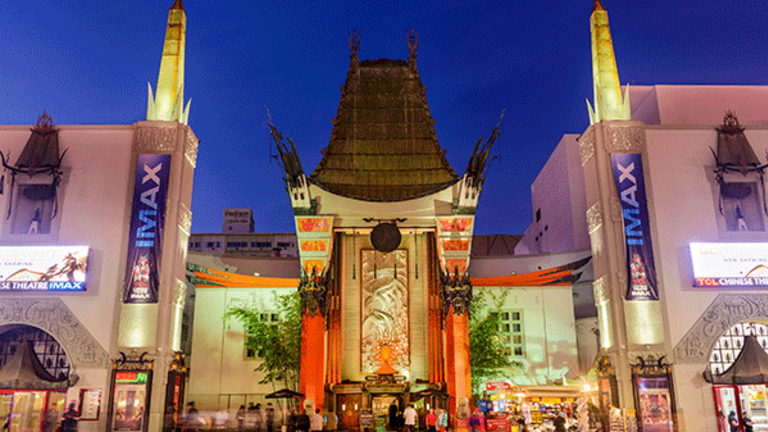 Why China Will Soon Be Hollywood's Largest Market
Although studio executives didn't give the People's Republic a second thought just a few decades ago, China is on the verge of becoming the largest movie market in the world.
For the hundred years that the movie industry has been around, the United States has been the largest market for films. But as early as next year, a new country may hold that distinction.
Indeed, some analysts expect China's yearly box office revenue to exceed that of the U.S. by the end of 2017. And even if that's an optimistic estimate, China will almost certainly have overtaken the United States by the end of 2018.
For proof, just take a look at the growth rate in the China film market over the past few years. In 2014, China's box office grew 27% from the previous year to $4.55 billion. In 2015, it grew 41% to $6.78 billion.
Due to a weak crop of films and a slowdown in China's GDP growth, 2016 may not see such a remarkable uptick. However, even with the speed bump, by the end of 2018 China's film market should surpass the $10.7 billion in yearly box office revenue that the United States has averaged over the past five years.
"North America will probably play second fiddle to China within the next two years," said Paul Dergarabedian, senior analyst at Comscore (SCOR) - Get comScore, Inc. Report . "And by the end of the next decade (2030), China's film market could generate double the revenue of North America's."
That's an incredible result, considering that China was barely a box office factor not too long ago. "The only reason you would talk about China 20 years ago would be to learn about piracy," said James Schamus, a veteran film producer in the industry. "It is night and day, the difference between China then and now."
The increased importance of revenues from China is in keeping with the globalization of the film market over the past few decades. For instance, the highest-grossing film of 1989, Tim Burton's "Batman," saw 61.1% of its worldwide box office total come from North American theaters, with the other 38.9% coming from foreign territories.
The latest film starring the Caped Crusader, however, shows how the tides have turned. "Batman v. Superman" grossed only 37.9% from North America and saw 62.1% of its total revenue from international markets--almost an exact reversal of the 1989 "Batman."
What's behind the spike in international grosses in recent years? According to Daniel Loria, editorial director at BoxOffice Media, the trend can be attributed to technological innovation within the film industry.
"Exhibition didn't start to boom overseas until digital cinema took over analog," he says, referring to the fact that movies are now largely delivered to theaters via digital files rather than physical reels of 35-millimeter film. "At that point, it became significantly more affordable to deliver prints of movies, and so distribution became democratized."
Ever since that important shift to digital cinema, exhibitors and studios have capitalized on the facility with which they can now show films to global audiences. Movie theaters are being constructed at a historically quick rate across the world. For example, 8,035 screens were erected in China in 2014 alone, which is more than 20% of the 39,000 screens that the United States currently has. And audiences are attending the newly constructed theaters in large numbers, propelling films such as "Batman v. Superman" to international grosses that are competitive with those from North America.
And "Batman v. Superman" is just the tip of the iceberg when it comes to films making the majority of their money overseas. In recent memory, 2013's "Pacific Rim" made 75.2% of its total gross overseas, with its revenue from China ($111.9 million) outstripping revenue from North America ($101.8 million). "Furious 7" was even more impressive last spring, making 76.7% of its whopping $1.5 billion worldwide gross from international territories. Again, China box office ($390.9 million) surpassed North American box office ($353 million).
The recent release of "Warcraft" perhaps best exemplifies how international revenues are now able to determine a film's overall success. "Warcraft," which cost a hefty $160 million to make, was a domestic bomb, grossing only $47.2 million in the United States. Twenty years ago, that result probably would have meant game over for distributor Universal. However, that $47.2 million was only 10.9% of the film's worldwide total gross. "Warcraft" made a whopping $385.8 million, or 89.1% of its total box office, from international territories. That figure includes a stunning $220.8 million from--you guessed it--the People's Republic of China.
It is important to note, however, that "Warcraft" did have a bit of help over its massive run in China. The film was partly produced by Legendary Entertainment, which was bought by the Chinese conglomerate Wanda Group in April of this year. According to Jonathan Papish, film industry analyst at China Film Insider, Wanda Group is perhaps best known in China for its real-estate development. "They're known for their shopping complexes, their Wanda Malls," says Papish. However, the conglomerate also owns a theater chain, Wanda Cinema Line. Wanda has also expressed interest in buying stakes in both Lionsgate (LGF)  and Paramount Pictures. The corporation was founded and is owned by Wang Jialin, now one of the richest men in the country.
In order to ensure the success of "Warcraft," Wanda took steps to make sure the film was well-positioned to do well among Chinese audiences. The corporation rolled out a major promotional campaign for the film, supplying moviegoers with promotional seat covers that allowed them to choose the side of either the Horde or the Alliance, the two rival groups in "Warcraft." And it's likely that the film's ties to Wanda allowed it to secure a release date that lined up with the rest of the film's international rollout.
And China is not the only country where Wanda holds sway. Indeed, the conglomerate has deep ties to U.S. movie-going, through its majority stake in AMC Entertainment Holdings, Inc.  (AMC) - Get AMC Entertainment Holdings, Inc. Class A Report . That means that Wanda owns all AMC Theaters and will soon own Carmike Theaters if the proposed deal goes through. AMC's recent deal to acquire the European cinema chain Odeon & UCI Cinema Group gives Wanda a true global footprint.
However, an arsenal of movie theaters across the globe does not mean uniform movie-going habits at all of those theaters. For example, in the U.S., it is more difficult to get younger audiences to come to the movies than older. The opposite is true in China.
"China now has the youngest average age of moviegoers out there," says Schamus. "And it's getting younger all the time."
Another difference between the two markets is evidenced in ticket-purchasing trends. In North America, audiences rarely buy tickets before arriving at the movie theater, although exceptions are often made for movies with high anticipation (such as the latest "Star Wars"). It's estimated that about 20% of the tickets sold in North America are sold online.
In China, however, 57.5% of all tickets are purchased online, mostly through ticketing apps--financed by companies such as Alibaba (BABA) - Get Alibaba Group Holding Ltd. Report --that often give discounts to those who use their services (compare that to Fandango, which charges a convenience fee). A price discount will usually be subsidized by the company that is bankrolling the ticketing app, in order to gain a leg-up on the ticketing competition and collect information on what kinds of audiences are drawn to a particular movie. The company will often then partner with a distributor to gain information about the demographic that is buying tickets.
Usually, these discounts will be for domestic films, which is one of many advantages that homegrown content enjoys in China's film market. Chinese regulators maintain control over when foreign films get screened, and often stack the release calendar to give domestic films a leg-up over Hollywood blockbusters. For example, in 2012 Chinese regulators scheduled superhero movies "The Amazing Spider-Man" and "The Dark Knight Rises" for release on the same day in China. Both ultimately put up decent numbers, but it was a clear attempt to cross-cannibalize Hollywood productions so that domestic films could thrive. Censors also reserve the right to block a film's release because they object to content, as was the case with "Ghostbusters" recently (because the film promoted superstition!).
Another way that the Chinese government ensures that homegrown movies do well is by maintaining a quota of foreign films that are allowed to release in China. Only 34 films that aren't released by a Chinese distributor can screen in the Middle Kingdom per year, and 14 of those films have to have a premium format release (3D, IMAX, etc.). These movies are released under a revenue-sharing model where the studio retains the rights to the movie in China (as well as 25% of the box office) but concedes scheduling rights to Chinese censors.
China has shown a willingness to accommodate more Hollywood content in the future, however. This year, the country shortened its annual blackout period, wherein foreign films are barred from showing in theaters in the interest of promoting local content. That period, which typically lasts from late June to early August, was cut off early this year when "The Legend of Tarzan" received a July 19 release date. Additionally, the foreign film quota is expected to expand next year, as the Motion Picture Association of America (MPAA) is going to re-negotiate its deal with the Chinese government.
There is another, seldom-discussed way that foreign content can get through Chinese regulators outside of the 34-film quota. Studios can sell their film to a Chinese distributor that collects all revenue that the movie makes in the country. For example, Lionsgate sold last year's "The Last Witch Hunter" to China Film Group, which released the film in China in January to solid box office results.
Currently, the number of foreign films in China that are allowed to be sold into release is limited to 50. However, that quota could expand even sooner than the revenue-sharing one. "I predict that the number will change very soon," says Papish. "When that happens, you'll see smaller movies from Hollywood coming over."
Currently, Chinese audiences usually only get to see big-budget Hollywood productions that are dependent on revenue from China to succeed. Sure, margins are smaller for these studios in China -- they get 50% of ticket sale revenue in North America compared to the 25% they receive in China -- but that 25% is often integral to a movie's success. Lionsgate's recent film "Now You See Me 2" made a huge $97.1 million in China, meaning that the studio will likely see about $24 million in revenue. That's not a far cry from the $32.5 million that the studio is likely to receive from North American ticket sales, which are petering out at about a $65 million total take.
In fact, "Now You See Me 2" proved so popular in China that Lionsgate is working on a Chinese-language spinoff of the film that will be co-produced with Beijing-based film company Leonus Pictures. What's more, Leonus Pictures reportedly advised Lionsgate on how best to produce content for the Chinese market when in pre-production on "Now You See Me 2."
Such partnerships will increasingly become the norm as the Chinese film market grows into the world's largest. "Kung Fu Panda 3," released earlier this year, was a co-production between Dreamworks Animation and Oriental Dreamworks, a Shanghai-based production company founded by Dreamworks and Chinese investors. A third of the movie was made in China, and the lip movements of the characters were animated twice, once to synchronize to English voice-acting, and again to synchronize to Mandarin voice-acting. The film, perhaps unsurprisingly, grossed more in China than it did in the U.S., $154.3 million to $143.5 million.
The financiers of the upcoming film "The Great Wall" will hope for the same kind of success between North America and China. The film, which was filmed entirely in China, was funded by a mixture of American and Chinese financing companies, and it features an ensemble of American stars (Matt Damon, Willem Dafoe) and Chinese stars (Andy Lau, Wang Junkai). The film will be released in the People's Republic in December and in the United States in February of next year.
"The Great Wall," which cost $135 million to make, could be the first blockbuster to target both North American audiences and Chinese audiences in such an intentional fashion. The director, Zhang Yimou, recently told Entertainment Weekly that the film is using "Hollywood filmmaking to introduce Chinese culture." The film will be a healthy dose of diversity for American audiences that rarely see Asian actors in anything but small roles on the big screen. If the movie is successful, more Chinese-American co-productions could be on the horizon.
Though pirated films in China primed audiences there for wide exposure to Hollywood blockbusters, the booming economy and surging population in the People's Republic have left American studios with an attractive market to target with their movies. The theater infrastructure growth in China and advanced technology facilitated distribution in China, and studios are tapping into that opportunity by gearing their productions toward audiences in Shanghai or Beijing instead of New York or L.A.
That's left some disgruntled. Richard Berman, the executive director of the Center for American Security, fears that China is wielding its box office power to control the film industry in America.
"I'm worried that the people of China are implicitly or overtly controlling our content," says Berman. "The government might be forcing studios to inject pro-Chinese messages into films."
Berman's Center for American Security recently staged a protest outside of an AMC theater in Times Square, citing the belief that Wanda's "true desire" was to sell "Communist propaganda as well as popcorn."
Though this paranoia may be a minority opinion, the Chinese influence on Hollywood is something that studios are going to have to get wise to in order to boast big numbers at the box office. And as some fear flagging box office revenue in North America -- amid the popularity of streaming services that has dropped theater attendance -- China can be the shot in the arm studios need to keep their profits robust, if only they can tailor content to attract the movie-going public there. A country that was barely given a second thought in Hollywood 20 years ago is now, perhaps, the most significant market in the world. Although China's expansion may be the most meteoric, every foreign market has grown in significance, which means only one thing.
"You're going to see more co-productions, strategic partnerships, and a shift towards utilizing the resources of China," says Dergarabedian. "Ultimately, it's all about creating movies that resonate not only with the China culture, but also with a global audience."