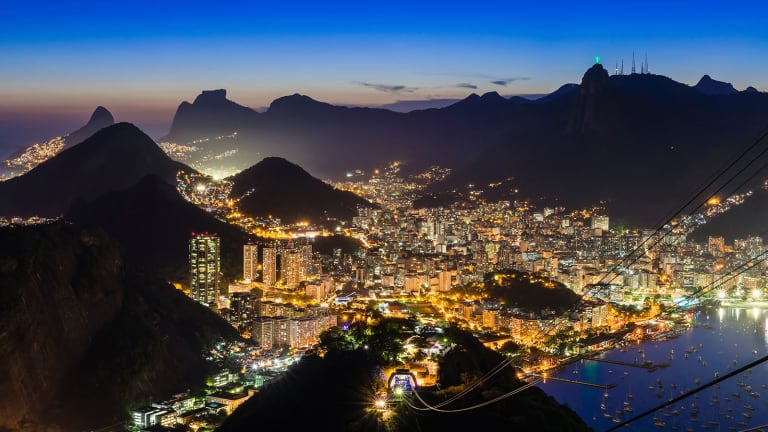 Publish date:
Why Brazil's Economic Woes Are About To Get Even Worse
While the Brazilian president's impeachment could lead to a change in financial stewardship, the chances of an economic turnaround next year are slim. Goldman Sachs says the country risks depression.
While the Brazilian president's impeachment could lead to a change in financial stewardship, the chances of an economic turnaround next year are slim. Goldman Sachs says the country risks depression.
This year's plunge in Brazilian stocks is set to resume as investors lose hope that an impeachment of President Dilma Rousseff will lead to a quick economic turnaround and Goldman Sachs warns the country could be headed into a depression.
The iShares MSCI Brazil Capped (EWZ) - Get Report exchange-traded fund, which tracks the country's stocks, has gained 3.2% in the past week on speculation that Rousseff's ouster would usher in a replacement who could plug deficits, help the economy stop shrinking and reverse a plunge in the country's currency.
Instead, the impeachment process could increase political turmoil, hurting investor confidence and delaying needed budget cuts, Shelly Shetty, head of Latin American sovereign coverage for Fitch Ratings, said last week in an e-mailed statement. And Goldman Sachs says Brazil's gross domestic product could contract so much that it amounts to a depression, fueled by high inflation, low consumer confidence and high levels of household debt, not to mention the government's inability to obtain financing at reasonable costs.
"Brazil still needs financing, commodity prices are low, GDP is more in the red than we thought six months ago, and oh, by the way, you've got rising unemployment and bad debts set to take off next year in the Brazilian banking sector," said Stuart Quint, an investment manager at Brinker Capital, a Berwyn, Pa.-based firm that oversees $17.5 billion. "Those are things that don't change even if the impeachment is successful."
Despite its gain in the past week, the iShares Brazil fund has still tumbled 37% this year, following losses of 16% in 2014 and 18% the year before that.  
Brazil's GDP shrank by a greater-than-expected 4.5% in the third quarter, even worse than the 3% decline recorded in the second quarter, according to Goldman Sachs. For all of 2015, output will fall 3.6%, followed by a 2.3% contraction in 2016, the firm projected in its Dec. 1 report.
The country's inflation rate surged to 10.5% in November, the fastest in 12 years, partly driven by a falling exchange rate, which makes imports more expensive, according to PNC Financial Services Group. As a result, the Brazilian central bank may have to raise interest rates, further stalling any economic recovery, Bill Adams, a senior international economist with the bank, said in an e-mail.
The outlook for Brazilian stocks dimmed further after the arrest last month of Andre Esteves, head of the investment bank BTG Pactual, as part of an ongoing corruption probe. The company's shares have fallen by more than half since the arrest. The scandal already has claimed several top executives of the country's largest corporations, including the chief of construction giant Odebrecht.
BTG Pactual, whose reach and influence grew as the country's economy expanded in the early 2010s, "was supposed to personify the new Brazilian private sector," said John-Paul Smith, a former Deutsche Bank emerging-market strategist who now runs research firm Ecstrat in London. Now, "there's a bit of a who's-next feeling about the whole thing."
Shares of the mining company Vale, one of the 20 most heavily-weighted stocks in the Brazilian index, have tumbled 25% in the past month after the collapse of a dam at the Samarco iron ore mine killed at least a dozen people and spilled toxic mud into a major river system. The Brazilian government said it would sue Vale and partner BHP Billiton for more than $5 billion. The Wall Street Journal reported yesterday that Samarco missed local prosecutors' deadline for the delivery of an emergency plan that could be used to respond to any additional accidents.  
The damages come as Vale is already suffering from a plunge in global demand and prices for iron ore and steel. 
"Having a big fine at a time when you're trying to preserve cash is not quite what you're looking for," Smith said.
Rousseff's troubles appear to be deepening. Brazil's Congress voted yesterday to stack the impeachment committee with members who are opposed to her, Reuters reported.
Whatever the outcome, it seems certain that the process will take a long time to play out, distracting lawmakers from addressing the country's deepening economic ills, Quint said. 
"It throws into the issue political paralysis in the midst of economic stagnation, when you really need fiscal and structural reform,'' Quint said.