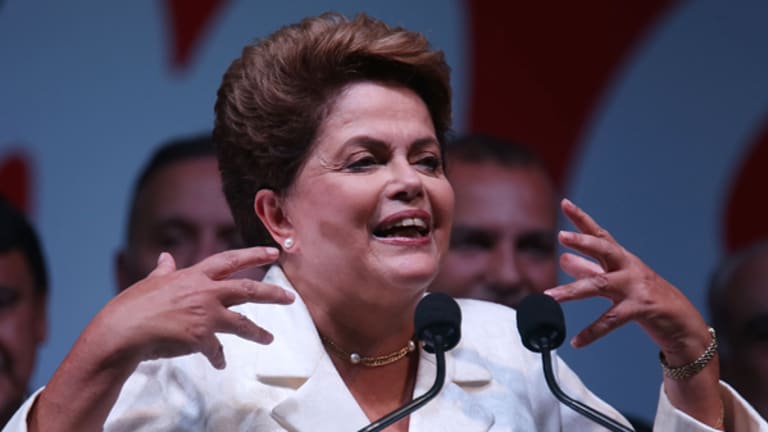 Publish date:
Why Brazil Could Prove to Be the Best Place to Invest in 2015
Some investors are looking to buy assets on the cheap in Brazil, with the stock market and the real at historic lows.
Some investors are looking to buy assets on the cheap in Brazil, with the stock market and the real at historic lows.
NEW YORK (TheStreet) -- Some big investors are looking to buy assets on the cheap in Brazil because the stock market is down 25% off its highs in 2011 and Brazil's currency, the real, at its lowest level versus the U.S. dollar since 2005.
Among investors taking an interest is John Tsui, managing principal of Peninsula House. Tsui cited both Brazil and Spain as places where he is especially interested in investing at the moment due to plunging asset prices.
That's not surprising to Scott Bok, CEO of investment bank Greenhill & Co. (GHL) - Get Report , which entered Brazil a year ago with the opening of an office in São Paolo.
"The smart money is going to look and say 'everything is marked down,' and if I'm a U.S. dollar investor or an investor with any other currency and I'm looking to expand in Brazil it's a pretty interesting time to do it," Bok said.
Among factors contributing to Brazil's weakness is an overly interventionist government and a sharp selloff in commodities, according to Peter Lannigan, head of emerging markets strategy at CRT Capital Group.
Also, as with most emerging markets countries, corruption is a major risk. On Monday, Brazil's comptroller Jorge Hage charged with fighting corruption, resigned amid a widening bribery scandal implicating Brazilian energy giant Petrobras (PBR) - Get Report and the Workers Party of recently reelected Brazilian President Dilma Rousseff.
While Lannigan doesn't see Rousseff shifting meaningfully to a more business-friendly stance during the remainder of her time in office, the analyst still likes Brazilian equities and currencies in the long term. However, Lannigan sees dollar-denominated Brazilian debt as too pricey on a risk-adjusted basis, in concert with other dollar-denominated sovereign and corporate debt generally.
The performance of Brazil's stock market, Bovespa, is weighted heavily toward commodities. Just two companies --Petrobras and mining concern Vale (VALE) - Get Report -- comprise 17% of the Bovespa index by market cap.
The iShares MSCI Brazil (EWZ) - Get Report , an exchange-traded fund, is more heavily weighed toward the financial sector. It was down 3.25% in late trading Monday. Not as bad as U.S.-listed shares of Vale (down 3.70%) or Petrobras (down 6.18%), but hardly what one could consider decoupled from the energy sector.
Investors interested in looking further at Brazil while steering clear of energy may want to look at other U.S.-listed Brazilian stocks.
Unlike many other countries that are net exporters of commodities, Brazil's economy is well-diversified as a result of postwar policies encouraging such diversification, according to CRT's Lannigan. Lannigan says American Depositary Receipts of Brazilian companies generally track closely with how the shares trade on the Bovespa.