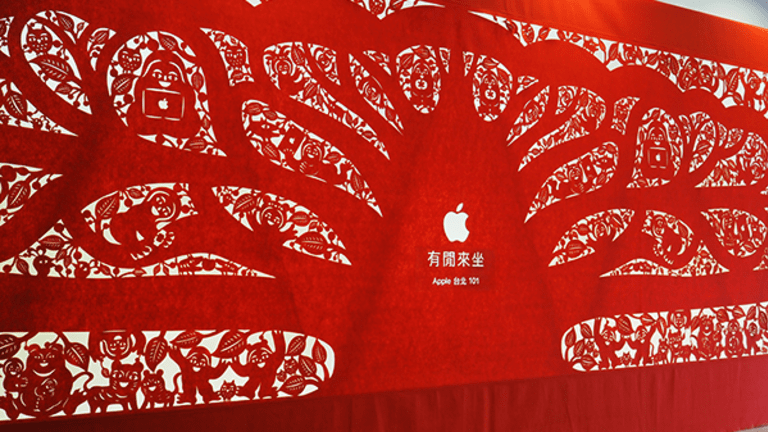 Why Apple Could Soon See an iPhone Sales Boom in China
Growth in China will help drive 15% iPhone unit sales growth worldwide, according to UBS.
With Apple (AAPL) - Get Apple Inc. (AAPL) Report marking the 10th anniversary of the iPhone this week, one of the looming questions for CEO Tim Cook is whether the company can revive sales in China. After two sluggish years, UBS expects sales in the Chinese market to rebound sharply and drive a global increase in sales of the iconic smartphone.
"How the iPhone fares in China is the swing factor regarding our forecast for 15% unit growth in [fiscal year 2018]," UBS analyst Steven Milunovich wrote. Though unit sales in China have dropped 20% in each of the past two years, the analyst expects a 30% improvement there this fiscal year.
Apple Inc. is expected to launch the latest iteration of the device in September, shortly before fiscal year 2018 begins on October 1. 
Cook noted on a May earnings call that Apple's results for China improved during the first half of 2017 -- or at least got less bad. Chinese sales of the iPhone 7+ outperformed the 6s+ and 6+ in comparable periods, Cook noted. And foreign exchange movements were responsible for much of the 13% decline in first-half 2017 sales, which was an improvement over the 32% decline the year before.
"China has been about the only place Apple has been losing share," Milunovich wrote, with Huawei Technology Co. Ltd's new selfie phone inflicting damage.
The elements for a rebound are in place, the analyst suggests. About 40 million users will have iPhones that are at least two years old, meaning that Apple has a large potential base of customers. UBS expects Apple's retention rates in China to grow from 65% to 70% based on a global survey of nearly 8,000 smart phone users. The bank did not break out the number of Chinese respondents.
UBS forecast that sales of the phone in Mainland China will grow 35% during fiscal year 2018. The bank calls for flat sales in Hong Kong and Taiwan, the latter of which gets its first Apple store this year.
Here comes Apple Taipei 101, our first store in Taiwan! 有閒來坐! pic.twitter.com/hniIt9K3Xa

"Consumer buying patterns support higher-priced phones, and the installed base is older than ever," Milunovich wrote regarding Apple's potential for a break-out fiscal year 2018.
Even with UBS's forecast of a strong rebound in China, the analyst expressed concerns.
"Our survey found slightly less China interest in the iPhone 8 than in the iPhone 7 a year ago, though more users today are unsure of their next purchase," Milunovich wrote. "Anecdotal evidence suggests the brand as a status symbol may be waning -- there may be pride in buying a local name."
While Apple may expect a strong rebound in China, UBS suggests, it will have to fight back Huawei and others.
Jim Cramer and the AAP state that while the upcoming iPhone launch is commanding attention, Apple's services are important part of the long-term strategy. Get a free trial subscription to Action Alerts PLUS.
Visit here for the latest business headlines.