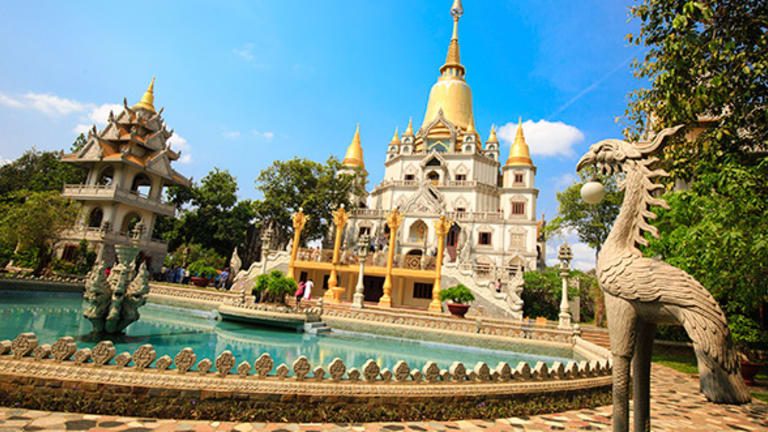 Where to Invest in Emerging Markets in 2017 and Beyond
Vietnam and India may be places to invest, as those economies continue to grow and risks there lessen.
Investors seeking out undervalued opportunities abroad should look to Vietnam and India to boost returns and get entrance into emerging and frontier markets to help diversify portfolios, says one expert.
"You want to target areas that have a strong emerging middle class," said Rob Lutts, president and chief investment officer of Cabot Wealth Management, which has $546 million in assets under management. "If I can invest in something and double my money over the next three or four years, that's where I want to be."
"Emerging markets have been an area investors have shunned lately, with lower weightings than in the past," Lutts added. "I've always been attracted to emerging and frontier markets because of their solid growth rates."
Vietnam is overlooked
Vietnam is an overlooked market, stuck in the shadows of China, Lutts said, but it has a lot going for it.
"Vietnam has capital markets that are more into the mainstream and they're benefiting from problems the Chinese are having," Lutts said. "China has a lot of companies that don't want to do business there or the government has made it more difficult to do business there."
Most recently, Netflix (NFLX) CEO Reed Hastings said it wasn't likely that the streaming service would enter the world's most populous country anytime soon. "It doesn't look good," Hastings said at a recent tech conference. "We're figuring our way out (in China), but we're really focused on the rest of the world. There is so much opportunity for us in India, Poland, Turkey and Latin America and Vietnam."
Other foreign companies like Alphabet's (GOOGL) Google or Apple (AAPL) have had issues in China or have simply pulled out altogether.
Vietnam, which has around 95 million people, is largely a young country, with nearly 95% of its population under the age of 65. The country's GDP was nearly $195 billion in 2015, growing at an annual rate of 6.7% according to the GSO, which puts it in-line with China.
While Lutts said he had invested in a London-based closed end fund to play Vietnam, there are a few U.S.-based ETFs that allow investors to have exposure to Vietnam in their portfolios.
The $332.6 million VanEck Vectors Vietnam ETF (VNM) has direct exposure to Vietnam, allowing investors to have access to the country for an expense ratio of 0.76%.
Other ETFs which have exposure to Vietnam include the Guggenheim Frontier Markets ETF (FRM) , which has about 7% of its portfolio invested in Vietnam, and the iShares MSCI Frontier 100 Index Fund (FM) , which offers investors approximately 4% exposure to Vietnam.
Modi power
For India, a country with a population of more than 1 billion, it's largely been about a change in power at the top, a welcomed sight for investors.
Since taking over as Prime Minister in 2014, Narendra Modi has worked to reform the country, both economically and politically, to make it more business friendly.
So far, it's worked. India is the seventh largest economy in the world at a nominal GDP of $2.29 trillion, and it's growing by leaps and bounds. In 2015, it was estimated to grow 7.5%, surpassing China. In 2016 and 2017, it's forecast to grow 7.6% and 7.7%, respectively, largely due to the expanding middle class and reforms Modi has made.
While in office, Modi has said that his goal is to get India into the top 25 of ease of doing business in the world, up from 142nd in 2014. "He won't make it there, but he will move the needle, so we're looking for where we can make money if they get to the top 50," Lutts said.
Financial services have been a boon to India, which has seen innovations in areas such as mobile banking. Lutts has been invested in HDFC Bank Limited ADR (HDB) for quite some time, but he noted the bank has a stronger position today than it was ten years ago, because its competition is weaker.
One of the more well-known Indian ETFs is the iShares MSCI India ETF (INDA) , which has $4.1 billion in assets and sports a 0.76% expense ratio.
Still, it's more difficult for investors right now because of the economic climate because it's difficult to lay people off in India, Lutts said, providing opportunities for "zombie companies" to wreak havoc.
Risks remain
Despite the bright prospects for both Vietnam and India, risks clearly remain in both countries, as well as all emerging markets.
In India, not only is it difficult to lay people off, but there are also many layers of government, leading to significant amounts of bureaucracy, as well as currency and inflation risks, Lutts said. There's also the question of safety, though it isn't as bad as traveling to other parts of the world.
There's also the concern about government and corporate theft in both countries, with assets simply disappearing off the balance sheets, because rules and shareholder rights are not as prevalent in emerging markets as they are in developed ones.
"You need to have a comfort level that the people that are running the company can do the job honestly," Lutts said.
If so, even with concerns like currency and inflation, the opportunity to double your money in three or four years is large and getting larger by the day.