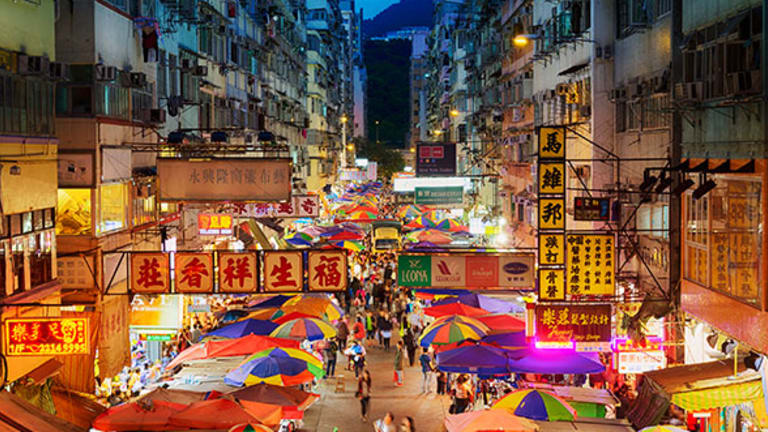 Where China Has Come From and What Happens Next
China's economy has received mixed views. With President Xi's visit to the U.S., it becomes important to analyse whether China is going through an economic turmoil or a financial transition.
NEW YORK (TheStreet) -- Not very long ago, China was viewed as the strongest emerging market, and with its talks of infrastructural development across the Asia-Pacific, the country was supposed to overtake the U.S. in being the world's largest economy. The Asian Infrastructure Investment Bank (AIIB) had European countries like U.K, France, Germany and Italy supporting China, despite the reluctance shown by the U.S.
But, recently, despite it all, China's economy has been in the news for all the wrong reasons.
Over the summer, the country faced its the twin nightmares of falling stock markets and constant state-interventions as a result. Investors continued to flee to safer markets, indicating a major loss in confidence for the Chinese markets.
By buying shares through a giant-state backed financial institution and brokerages, the Chinese government tried to support stock market prices. However, it could not sustain that for too long and as purchases stopped, markets started to tumble. Further, the government intervention, meant to prop up values, may actually have served to undercut them as investors now don't know how or when the government might meddle in the "free" markets. 
China has also been criticized for a sudden and surprise devaluation its currency, the yuan, and many feel it was required as a part of a reformatory measure and was a one-time event. The surprise further triggered worrying signals across global markets as neighboring countries and advanced economies faced its repercussions. Fueling fears of currency wars, the country recorded its biggest-ever fall in foreign exchange reserves in August this year.
Some economists are of the opinion that China may be trying to deteriorate the U.S. economy through dumping its massive holdings of U.S. Treasuries, which in turn may put an upward pressure on the borrowing costs. But some think otherwise. In a recent report, chief economist at Bloomberg Intelligence, Michael McDonough wrote, "If China's U.S. Treasury stock is a nuclear bomb, moderate sales to offset selling pressure on the yuan are unlikely to set off an explosion." No country would sink another's economy at its own cost (losing confidence of investors and global markets). Besides such deliberate actions, would have harmed China's economic and international relations with other countries in the long-term.
According to Bloomberg, China has been selling its U.S. Treasuries to sustain its domestic currency, the yuan. The People's Bank of China has been trying to support the exchange rate and this is reflected in a $315 billion drop in its foreign exchange reserves. China is in need of liquidity and has gone through three challenging months (June-July-August) as the economy tries to adapt to more free market practices (more like a shift in country's market ideologies).
Differing Views About China
Based on a survey of 2100 firms and interviews with bankers and executives, China Beige Book International reports that investors might have been overreacting to China's troubles. Adapted from methodology used by the U.S. Federal Reserve's "Beige Book," the China Beige Book adds, "those touting China's sudden fragility are either exaggerating current problems or have entirely missed the slowdown of the past several years." Miller along with Craig Charney, director of research and polling mentioned in the report, "Manufacturing is neither a microcosm of the economy nor its bellwether, and performances in other sectors buoyed overall results."
However, credit rating agency, S&P may differ. On Monday, the agency revised the economic risk trend for China's banking sector from stable to negative. This highlights that the credit risk in Chinese economy could affect Chinese banks and even raises concern regarding China's slowdown.
China has been an export-driven economy and a manufacturing hub, but the recent economic reports on factory output and investment growth failed to achieve their forecasts making matters worse for the country. Many industrial cities across China face similar problems of too many factories and too little demand. Struggling factories receive back up from authorities since they are considered important for the local economy. However, termed as "zombie companies" in Japan, they were blamed for the two decades of economic unproductivity in Japan.
Despite numerous state interventions, the future of China remains gloomy and questionable. As emerging markets suffer following many uncertainties, advanced countries try to focus on raising their interest rates as their individual economies gain strength.
The 'Real' Picture
China is gradually trying to shift from a more state-oriented system to a free market-oriented system but has been faced by financial turmoil that has been evident in the past two years.
In the past two years, China has gone through both ups and downs in its economy. In an interview on CNN, Mark Schwartz, chairman of Goldman Sachs Asia-Pacific, pointed out, "There has been a recurring pattern, 2 or 3 months of growth, 2 or 3 months of slowdown." The slowdown triggered fears, which intensified in the past few months of 2015. But ironically, despite the transition, in the last week of June, the state still intervened several times on a regular basis to stop the stock market from sliding further.
In a recent interview with The Wall Street Journal, President Xi said that the intervention was much needed to "defuse systemic risks." The President is on his first formal visit to the U.S. since taking the post and his tour starts Tuesday. The president has been urging China to achieve the "Chinese Dream" that will rightfully put the country in its correct place in the world. Undoubtedly, China is looking for coordinated efforts with the U.S. in the Asia Pacific region as the leaders meets top executives of Apple Inc.undefinedMicrosoft Corp. (MSFT) - Get Microsoft Corporation Report , Boeing Co.  (BA) - Get The Boeing Company Report  and other major U.S. companies in Seattle this Tuesday and Wednesday.
China's transition will surely not be a one-day affair. The economy is bound to belch out new modifications as it tries to adjust and adapt to the newer and freer market policies but how long it takes remains a big issue.
Until then, China's economy remains vulnerable to any economic transitions that could spread wide volatility across financial global markets.
This article is commentary by an independent contributor. At the time of publication, the author held no positions in the stocks mentioned.