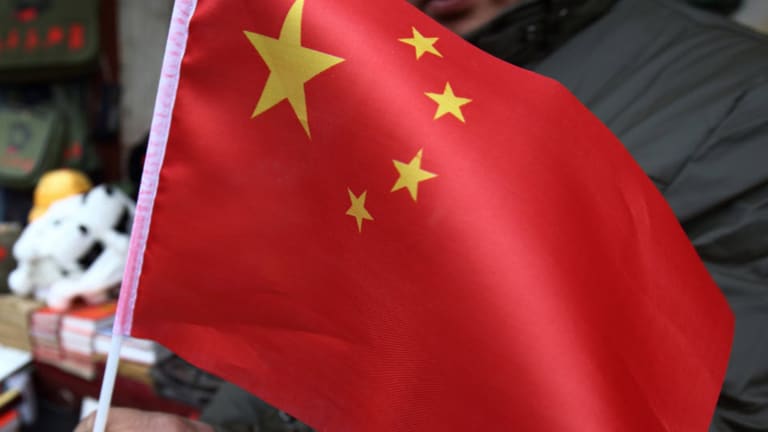 Publish date:
When Searching for More Upside in China, Opt for H-Share ETFs
Chinese stocks are surging, but valuations on the mainland are rich and investors should instead consider ETFs with exposure to Hong Kong-listed equities.
Chinese stocks are surging, but valuations on the mainland are rich and investors should instead consider ETFs with exposure to Hong Kong-listed equities.
NEW YORK (TheStreet) -- Recent, meteoric surges by Chinese exchange traded funds are prompting investors to question the rally's sustainability. They want to know if there's more upside ahead for Chinese ETFs or if entering the market at this late date means taking on excessive risk.
Some market participants see more upside ahead for select Chinese ETFs: They prefer the ETF funds with exposure to the stocks Hong Kong-listed companies, called H shares, over the A shares of company stocks traded on China's mainland. The $6.88 billion iShares China Large-Cap ETF (FXI) - Get Report is the largest and most heavily traded Chinese ETF on U.S. exchanges. FXI's 51 holdings are traded in Hong Kong as well as on the mainland, but the valuation distinction between H shares (stocks trading in Hong Kong), including FXI's holdings, and mainland Chinese equities is compelling.
"The A shares premium to H shares is extreme," said Rareview Macro founder Neil Azous in an interview with TheStreet.com.
Since March 2014, the price-to-earnings ratio for the CSI 300 Index, a widely followed A shares index, has jumped to 15.6 from 8.1, but the current P/E ratio on H shares is just 9.3, Azous said. That is more than 25% below H shares' P/E in late 2010.
The Deutsche X-trackers Harvest CSI 300 China A-Shares ETF (ASHR) - Get Report, the largest U.S.-listed A-share ETF, has climbed more than 67% over the past six months, more than double FXI's gain over the same period. With H shares more attractively valued than mainland stocks, it could be FXI's time to outpeform.
"A shares were in the sunshine the last six months. Now it's time for H shares to have their time in the sun," said Azous. "The H shares rally probably won't be as intense as the A shares rally, but only time will tell."
Other catalysts have bolstered the case for more gains in H-share ETFs. The Shanghai-Hong Kong Stock Connect program, designed to liberalize Chinese financial markets while boosting equity trading between Hong Kong and Shanghai, recently granted mainland investors access to H shares. Since the People's Bank of China lowered interest rates in November, more than 12.4 million new brokerage accounts have opened on China's mainland, according to Azous. With the valuations of A shares being high, some of that money is now being rerouted south to Hong Kong's stocks.
Risk-tolerant investors can take a more tactical approach to H shares with ETFs, such as the Guggenheim China Small Cap Index ETF (HAO) - Get Report and the Guggenheim China Technology ETF  (CQQQ) - Get Report. HAO, the largest and oldest of the U.S.-listed China small-cap ETFs, is up 32% in the past month. The ETF holds nearly 320 stocks and at the end of last year, HAO was more attractively valued than the Russell 2000, the benchmark U.S. small-cap index.
CQQQ, one of the top-performing China ETFs over the past several years, is up 21% in the past month. The ETF has added $16.1 million of its $103.5 million in assets under management this year and is home to well-known Chinese Internet stocks, including Baidu (BIDU) - Get Report and Alibaba (BABA) - Get Report. Those stocks account for more 12% of CQQQ's weight, said Guggenheim's global chief investment officer, Scott Minerd. China wants to have its own version of Silicon Valley, he added. That effort could lift CQQQ.
"One of the things they've been focused on is the continued development of technology and the technology sector, which there is an ETF we have you can invest directly, CQQQ, but I think China is a compelling value today and I would encourage everybody who is looking internationally to have some allocation to China," Minerd said.
Speaking in general about Chinese stocks, Minerd observed "their valuations seem very compelling." He added, "The likelihood that we're going to have [a] hard landing is very remote. And the reason for that is the Chinese government has a lot of flexibility."
"The total debt of the Chinese government is about 20 percent of GDP," Minerd said. "When you compare that to the United States, where it's about 100 percent of GDP, we can see that the government has a lot of room to step in and to get things stabilized." 
"So while the debt overhang in China is a serious issue, the policymakers are aware of it and are taking action to keep stimulating the economy," Minerd said.
Related News: Hong Kong Stock Rally Is a Test for Hardy Foreign Investors
This article is commentary by an independent contributor. At the time of publication, the author held no positions in the stocks mentioned.