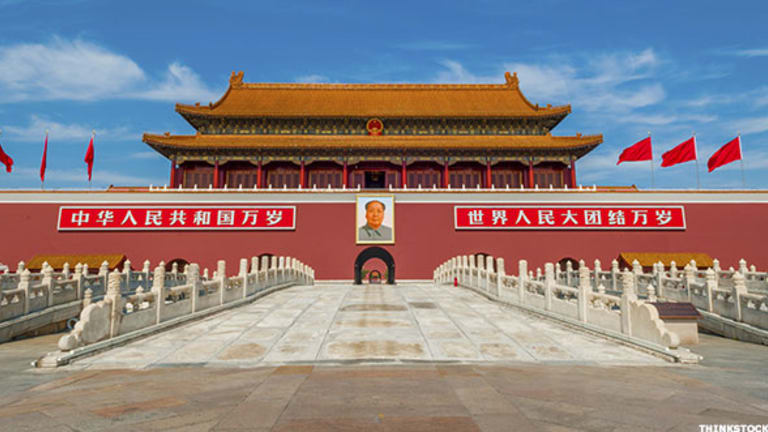 What is China's Benchmark Interest Rate Now?
China's economy, the world's second-largest, is opaque compared to Western nations, but its central bank uses interest rates to steer the economy in much the same way as the Fed.
NEW YORK (TheStreet) -- China's interest rate is one of the most visible pieces of a financial system that's largely opaque compared with those of Western economies, so it offers a valuable tool for investors trying to gauge market health.
During the last week in August, the People's Bank of China drew the attention of traders worldwide by cutting the benchmark lending rate 0.25 percentage points to 4.6%. The aim was to stimulate an economy whose slowdown was roiling markets around the globe. The reduction was the fifth since November 2014, according to Investopedia.
"The Chinese government wanted to send a signal to the market that it was able and willing to do whatever to maintain economic growth," said Tailan Chi, an international business professor at the University of Kansas. The ruling Communist Party has typically been secretive in disclosing financial moves, which heightens anxiety in global markets about the state of the world's second-largest economy.
Following are the answers to frequently asked questions about how interest rates affect China's economy and its relationship to other global markets:
1. -- Why is China cutting interest rates? China is trying to stimulate its economy as growth shrinks to 7%, the slowest pace in nearly 25 years.
"Their overall growth rate is slowing faster than they want," said Dave Denoon, director of the Center on U.S.-China Relations at New York University.
Signals of economic weakness in China in 2015 have included deflation; volatility on the Shanghai Composite Index, a benchmark gauge that fell as much as 8.5% in late August; a survey showing China's manufacturing industry declined at the fastest rate in six years; a surprise devaluation of the Chinese yuan by nearly 2%; declining oil demand; falling car sales and reduced exports.
2. -- Will China lower interest rates further? The Chinese government doesn't appear to have any issues with cutting rates to stimulate lending and growth. The Federal Reserve took similar actions in the financial crisis of 2008, cutting interest rates to nearly zero.
"China will continue to lower rates if they think their economy needs more stimulus," Denoon said. In an extra effort to boost the markets, China also cut its benchmark deposit rate by 0.25 percentage points, to 1.75%, and lowered the reserve ratio requirement for banks by 0.5 percentage points. Both actions boost liquidity by increasing the amount banks are able to lend.
3. -- Why doesn't China want the U.S. to raise interest rates? The U.S. is the world's largest economy, and when it raises interest rates, investment returns relative to China will go up.
"People who currently keep their money in China will see greater returns by moving their money to the U.S.," Chi said. "That would cause potentially large capital outflow. A slight change in interest rates can cause people to take money elsewhere, such as the United States."
Another reason China doesn't want the U.S. to raise interest rates is that it may curb consumer and corporate spending, particularly on imports from China. "If we raise U.S. interest rates and slow our economic growth, that could slow Chinese exports," Denoon said.  
4. -- What interest rate do we pay China?
Currently, the average interest rate the U.S. pays on marketable outstanding debt is 2.02%, according to the U.S. Department of Treasury. The national debt is $18.2 trillion, and China holds about $1.27 trillion (or about 7%) in bills, notes, and bonds, as of June 2015, according to the Treasury.