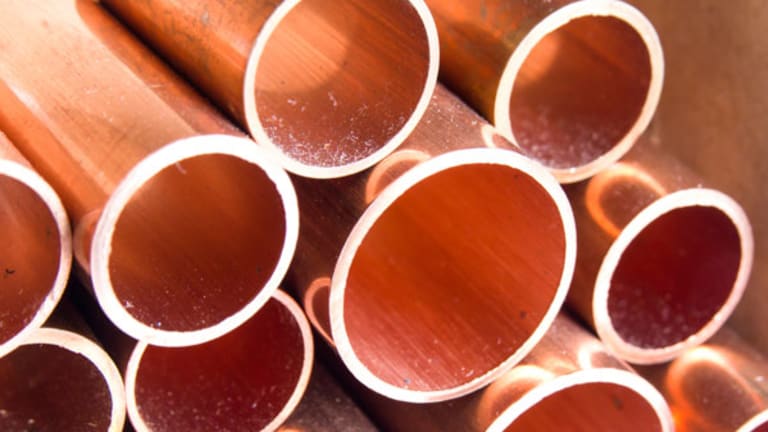 What Do Treasuries and Copper Know That Equities Don't?
The stock market has roared for the past year. But treasury yields are dropping, and Dr. Copper has been ailing. How can investors make this work to their advantage?
NEW YORK (TheStreet) -- Are Treasuries and copper sending us a message that's different from what the stock market is telling us? I think so.
As stocks continue to hit record highs on a regular basis, Treasury yields have been sinking -- an indication that bond prices were climbing. A number of investors were seeking the safe haven of Treasuries, despite the fact that stock prices were soaring. Why?
Although we have seen the demand for Treasuries surge since the beginning of the Crimea crisis, a look at the chart for the ten-year Treasury yield depicts a massive, fully-formed, head-and-shoulders pattern, which would suggest that the decline in Treasury yields has just begun. Also, since the beginning of 2014, Treasury yields have been in a steady downtrend.
Why had there been such an intense flight to the safe haven of Treasuries months before Russia invaded Crimea?
The chart for the iShares Barclays 20+ Year Treasury Bond Fund (TLT) is heading higher from a bullish "double bottom" pattern, which was established on Feb. 12 and Feb. 20. On Thursday, Feb. 27, a full day before the story first broke concerning Russia's move on the Crimea, the relative strength index for TLT was approaching the "overbought" threshold of 70.
Old "Dr. Copper" also seems to be sending us a message. For many years, investors have watched copper prices for signals on global economic health. Falling copper prices suggest softer demand, which is usually a symptom of an economic slowdown because copper is sought for so many industrial purposes: wire, printed circuit boards, construction materials, as well as heating and cooling systems.
The chart for the spot price of copper presents us with another example of a bearish head-and-shoulders pattern, running from Nov. 20 through the present. Copper has been in a steady downtrend since the beginning of 2014 and is currently trading below both its 50-day moving average and 2.33% below its 200-day moving average.
Copper demand is driven, in large part, by emerging market economies, which are undergoing expansive construction and industrialization. More importantly, China's demand for copper has become extremely significant. Many economists are of the opinion that copper prices are being adversely impacted by weakness in China's yuan. A weaker yuan discourages Chinese manufacturers from importing copper (as well as other materials) because of the increased expense.
Because China is the world's leading consumer of copper, decreasing demand for the metal by that nation can send copper prices sinking significantly.
Despite the symptoms identified by Dr. Copper and despite the fact that so many investors are seeking the safe haven of U.S. Treasuries, the American stock market has been unusually strong. The crisis in the Crimea did not disturb investors enough to allow the Dow Jones Industrial Average to close below its 50-day moving average on Monday; plus, Tuesday's rally recovered the Putin-induced selloff.
Nevertheless, the normal relationship between Treasuries, copper and equities is not playing out today. Do the markets for Treasuries and copper know something that the equities markets don't? 
At the time of publication, the author held TLT but had no positions in any of the other stocks mentioned.
Follow @WSSectorSelect
This article represents the opinion of a contributor and not necessarily that of TheStreet or its editorial staff.
John Nyaradi is publisher of