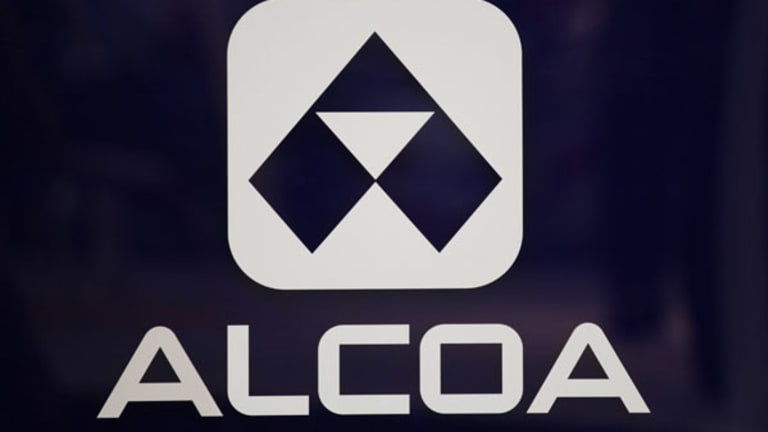 What Alcoa Investors Fear the Most: Earnings Preview
Despite declining revenue and earnings, Alcoa is in no worse shape than it was a year ago.
NEW YORK (TheStreet) -- Aluminum giant Alcoa (AA) - Get Alcoa Corporation Report is still working its way back to full strength. But with the company's year-to-date stock gains of 21%, Alcoa is making 2013 look like a distant memory. Let's recall, this is the same company that was kicked out of the Dow Jones Industrial AverageI:DJI last year.
Alcoa investors aren't taking chances. With shares now up 65% from their October low, investors are anxious for some confirmation that Alcoa won't lose its luster. Deutsche Bank analyst Jorge Beristain still has a sell recommendation on the stock, with a price target of $5.50. This suggests a 48% decline from Friday's closing price of $12.63 and Monday's price of $12.56 as of 11:30 a.m.
Alcoa will report first-quarter earnings results Tuesday. Although the Street is warming up to the idea of better pricing environments, there's still a "wait-and-see" attitude. Management deserves credit for making productivity improvements and navigating a brutal aluminum pricing market. But that's as far as it goes. Analysts like Beristain don't reward feel-good stories. They want growth. And that's what's going to propel this stock forward.
On Tuesday the street will be looking for 5 cents in earnings per share on revenue of $5.59 billion. This would represent a year-over-year revenue decline of 4.2%, with a 54% decline in earnings per share.
These two metrics hit at the heart of what investors fear the most. But there's more to it than that.
For this stock to work in the long term, aluminum prices must trend back in the right direction. Astute investors understand this. But investors also forget that Alcoa's business is in much better shape than the industry's output would suggest. Although headwinds are real from the standpoint of the alumina business, alumina production is more difficult than aluminum smelting.
As it stands, Alcoa's market share in the global alumina market, which is slightly higher than 20%, gives Alcoa a considerable advantage over rivals like Rio Tinto (RIO) - Get Rio Tinto Plc Report and BHP Billiton (BHP) - Get BHP Group Ltd. Report. Not to mention, alumina is generally a much more profitable business.
On Tuesday, investors should tune in to how the company performed within each business segment. A couple of weeks ago, management unveiled Alcoa's new Ultra One truck wheel. On the news, Alcoa stock spiked up by roughly 6%. Management has been excited about this area of the business. And it's for good reason.
Having grown by a 22% compound annual rate over the past four years, Alcoa's wheel business is one of the company's fastest growing segments. The auto industry, particularly Ford (F) - Get Ford Motor Company Report and General Motors (GM) - Get General Motors Company Report, are looking to grow their commercial truck businesses and are paying attention.
The Ultra One is close to half the weight of similarly sized steel wheels. This means lighter commercial trucks. With less weight to tow, these trucks can now haul more goods. And that's to say nothing about the benefits of improved fuel efficiency. As it stands, although declining earnings and revenue are legitimate fears, there are other reasons to be optimistic about Alcoa's future.
So even if Alcoa does report the expected 4% revenue decline, along with 6 cent decline in earnings per shares, this does not mean that the company is in any worse shape than it was a year ago. In fact, with on the basis of proprietary technologies driving 67% of Ultra ONE sales, Alcoa is arguably in a better position today than it was last year.
What's more, Alcoa's management has maintained 7% demand growth in aluminum for fiscal year 2014, which was 1% better than last year's guidance. And this is even with operational deficits like soft production shipments.
So, to steal a quote from President Franklin Roosevelt, the only thing investors have to fear is fear itself.
At the time of publication, the author didn't hold any stock in the companies mentioned.
This article represents the opinion of a contributor and not necessarily that of TheStreet or its editorial staff.