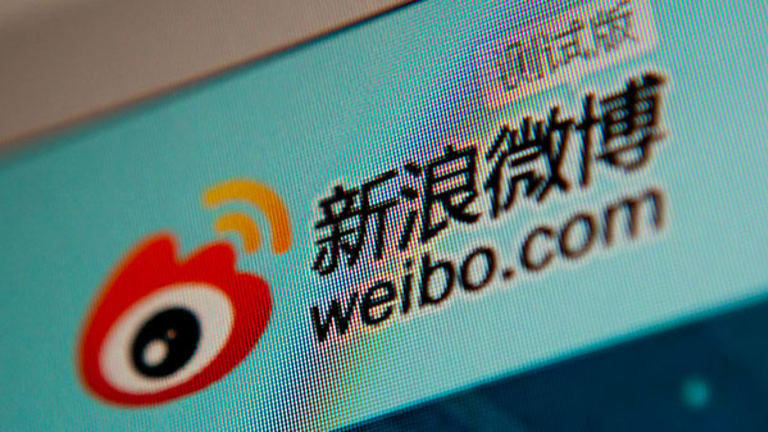 Weibo Wants You to Ride China's Micro-Blogging Explosion
Why shares in Sina deserve a closer look.
LONDON (TheStreet) -- Sina (SINA) - Get SINA Corp. Report, owner of China's largest micro-blogging site, has been conspicuous for its volatility over the past year, jumping& between $45 and more than $90. These frequent fluctuations are the result of varying valuations applied to its main business, the Weibo;microblogging site.
Weibo, which counts 129 million monthly active users, is in play after announcing on Friday that it plans to raise $500 million through an initial public offering in the U.S. Sina Weibo is expected to use some of the proceeds from the IPO to repay loans to Sina, which owns a 78% stake in the micro-blogging site. 
Sina shares jumped on the news but have retreated this week, much as they've done for 2014. Sina has lost 20% this year, closing on Wednesday at $67.11. But with the Weibo offering in the not-too-distant future, are investors missing out on an inviting opportunity?
It is true that as popular as Weibo has proven to be, the site isn't even China's largest micro-blogging platform. That title goes to WeChat, which is owned by the Hong Kong-listed Tencent. But being that it's China, home to a nearly insatiable demand for such sites, Sina has growth in the triple digits. 
The recently announced fourth-quarter numbers showed advertising revenue surging 163% to $56 million in 2013, while non-ad revenue, data licensing, gaming and membership fees jumped 114% to $15.4 million.
That is very solid progress. But look at the absolute numbers: just under $70 million in fourth-quarter revenues on a user base of just under 70 million people. In essence, Sina is generating $1 for every user each quarter. So how can we value this?
One clue comes from Twitter (TWTR) - Get Twitter, Inc. Report.
Contained within Twitter's poorly received inaugural results last month was the statistic that the San Francisco-based social media platform was generating around $1 of revenues from each of their active 241 million users during the fourth quarter.
So should we just get the calculators out and attach a 70/241 fraction to the current Twitter market capitalization to get an implied value for Weibo?
Here's the math. 30% of Twitter's nearly $28 billion market capitalization is around $8 billion. Sina's 71% stake in Weibo could thus be worth over $5.5 billion. This compares very favorably with Sina's current market capitalization of just under $4.5 billion.
Valuation judgments are never that simple and it is correct that some of the naturally greater uncertainties in the Chinese market should be reflected in the valuation. However, some investors do see value.
Alibaba -- part-owned by Yahoo! (YHOO) and poised for its own initial public offering in the U.S. -- acquired an 18% stake in Sina Weibo for $568 million last year, with a $3.2 billion implied value, and has the option to increase its position to 30% before the IPO. Are they taking this up? Yes they are. They see much more value than just over $3 billion.
Sina, with $54 million in income before tax in fiscal year 2013, is not much without Weibo. Just look how they talked about prospects for 2014 in the quote below. For Sina it's really all about Weibo.
"As we enter 2014, we will continue to focus on growing Weibo's user base and user engagement through product innovation, as well as seizing opportunities to enable us for long term growth."
So at the current $4.5 billion market capitalization what should an investor think? Sina is undoubtedly highly volatile and suffers from speculative tendencies -- as shown by the volatility of the share over the last year.  
Clearly -- as with the big picture concept of social media -- the opportunity for further monetization of their growing user base exists over the next few years. The call Alibaba has made to raise their stake shows optimism about the valuation by an entity that knows the Chinese internet market very well. This is a strong signal for both growth and value investors.
At the time of publication, the author held shares of SINA but held no positions in any of the other stocks mentioned.
This article represents the opinion of a contributor and not necessarily that of TheStreet or its editorial staff.