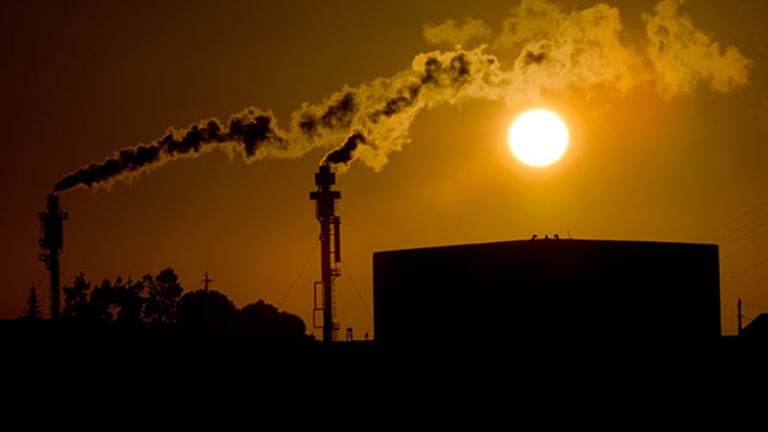 Weatherford Int'l, Up 37% YTD, Is a Turnaround Story That's Not Over Yet
Here's why Weatherford International's shares might continue going higher, despite unimpressive quarterly results.
Here's why Weatherford International's shares might continue going higher, despite unimpressive quarterly results.
NEW YORK (TheStreet) -- Weatherford International (WFT) - Get Report is riding high now, but it has suffered from overly aggressive expansion. The company made more than a hundred acquisitions to rapidly expand its business over the last two decades. Plus, it ended up badly damaging its reputation by violating U.S. laws. The company is now eyeing a turnaround by becoming a leaner, more profitable organization.
Weatherford stock was trading at $21.17 at noon Friday, up nearly 37% year to date and 49% over the past 52 weeks.
In the previous quarterly results, the company reported a fall in revenues and an increase in net debt. But it's doing well now because its poor performance is not as bad as it looks and because investors are more interested in its larger turnaround story.
I believe Weatherford's shares will likely continue going higher as its turnaround story unfolds. Weatherford has settled its legal cases with the government. The company has predicted positive free cash flows in the current fiscal year, a rarity for Weatherford, thanks to asset sales and cost-cutting initiatives. The company's legacy-loss contracts in Iraq are also nearing completion, which will help in margin expansion.
Moreover, the divestitures will allow the company to focus on its higher-margin core areas: oil wells. The company does well construction, completion, production and formation evaluation.
In the previous quarterly results, Weatherford's net revenue fell 6.3% from last year to $3.6 billion, while its operating income dropped by 53.4% to $130 million. The severe weather conditions in the U.S. and Russia, as well as seasonal drops in Australia, the North Sea and China, had an adverse impact. Weatherford also recorded restructuring charges of $70 million in the previous quarter, which were absent in the first quarter of 2013.
The big drop in earnings was partly due to some one-off items. In adjusted terms, the company's net income fell by 15% to $99 million. In the previous quarter, Weatherford generated negative free cash flows of $439 million. Due to the payment of $253 million related to the government investigation, as well as capital expenditure of $286 million, the company's net borrowings increased by $673.
The good thing, however, is that the company has finally settled its bribery and trade-sanction violation cases with the U.S. government. This matter, which has weighed on the company's stock, is now history.
One of the problems with Weatherford is its large pile of debt. The company's long-term debt now stands at $7 billion, unchanged from the same quarter last year. The company's debt to equity ratio is more than twice as large as its peers such as Schlumberger (SLB) - Get Report, Baker Hughes (BHI) and Halliburton (HAL) - Get Report.

WFT Debt to Equity Ratio (Quarterly) data by YCharts
Although a high debt-to-equity ratio and negative free cash flow from operations are signs of trouble, the company's financial health could improve by the end of the year.
This is because Weatherford has forecast positive free cash flow from operations of $500 million for 2014. This is a big deal for the company since it has not generated any positive free cash flows in the last ten years. Moreover, the company will reduce its net debt by almost $2 billion to $7 billion by the end of the year.
To turn itself around, Weatherford has implemented massive cost-cutting measures, which includes elimination of nearly 6,600 jobs, or more than 10% of its work force, by the middle of 2014. The job cuts will generate annual cost savings of $500 million. The company has already completed 56% of its planned eliminations, which could result in an annualized pre-tax savings of $263 million.
Some of these job cuts are also related to the company's decision to exit from the less-profitable areas from around the world. The management has said that it has identified 50 such locations and will wind up its operations from these areas by the end of the first half of 2014.
Besides the cost cutting measures, the company has also started divesting from its non-core businesses with the sale of its pipeline operations to Baker Hughes for $250 million. This year, Weatherford expects to generate proceeds of $1.3 billion from asset sales. Then Weatherford will be able to increase its focus on its higher-margin core areas while strengthening its cash position.
Moreover, Weatherford's loss-making operations in Iraq are also nearing completion. The company has finished its two drilling projects, while its only remaining production unit at Az-Zubair oil field is 80% complete. The company's departure from Iraq could give a boost to its operations in the Middle East and will likely lead towards margin expansion.
Moreover, Weatherford has also said that it would "carve out" its land-drilling rig business through a spinoff or an initial public offering before March, 2015. This could also translate into a cash infusion of more than $400 million.
At the time of publication, the author held no positions in any of the stocks mentioned.
This article represents the opinion of a contributor and not necessarily that of TheStreet or its editorial staff.