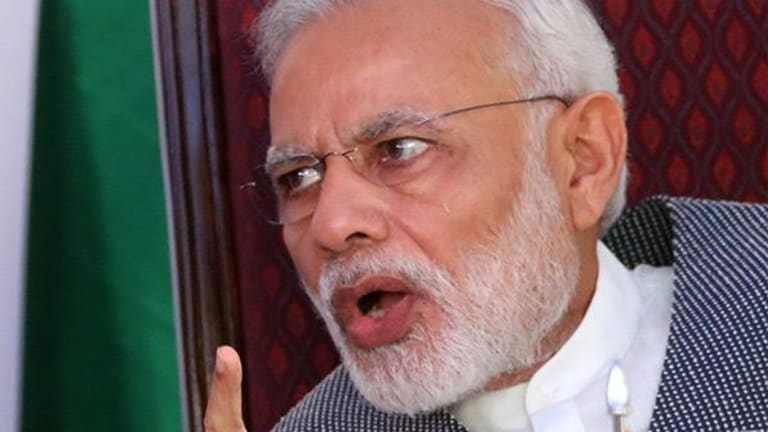 Watch These Indian Stocks as Modi Digs Into Trump's First Working Dinner
Indian Prime Minister Narendra Modi will have a low-key visit when he calls on Donald Trump today. With Indian stocks at record highs, here are some picks to consider.
When Indian Prime Minister Narendra Modi visited the United States in 2014, he was greeted like a rock star by 19,000 fans filling Madison Square Garden, including throngs of expatriate country folk. By contrast, when Modi meets U.S. President Donald Trump, as he is due to do on Monday afternoon, there will be a brief curtain call for both men followed by a "working dinner," Trump's first since taking office.
This will be a "no frills" visit, officials in New Delhi say, according to the Financial Times. Defense is likely top of the agenda, with a couple of recent deals possibly hinting at greater cooperation between the two nations. Combating terrorism is sure to come up. Just how Modi and his entourage got into the country probably will not, although based on his previous stance, Trump would probably like to check the stamps in their passports.
Modi's supporters were full of optimism on Trump's election, both leaders being pro-business populists. But the enthusiasm has died. Right-wing Indians hoped that the new president would be tough on Muslims in general and Pakistan in particular, but Trump has hardly mentioned either India or its testy neighbor in foreign-policy terms.
Instead, Indians have heard Trump rail against Indian workers taking away U.S. jobs. Trump signed an executive order in April demanding a review of the H1-B visas used to bring skilled employees into the United States. Trump said while running for office that H1-B visas "decimate" U.S. workers and keep down U.S. wages. Nearly 70% of H1-B visas go to Indian citizens.
I actually held an H1-B visa back in my first job out of college. Somehow, as a British-born graduate of English lit and journalism, I qualified for this writing gig. Each visa allows the recipient to stay and work for three years, renewable once, and then you've got to come up with something else.
The whole process made me feel like a "visa slave." My tenure in the States relied entirely on my job. I couldn't just chuck it in and walk out -- my employer could, if playing by the book, report my departure to the Immigration Department, and I would have had two weeks to leave the United States.
Other than that, I worked as usual. I do remember that, each time I applied for the visa, my salary had to be plastered all over the breakroom. I've never really minded people knowing how much I earn -- I figure you'd only worry about that if you're being paid too much, and believe me, there's very little risk of that in journalism. 
The idea is to make sure the candidate gets fair play. In Silicon Valley, H1-B visa holders tend to earn around $70,000 a year, according to Bloomberg, much less than the $100,000 salaries common at Google (GOOGL) or Microsoft (MSFT) . Perhaps then it's not surprising that Silicon Valley insists it needs those workers to get by, apparently at a bargain rate.
It's more likely that Trump and Modi will be talking bombs and bullets than border crossings. While Trump appears not sure how to play India diplomatically, he'd certainly like to keep the country onside, at least as a counterbalance to China's might.
The Indo-American defense partnership appears to be deepening. The Tata Group, parent of the listed Tata Motors (TTM) , and Lockheed Martin (LMT) announced last week that they have agreed to make F-16 fighter jets in India. 
The United States has also reportedly approved the sale of 22 predator Guardian drones to the Indian navy, which wants to use them for surveillance. That's a sale worth more than $2 billion.
A good bit of business. And investors might want to note that business appears to be very good in India, by local standards, with the country set to post growth of around 7% this year, one of the fastest rates in the world.
That has driven the National Stock Exchange of India to record highs. The benchmark Nifty 50 index is 1% below its all-time record set earlier this month. The index has a hefty weighting toward banks, metals, and oil & gas stocks, although it spans 13 industries.
Where should investors turn? An excellent place to start is to look at the rising stars likely to join the index when the index provider next reviews its ranks. More than half of the 10% earnings growth posted by the Nifty 50 for fiscal 2017 came simply from the reshuffling that happened in March 2017.
The index has a semi-annual rebalancing act. The number of changes to its membership is limited to five per year, to maintain stability, but the process normally switches out "old-world" industries for more-compelling ones. 
The new members must have a free-float market cap that is at least twice that of the smallest Nifty 50 constituent. And the security should have traded an average impacts cost of 0.50% or less during the last six months.
ICICI Securities has run those numbers and determines that the five most-likely new members of the Nifty 50 are: agrochemicals company UPL NSE:UPL, the consumer and small-business lender Bajaj Finance (BJJQY) , oil producer Hindustan Petroleum (HDSQY) , consumer-lending and insurance provider Bajaj Finserv BSE:BAJAFINSV, and car parts maker Motherson Sumi (MOZTY) .
The next-most-likely contenders are hair- and home-care products provider Godrej Consumer (GDRJY) , the mortgage lender LIC Housing Finance BSE:LICHSGFIN, the generic-drug manufacturer Piramal Enterprises (PRMQY) , the biscuit, cake and milk maker Britannia Industries (BRTQY) , and iron-and-steel producer JSW Steel NSE:JSWSTEEL.
Analysts systematically overestimate earnings for Nifty 50 stocks, though, ICICI notes, thanks to "optimism bias." The overestimation of annual earnings per share is 10.6% going back to 2005.
The exception to that situation is when the economic cycle genuinely picks up, when the estimations lag the progress of profits. ICICI figures that the Nifty 50 stocks should be trading at 17x fiscal 2019 earnings -- so watch for any large divergence away from that mark.
This article originally appeared at 10:00 ET on Real Money, our premium site for active traders. Click here to get great columns like this from Jim Cramer and other writers even earlier in the trading day.
At the time of publication, Alex McMillan had no positions in the stocks mentioned.