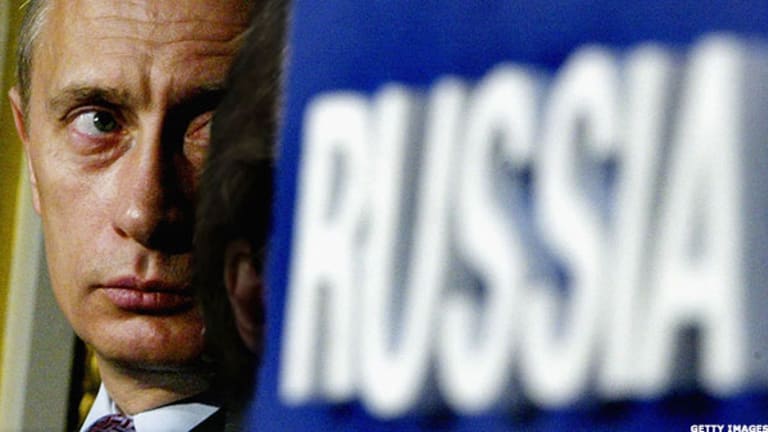 Vladimir Putin's Natural Gas Deal Weakens Russia's Hand in Ukraine
Russia's mercurial president is setting the rules for international policies in Ukraine and Europe. But his leverage could be greatly reduced in coming years.

Updated at 9:50 a.m. Nov. 14 with comments from Putin on Russian economy.
KiEV, Ukraine (TheStreet) -- Falling global energy prices have turned Vladimir Putin's invasion of Ukraine from an imperial Russian triumph into a potentially significant setback for his country's economy. Hard currency reserves are evaporating while western financial sanctions sap the ruble and Ukraine's government continues to turn the country away from Russia and toward Western Europe.
Sure, Putin won Round One, seizing Crimea and a piece of Ukraine's aging industrial base, and shutting off gas supplies to Ukraine until the International Monetary Fund helped Ukraine to pay its $4.6 billion bill. But most of Europe shrugged off Putin's threat of a cold winter without gas.
The deal announced Oct. 30 with Russia to renew gas supplies to Ukraine will keep some 45 million Ukrainians from freezing this winter. It also assures the European Union that, with more than 15% of Europe's natural gas flowing through Ukraine, there won't be any disruption in gas supplies. That means European leaders are unlikely to put more pressure on Russia to end its war in Ukraine, ease its crackdown on the press and political opponents at home, and cease disrupting global peace efforts from Syria to North Korea.
The regime of President Petro Poroshenko agreed to pay Russian gas monopoly Gazprom OAO $378 per thousand cubic meters (tcm) of gas until the end of the year, and then $365 until March. That's above the current spot price of about $330/tcm and $100 less than Russia was asking earlier, but far higher than the $268.50/tcm that Ukraine paid when the country was led by Viktor Yanukovich, an ally of Russian President Vladimir Putin. It's also a temporary price, and when this deal expires, Russia can again raise prices.
¿
The pact gives Ukraine breathing space, says Matt Sagers, managing director of Russian and Caspian Energy Research at IHS, a Washington-based economic research firm. "It's a major, major breakthrough. It's a very positive sign the sides can put their disagreements aside."
The accord also cuts out the oligarchs and profiteering middlemen who skimmed off profitable gas customers by cutting side deals to buy gas directly from Russia and leaving state-controlled Naftogaz with the Ukraine's subsidized residential and utility customers. The change in pricing, and promises from the government that it will reduce resource taxes, mean Ukraine's significant natural gas reserves will again be attracting investors.
"There should be fairly important investment opportunities for smaller independents, especially if taxes are reasonable and prices remain at European levels," said Sagers.
He predicts Ukraine could be producing 30 billion cubic meters a year within a decade, up from today's 20 bcm of domestic production. Combined with efficiency measures and subsidy cuts that would slash consumption from last year's estimated 50 bcm, Ukraine could stop buying gas from Moscow.
"You can easily see a scenario where Ukraine's gas use is balanced by 2020 and there is no more need for Russian gas," Sagers said.
That would significantly reduce Russia's leverage over Ukraine at about the same time Ukraine's own economy may be ready to open up toward Europe, says Tom Pugh, an economist with Capital Economics in London. "Eventually Ukraine will move toward the E.U. -- Russia doesn't offer them anything except cheap gas, and it may well work out that Ukraine gets its house in order at the same time Europe is once again enjoying strong growth," said Pugh.
Unlikely Deep Freeze

International energy markets are also doing a pretty good job of ensuring Putin keeps the taps open. With Europe's near-recession and a global energy glut , the spot price of European benchmark Brent crude has dropped more than $20 a barrel since Russian forces invaded Ukraine in February. Every $10 drop is a $28 billion hit to Russia's current account balance, says Timothy Ash, the senior analyst for Russia at Standard Chartered bank in London.
According to Bloomberg News, Putin admits the Russian economy faces a potential "catastrophic" slump in oil prices. The Russian leader said such a scenario is "entirely possible, and we admit it" according to a transcript of the state-run Tass news service e-mailed by the Kremlin to Bloomberg Nov. 14. Putin also said country's foreign exchange reserves are large enough to sustain further oil price declines. 
Nonetheless a decline of nearly 30% in oil prices (and a smaller drop in gas prices) from highs in June has failed to push Russia to make peace with Ukraine. Brent crude, the European oil benchmark, dropped to $81.67 a barrel on Nov. 11, a four-year low according to data compiled by Bloomberg. If it drops to $80, Russia's current account surplus disappears, says Ash. And if Russia's oligarchs and middle class keep shipping their cash out of the country, the foreign exchange reserves Putin counts on to buy food and keep the population happy will vanish. 
Russia's foreign exchange reserves have fallen to $428 billion on Oct. 31 from a 12-month high of $514.9 billion on Nov. 29 last year, according to data compiled by Bloomberg. The ruble has fallen to 45.73 against the dollar Wednesday, from 32.83 on Nov. 11 of last year, Bloomberg reported.
"People ask me what price of oil will change Putin's behavior," IHS's Sagers said in an interview Nov. 7. "The answer is, ask Putin."
Dodging Bullets
Meanwhile, the ground war in Ukraine drags on as a two-month-old ceasefire frays, with the government in Kiev vowing to retake rebel strongholds, and Moscow giving open, though undeclared, aid to the rebels. On Nov. 12, a convoy of 45 unmarked green military trucks, some towing 12-millimeter howitzers and other hauling multi-launch rocket systems, were sighted by international monitors near Donetsk. On Nov. 2, a Russian truck bring humanitarian aid to the embattled cities overturned, exposing a cargo of weapons and ammunition.
"The situation on the ground now is not sustainable," Standard Chartered's Ash wrote in an email Nov. 6. The frozen military conflict has failed to push Ukraine and western nations to negotiate Ukraine's future around Putin's vision, which would bar the country from joining Nato and the European Union, he said.
"Both sides seem to be shaping up, readying now for further conflict," Ash wrote. "Arguably for Putin the window therein is now while he faces a weak U.S. president, Europe divided, and with the Ukrainian military still struggling to re-arm, and perhaps before the new U.S. Senate returns with the large and hawkish (on Russia) majority and set to vote to eventually arm Ukraine."
Renewed conflict in Ukraine is unlikely to worry Europe much. German Chancellor Angela Merkel said recently that while sanctions won't be lifted soon, she only recommends adding a few more people to the list of Putin aides whose foreign assets have been frozen.
Putin, for his part, may not be able to push too hard. Russia needs gas income more than Europe needs Russian gas, says Sagers. Since 2009, when Russia cut gas supplies to Europe for two weeks during an earlier tussle with Ukraine, EU states have increased their ability store gas and build more pipes connecting the continents gas lines.
"Storage is the magic bullet," says Sagers. "It's available and it's already inside the borders. "Look at the vulnerability on the other side. For Gazprom, this is their lifeblood -- if you think of gas cut off for two weeks, guess who can withstand it."
The Ukraine deal, and Europe's readiness for this winter, have helped push spot gas prices down by as much as 3% in the U.K. and lowered the forecast for coal from around $72/ton currently to $65/ton by the end of next year, according to U.K. forecasting firm Capital Economics.
"Putin did Ukraine a big favor," says Prof. Kimberly Martin, a Russia expert and political scientist at Barnard College in New York. By taking over Ukraine's pro-Russian areas, he's denied the Moscow-leaning political parties a voice in Kiev, and galvanized the rest of the population to embrace a future with Europe. The proof is in last month's electoral victory for the pro-Europe parties, even as inflation tops 19% and unemployment rises, Marten said in an email.
"The only remaining questions are, will sufficient help come from the West to allow Ukraine to make this transition, and will Putin's war machine destabilize or wreck Ukraine so badly that it simply cannot recover," said Marten.
"Fingers crossed."
Peter S. Green is a New York-based writer who spent more than a decade covering the former Soviet Bloc.