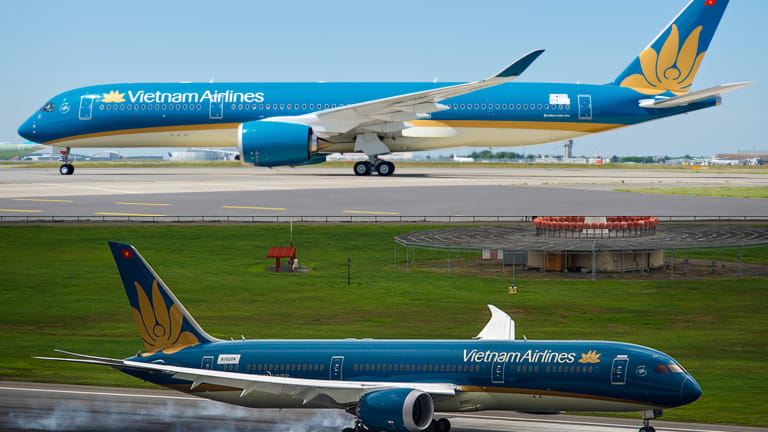 Vietnam Offers Some of the Most Exciting Investing Opportunities
Although given short shrift by the press, Vietnam has racked up the world's second-fastest growth rate since 1990, with more to come.
Which emerging Asian market has posted a torrid economic growth rate over the past 25 years, modernized its rural economy, lifted millions of its people out of poverty and become an important player on the geopolitical stage?
It is neither China nor India.
Instead, it is Vietnam, the nation whose insurgent communist guerrillas embroiled the U.S. in a bitter Cold War-era proxy war from 1955 to 1975. Once a byword in America for military quagmire and social division, Vietnam is now a major trading partner with Uncle Sam and the rest of the world.
As erstwhile developing stars such as Brazil, Russia and even China stumble, Vietnam is emerging as the Asian continent's next growth engine.
How do investors get aboard this profitable ride, which stands out in the world of overbought equity markets and stumbling developing economies? The purest play is through the VanEck Vectors Vietnam Exchange-Traded Fund  (VNM) - Get Report , the only ETF exclusively focused on stocks of companies based in Vietnam.
So what makes Vietnam so appealing?
One recent example is Vietnam's VietJet, whichinked a deal in May for a firm order of 100 Boeing 737 MAX 200 passenger airliners worth $11.3 billion. Delivery of the Boeing airplanes is slated to run from 2019 until 2023.
The fast-growing airline also signed a $3.04 billion deal for engines made by Pratt & Whitney, a division of United Technologies, for the 30 Airbus A321 planes that VietJet ordered last year.
The Boeing deal marks the biggest commercial aerospace contract in Vietnam's history and reflects Asia's travel boom, as the region's rising middle class embraces tourism. In a volatile and overpriced global stock market, Vietnam offers an often overlooked chance for long-term, market-beating growth.
As with China, Vietnam is a fiercely competitive mercantile nation that is only communist in name.
With a population of more than 90 million, Vietnam has generated a growth rate of about 7% per person since 1990, the world's second-fastest growth behind only China. Vietnam continues to make infrastructure investments and simplify its trade rules, putting it on track to sustain its robust growth rate for at least the rest of this decade.
Vietnam's economy is becoming less dependent on a top-down command structure and state-subsidized conglomerates and more tailored to free market forces. The government encourages economic competition among its 63 provinces, spends heavily on education and training and has launched several initiatives to foster innovation such as technology industrial parks.
At the same time, the nominally communist government has started to acquire important positions in the United Nations and shown an interest in maintaining geopolitical stability. As China rattles its saber in hotly contested areas such as the South China Sea, the U.S. is focusing less on Europe and paying closer attention to China's increasingly nervous neighbors in Asia.
The U.S. "pivot to Asia" has put countries such as Vietnam into the spotlight, which entails the economic stimuli of enhanced foreign aid and weapons purchases.
President Barack Obama in May lifted the U.S. embargo on lethal weapons purchases to Vietnam, opening the door for Boeing and other defense/aerospace behemoths to strike lucrative deals with America's former Southeast Asian enemy.
As foreign firms and tourists flock to Vietnam, now is the time to get in on the action, before individual investors catch on. 
With net assets of $349.72 million, the VanEck Vectors Vietnam ETF seeks to track the performance of the Market Vectors Vietnam Index. The ETF offers exposure to publicly traded companies either based in Vietnam or with annual revenue of at least 50% from Vietnam.
As other Asian ETFs have struggled, VanEck Vectors Vietnam boasts a year-to-date return of 3.63% and a yield of 3.63%. The expense ratio is a reasonable 0.67%.
---
Vietnam is one of the world's most enticing emerging markets. For those who are looking for other growth opportunities, here is a genius trader who turned $50,000 into $5 million by using his proprietary trading method. For a limited time, he is guaranteeing investors $67,548 per year in profitable trades if they follow his simple step-by-step process. Click here for details.
John Persinos is an editorial manager and investment analyst at Investing Daily. He also appears as a frequent commentator on the financial television show "Small Cap Nation." At the time of publication, Persinos held stock in Boeing.