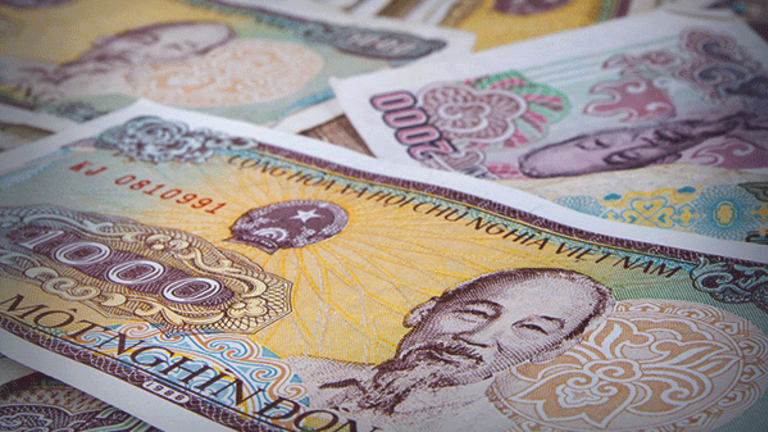 Vietnam Aims to Invade America (with Stocks)
Vietnam looks set to get its first foreign listings, with its listed budget carrier talking to anyone who will listen and a game maker set on an international IPO.
China's economic emergence has been electric, and its tech company listings are a magnetic draw for investors. Is now Vietnam the new China? 
Although not much is made of Vietnam's high-tech sector, that may be the source of its first company to go public on a foreign exchange. Meanwhile, its main airline wants to use Vietnam's moment in the sun as its prime minister visits Washington to talk up its chances of listing overseas.
VietJet Aviation V:VJC, which lit up the stock board when it went public on the Ho Chi Minh City Stock Exchange in February and is up 51% since listing, says it is in talks with stock exchanges in Hong Kong, London, New York and Singapore about an overseas listing.
Game developer VNG Corp. says it has already signed a memorandum of understanding to list on Nasdaq. It still requires regulatory approval from the Vietnamese government, but expects that to come through, enabling the listing within 18 to 24 months.
"We are anticipating it will be a challenging process," CEO Le Hong Minh told Bloomberg, noting that no Vietnamese company has yet filed for an initial public offering overseas. 
Saigon-based VNG forecasts revenue of $180 million for this year, up some 70% from 2016, from games such as Sky Garden: Farm in Paradise and Dead Target. It also has a chat app (who doesn't?!) called Zalo. 
VNG counts Goldman Sachs (GS) - Get Goldman Sachs Group, Inc. Report and the Singapore sovereign wealth fund GIC among its shareholders. It hasn't declared a target date or size for the IPO, but has timed the announcement to mesh with the U.S. visit of Vietnamese Prime Minister Nguyen Xuan Phuc, who is due to meet with President Donald Trump today.
The company says the prime minister joined CEO Minh when they met with Nasdaq representatives in New York City on Monday. That trip has also been the impetus behind Hanoi-based VietJet's discussions with New York exchanges.
Vietnam is keen to encourage foreign investment, and like China is gradually liberalizing its ownership laws. VietJet, now with a market capitalization of $1.8 billion, filed in April to increase the maximum permissible foreign ownership to 49%, from the 30% limit standard for aviation companies.
Vietnam Airlines V:HVN: is the flagship carrier, and went public itself in an offering in January that valued it at $2.1 billion. Low-cost VietJet has captured 40% of the Vietnamese domestic market. It wants to use a foreign listing to lure capital, but also boost its profile internationally.
"We don't want to hide our hope to become the first Vietnamese company to list shares overseas," founder and CEO Nguyen Thi Phuong Thao told Bloomberg. She said the exchanges of Hong Kong, London and Singapore had approached her company, rather than the other way around.
An expanded presence would heap further pressure on Cathay Pacific (CPCAY) and Singapore Airlines (SINGY) , Asia's flagship carriers, which are hemorrhaging red ink as I outlined last week. But it would also see VietJet take on highly experienced budget operators such as AirAsia KL:AIRA. 
Vietnam has a lot going for it. It's my favorite destination for travel within Asia - partly as a result of the "American War," the population is incredibly youthful, resulting in tangible optimism. It feels like you could walk out of your hotel, tell the first people you see that you want to go hang-gliding that day, and someone will make it happen. I've rented a motorbike on the street from a guy who asked if I wanted to borrow it for a few days.
That kind of enthusiasm translates into the economy. China and Vietnam have many similarities. They of course share a border, and Communist governments that leave them with plenty of state-owned companies to offload. Vietnam has increasingly been stealing low-end manufacturing from China, where wages are rapidly rising into middle-income range. 
Vietnam's economy should grow at 6.5% this year, according to the International Monetary Fund, up three percentage points from last year and right behind the 6.6% growth the IMF forecasts for China. Only India, at 7.2%, is faring better in my part of the world -- and India has a lot of ground to make up.
On the other hand, China is well on its way to becoming a post-industrial economy, more online than on the factory floor. Don't expect Vietnam to be far behind.
This article originally appeared at 10:00 ET on Real Money, our premium site for active traders. Click here to get great columns like this from Jim Cramer and other writers even earlier in the trading day.
At the time of publication, Alex McMillan had no positions in the stocks mentioned.