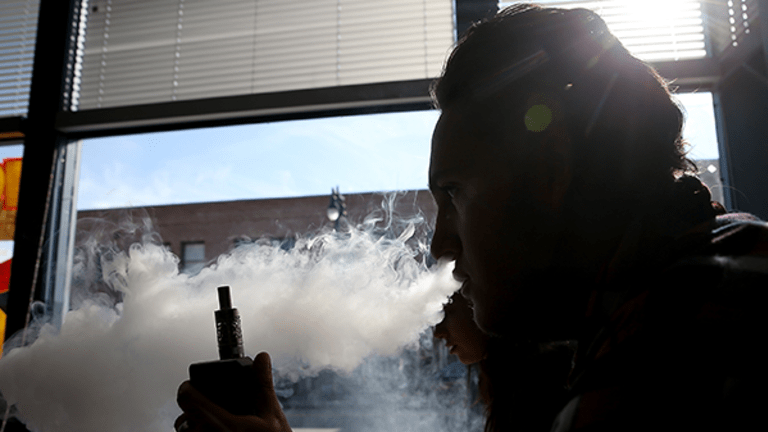 Vaping in Asia Could Save Big Tobacco
Asia is the Alamo for cigarette makers, site of their last stand. When will cigarette producers realize the future burns electric?
I'll come clean. I vape.
I blame my wife, but don't we all. She switched to e-cigarettes a couple of years back, having been an occasional smoker. Last year, I tried a couple of puffs. And of course, now I'm totally addicted. 
I gave up drinking in exchange. I know which vice feels healthier, and it doesn't involve downing a bottle of wine or sake each evening.
It doesn't help that my Juul device looks tech -- Wired magazine said the Pax Labs product "might just be the first great e-cig" -- and passes muster as a flash drive wherever I travel. The steam it emits has little to no odor. And it's a great little break as I sit here pondering the next keys to pound on my keyboard.
In Asia, cigarette makers hope to find plenty more instant customers like me. And eventually, I'm betting they'll get them. Like the moment of the next stock market crash, though, the timing is anyone's guess.
How fast that happens matters immensely to Big Tobacco. Asia is the world's biggest tobacco market, and last stand. At least two in five men in the region smoke, no matter the country, according to figures from the World Health Organization.
Japan is proving the savior of Philip Morris (PM) , as I wrote at the start of the month. Sales of its "heets," the tobacco sticks that go in its iQos device, make up for flagging sales of normal cigarettes. Sales of cancer sticks dropped a remarkable 25% in the second quarter of this year in Japan, but heets replaced that empty space.
South Korea, a smaller market with many similarities to Japan, is next on the list to conquer. Philip Morris introduced the iQos there at the start of June, so its next set of numbers will be fascinating to see.
How about the rest of Asia?
When it comes to e-cigarettes, most members of Big Tobacco act like Big Auto when it comes to electric car. They dabble in developing a placeholder, but do little in earnest, hoping to rely on their traditional sales until the dry up.
That won't fly when it comes to tobacco. Japan's 25% sales slump in one year demonstrates how bad things will get for the industry elsewhere in Asia, as soon as there are alternatives on offer. More than one Philip Morris exec has said that the company wants to stop making cigarettes altogether and sell only e-cigarettes.
I've never heard of a major company saying that it wants to exit, completely, its key business -- stop making its top product completely, and just do something else. But that's how bad it's apparently about to get.
British American Tobacco or BAT  (BTI) is another member of Big Tobacco that gets it. The company, which has a heat-not-burn brand glo, predicted in 2015 that the market for the "new generation" of tobacco products would triple from $3.3 billion that year to $9.9 billion in 2020.
There are two kinds of "cigarette alternatives." One device, known as "heat-not-burn" technology, takes a tobacco stick and heats the substance to a point where it emits vapor, but not smoke. A second device takes a liquid made of propylene glycol and glycerin, and normally nicotine, and turns it through an electric charge into steam.
Although the second sort of device seems healthier to me, only the tobacco-based system is legal in Japan. That's presumably at the behest of Big Tobacco, since the government owns one-third of Japan Tobacco (JAPAY) , but likely also stems from the products being "almost the same as" cigarettes, allowing legislators to justify rolling over existing rules and taxes.
China and its 1.4 billion people are the Big Lebowski when it comes to Asia's markets. It's both the largest producer and consumer of cigarettes. But it's a hard market to make work, much like The Dude himself, who prefers to abide.
That's because China has a huge array of local cigarette brands -- but more so because it has a monopoly player that foreign companies must partner with. China National Tobacco owns more than 900 brands. Foreign cigarettes such as Marlboro only eat into its 98% of the market through joint ventures. Marlboro was one of the first foreign brands produced in China, via a joint venture in 2008.
Double Happiness cigarettes, now owned by state-owned Shanghai Tobacco Corp., a China National subsidiary, are slightly more expensive than most China smokes. So they are the brand of choice if you want to impress a business connection or government contact. A carton is a common gift/bribe. And that suggests the future path for e-cigarettes in China.
Big cities such as Shanghai, Beijing, Guangdong and Shenzhen are already promising markets for e-cigs. With the highest incomes in China, residents have their MacBooks, Mercedes and maybe a Tesla (or two!). Early adopters keen to impress their connections will latch on to vaping devices just as their fathers and grandfathers traded Double Happiness smokes as they went in search of success. 
Shenzhen, just across the border from me here in Hong Kong, is e-cigarette central. It produces most of the world's e-cigarettes. And it also has a full-fledged research & development industry devoted to their advance. The private companies China tobacco Guangdong, C Hebei and C Henan, are all well at work on next-gen products. 
But the situation is, theoretically, very bleak in the rest of Asia. Most nations in Southeast Asia ban e-cigarettes, as this chart from the trade publication Tobacco Asia makes clear.
For instance, Singapore bans everything from chewing gum to fun, but for some reason allows prostitution. The ultimate nanny state naturally has a blanket ban on e-cigs.
Then again, this is Asia ... regulation is notoriously lax on many issues. Taiwan requires licenses to sell e-cigarettes, the catch being that it doesn't grant any licenses. Still, traders selling them and people consuming them seem to be in the clear.
There's no regulation at all in the Philippines, even when it comes to selling e-cigs to kids. Malaysia turns a blind eye to adult sale and use. Vietnam categorically bans e-smoking, but you can readily buy e-smoking gear even from street vendors and shops (alongside the AK-47s they probably have out back) and pretty much anything else you had in mind as well. 
The catch for investors will be identifying which markets are close to or likely to legalize e-cigarette production or consumption. Listed tobacco companies will be leery of entering markets that aren't above board. And Asia is lacking in any sensible approach to regulation of a viable and, it seems healthier, cigarette alternative. 
The studies cited in Asia on the health issues surrounding vaping all seem very dodgy or poorly researched to me. They reek of vested interests at work behind the scenes. And there are also a lot of old men in government who just think they know better than anybody else, and say "Ban these new-fangled things." 
Their stances amount to "They might be bad for you but we don't really know" or "They appeal to kids" or "They are worse than if you did nothing." But they are neither scientific nor helpful.
All kinds of things are legal and widely consumed that are not particularly good for your health (cigarettes, alcohol, caffeine, fatty foods, BBQ-cooked meals, charcoal, diet pills, painkillers, paint, industrial-strength glue ... the list goes on). Fast food appeals to kids, and obesity is no good for you, but there's no one checking your ID card on the way into KFC. 
But e-cigarettes are given no such chance. For instance, in my hometown, Hong Kong, the group charged with advising the government on e-cigarettes is the Council on Smoking and Health.
Pick an organisation that demands a 100% smoke-free Hong Kong, and what kind of findings or advice do you think you'll get?! Naturally, they recommend banning e-cigarettes and vaping devices altogether. Nicotine-laced products are already illegal, a Part 1 poison, and using them is a crime punishable by up to two years in prison and a HK$100,000 ($12,785) fine. So, of course, I only vape outside Hong Kong.
But ... people also apparently want to consume nicotine. It's more sensible to regulate how they do that in a way that is healthy. We regulate and tax those other substances, so why not e-cigarettes and vaping?
Unlike anyone in government in Asia, the British government has conducted an independent evidence review and concluded that e-cigarettes are 95% less harmful than tobacco, carry "a fraction of the risk of smoking" and are successful at getting people to give up smoking.
That suggests the attitude to vaping and cigarette alternatives in many Asian nations needs to change. Common sense and hard science may eventually prevail. The million dollar question is when?
This article originally appeared at 10:00 ET on Real Money, our premium site for active traders. Click here to get great columns like this from Jim Cramer and other writers even earlier in the trading day.
More of What's Trending on TheStreet:
Utilities Are Embarrassing Tech This Month, One Pic Shows
Editors' pick: Originally published Aug. 16.
At the time of publication, Alex McMillan had no positions in the stocks mentioned.