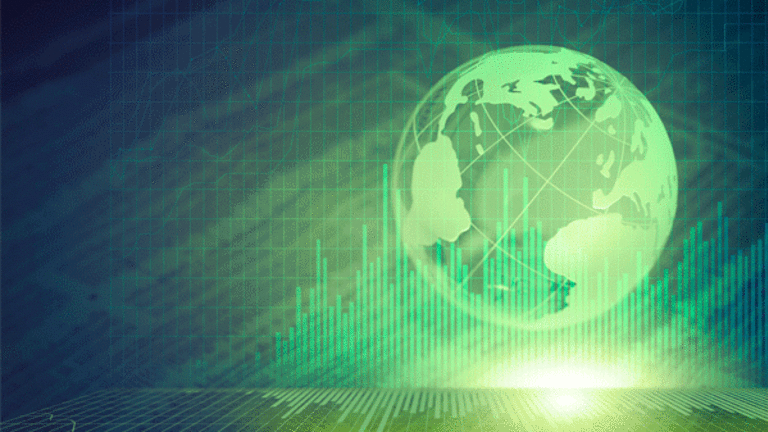 U.S. Gasoline Prices Brace for Surge
Oil prices should continue to rise and lead to a spike in gasoline prices before the end of the year thanks to China's growth at breakneck pace -- despite a series of interest rate hikes.

NEW YORK (TheStreet) -- Oil prices should continue to rise and lead to a spike in gasoline prices before the end of the year thanks to China's growth at breakneck pace, despite a series of interest rate hikes, according to analysts.
"If China continues to expand this way, I would expect
U.S. fuel prices to go up 20 to 30 cents a gallon by the end of the year," said A.T. Kearney's head of energy practice Vance Scott. He factored in the U.S. recovery as he discussed oil demand from the world's most voracious energy consumer, as it feeds its rapid economic growth, and the impact of this demand on U.S. gasoline prices.
Demand can, of course, drive up crude oil prices, which then makes gasoline more expensive.
Since October, China has raised interest rates five times to stem inflation. Yet second-quarter gross domestic product came in better than expected, as did June industrial and retail sales data in the week of July 15.
Preliminary data from an HSBC survey of purchasing managers showed that the manufacturing sector of China may have shrunk for the first time in a year in July, but Scott largely shrugged off the data in connection with the gasoline price forecasts.
"I would be inclined to say that even if China slows in the second half, we're talking about a relative slowdown of a couple percent maximum of China's industrial output growth, at about 15% today, or GDP growth, at 9.7% today, so that probably pushes things to the low end of my range rather than nullifying the statement," Scott said.
Likewise, the anxiety surrounding the U.S. debt ceiling talks to avoid a default had done little to shake his belief that gasoline prices will continue to rise due to China's thirst for oil. The debt ceiling talks, says Scott, are driving crude futures lower, but on the order of just 0.2% to 0.5% depending on the contract.
"That translates to about a cent of gas. So even with the current uncertainty, the crude impact is pretty small ... the debt ceiling issue could impact prices from both sides for a small net effect."
Gasoline prices are heavily dependent on crude input costs, and the North American market has the advantage in this regard given the ability of refineries in North America to process cheaper, lower-grade crude oil. This contrasts with European refineries, which can generally take only cargoes of higher-quality, light sweet crude oil.
But if Asia's main economic hub continues growing quickly, it will pressure the global oil production infrastructure. "China and the rest of Asia will bid up prices against refiners in North America and Europe," said Scott.
Paying $120 for Middle East crude oil wouldn't be out of the question in any of these regions if more geographically convenient sources of oil that allow for cheaper transport costs weren't sufficient to fulfill ongoing needs.
"That boat can sale to many refiners, and if they can process it they will compete for that cargo."
China's crude inventories are running low, with industry sources telling Scott that while the U.S. strategic petroleum reserves will cover 200 to 400 days of current demand, China's will cover only 20 to 40.
"They are very keen on securing supply," Scott said of China.
The lag time between any changes in spot oil prices and any changes in average prices at the pump in the U.S. is short when prices are rising but longer when prices are falling, according to John Gamel, gasoline analyst for MasterCard Advisors SpendingPulse.
The most recent example is when oil prices peaked on Friday, April 29, and started to drop May 2 and May 3, prices at the pump peaked during the week ended May 6 and did not drop until the following week ended May 13.
"More importantly, the sharp drops in the price of oil that occurred between May 2 and May 6 did not occur at the pump until the week ended May 20."
Therefore, there is around a one- to two-week lag in the corresponding prices, depending on whether it's an increase or decrease.
With China, the U.S. economy, European and U.S. debt, domestic monetary policy, dollar direction, disagreements among members of the Organization of Petroleum Exporting Countries over production quotas, the Libyan civil war, ongoing struggles of the offshore oil industry after the Gulf of Mexico oil spill in 2010, the contentious debate over the environmental impact of hydraulic "fracking" of rock layers to access additional sources of energy and a host of other forces collectively influencing the direction of the oil markets, GasBuddy.com's senior petroleum analyst Patrick DeHaan expects the U.S. national average for gasoline to be $3.65 for the rest of 2011.
"I don't see a return to $2 gas unless there's a recession," says DeHaan.
Add 3 to 7 cents a gallon to that with the possibility of federal gas taxes in the future, and "that's not good news for a lot of motorists out there," says DeHaan. He notes that discussions of federal gas-tax increases will likely intensify as hybrids and other alternative-fuel vehicles become more popular, and the government seeks to fill revenue gaps from lower-gasoline usage with the help of gasoline tax increases. The 3 to 7 cents figure is based on his analysis of historical gas-tax increases.
Gasoline demand in the U.S. has been in recovery mode. Gamel of Spending Pulse, MasterCard Advisors' said U.S. gasoline demand in the post-recession 2008 to 2010 periods was about 2% below that of the pre-recession 2005 to 2007 periods amid continued high unemployment rates and the slow recovery of the construction industry activity. But the recovery is there, and gasoline prices have been increasing steadily.
For instance, gasoline prices hit $3.98 a gallon for the week ended May 6, 2011, significantly higher than the $1.61 price reached on Jan. 2, 2009, when demand tanked in response to record-high gasoline prices. They hit $4.11 in the week ended July 18, 2008.
Oil and gas and automobile stocks ended Thursday's trading session in mixed territory.
Ford
(TICKER)
fell 0.4% to close at $12.32;
General Motors
(GM) - Get General Motors Company (GM) Report
ticked down 0.1% to $28.10 ;
Toyota
(TM) - Get Toyota Motor Corp. Sponsored ADR Report
fell 0.9% to $81.43;
Exxon
(XOM) - Get Exxon Mobil Corporation Report
tumbled 2.2% to $81.46;
Shell
(TICKER)
ticked up 0.1% to $73.55;
BP
(BP) - Get BP p.l.c. Sponsored ADR Report
rose 0.3% to $45.05; and
Tesla
gained 1.9% to $28.17.
>>For upcoming earnings and estimates, see our
.
-- Written by Andrea Tse in New York.
>To contact the writer of this article, click here:
Andrea Tse
.
Copyright 2011 TheStreet.com Inc. All rights reserved. This material may not be published, broadcast, rewritten, or redistributed.