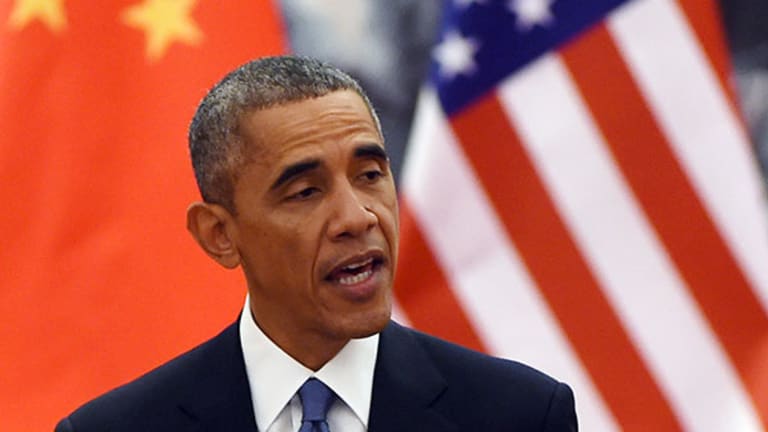 U.S.-China Climate Pact Opens Door to Green Energy Investment
A strong push to jointly combat climate change is making this surprise move by two superpowers hard to ignore for investors.
NEW YORK (TheStreet) -- In a surprise move Wednesday, China and the U.S. agreed to join forces to reduce carbon emissions post-2020 and opened the floodgates for investment into greener, low-carbon energy.
The agreement represents a historic level of cooperation on the subject of carbon reduction and is an attempt by China and the U.S., the top two biggest producers of CO2 on the planet, to respond to scientists' calls for action by establishing leadership in the fight against global warming. 
With the U.S. now pledging to reduce net greenhouse gas emissions by 26% to 28% below 2005 levels by 2025 and China vowing to consume 20% of its energy from zero-emissions sources by 2030, investment opportunities in nuclear, wind, solar and geothermal power could be quite enticing. 
In an Op-Ed for The New York Times, U.S. Secretary of State John Kerry wrote that the new U.S. emissions for 2025 build on President Barack Obama's plan to cut emissions 17% below 2005 levels by 2020.
Although wind production has tripled, and solar output has grown by a multiple of 10 under the Obama administration, nuclear and geothermal areas have lagged. 
Opportunities to fight carbon are certainly plentiful, but challenges remain.
For one thing, the U.S. can't be energy independent and simultaneously win the war on carbon. Something has to give.
This country simply doesn't have enough clean domestic energy supply to produce electricity if it abandons domestic coal and simultaneously closes perfectly good nuclear plants. Instead, the U.S. needs more nuclear power, as its use won't add to carbon emission output. 
Additionally, the idea that carbon emissions should be cut more stringently is already being opposed by the next Senate Majority leader Mitch McConnell, who said last week after the mid-term elections in Kentucky's coal country that he felt "deep responsibility to try to do whatever I can to get the [Environmental Protection Agency] reined in" and stop the regulating of carbon emissions at coal-burning plants.
Considering that a third of the CO2 emissions in the U.S. are derived from existing power plants, his war against EPA carbon rules means that in order for the U.S. to achieve more aggressive emissions goals, nuclear and geothermal power need to play a bigger role in the country's energy mix. 
"Offshore wind is a large, untapped energy resource, with the potential to generate 4,000 gigawatts of clean electricity, support up to 200,000 manufacturing, construction, operation and supply chain jobs across the country and drive over $70 billion in annual investments by 2030," according to the U.S. Energy Department.
Companies to watch for here are Siemens (SIEGY) , Alstom (ALSMY)  and Enel Green Power (ELPSF) , an Italian company that has been beefing up its presence here in the U.S. 
While I'm a huge fan of wind and solar applications, they are still intermittent and require greater storage solutions. This suggests there is room for geothermal to wiggle itself into the renewable conversation without the need to depend on storage. This can help companies like U.S. Geothermal (HTM) , since geothermal energy has a smaller development footprint vs. solar or wind farms and it can be a 24/7 base-load power source -- one that has generated heat since prehistoric times. Geothermal fields also produce just one-sixth of the carbon dioxide that a clean natural-gas-fueled power plant produces and is seen by the Environmental Protection Agency as the most efficient, clean and cost effective for temperature control. This is something that may help attract investors to Ormat Technologies (ORA) , considering the company has geothermal projects around the world. 
Since the U.S. is not going to put the brakes on oil consumption anytime soon, carbon dioxide-enhanced oil recovery, or CO2 EOR, may become a bigger story for investors still wanting exposure to fossil fuels. That will likely bode well for Denbury Resources (DNR) , Occidental Petroleum (OXY)  and Kinder Morgan (KMI) ,  who collectively comprise 85% of the domestic U.S. market for CO2 EOR production. 
The new stealth focus on cutting emissions could also be a huge triumph for cogeneration power, or combined heat and power, since it is a proven, cost-effective, low-carbon energy solution. Cogeneration makes microturbine play Capstone Turbine (CPST)  an important supplier for a range of companies in the energy industry.
On the nuclear front, it's worth noting Cameco (CCJ)  could be a name to watch if China ramps up demand for uranium to power nuclear reactors. The company secured a long-term deal with China two years ago as a means to help China lower its dependence on coal. Here in the U.S., positive momentum in the nuclear space is hard to ignore, especially since Japan announced it will restart reactors. 
To meet its emissions goal, China will need to deploy an additional 800 to 1,000 gigawatts of nuclear, wind, solar and other renewable generation capacity by 2030. To put that figure into perspective, Kerry said the figure was "an enormous amount, about the same as all the coal-fired power plants in China today, and nearly as much as the total electricity generation capacity of the United States."
Therefore, with so much potential to reduce emissions, low-carbon energy sources seem very much a smart portfolio allocation for long-term investors, whether you are investing in the U.S. or China.
At the time of publication, Denbury Resources was a client of the author's consulting firm, Blue Phoenix.
Follow @bluephoenixinc
This article is commentary from an outside contributor, separate from TheStreet's news coverage.