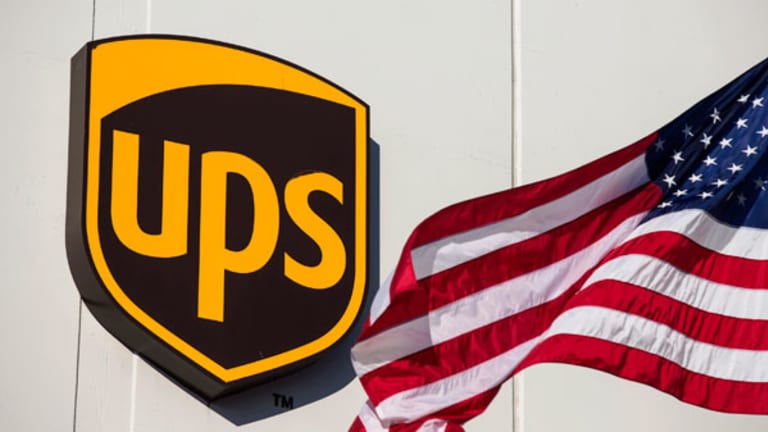 UPS Sees Its Shipping Future in Health Care, Retail and Green Technologies
Retailers desire same-day delivery, the aging population creates new demand for health care services. CFO Kurt Kuehn details the challenges and opportunities ahead for UPS.
NEW YORK (TheStreet) -- The rush to deliver online merchandise from the likes of Walmart (WMT) - Get Walmart Inc. Report and Amazon (AMZN) - Get Amazon.com, Inc. Report, and the aging of the global population, means one thing for shipping and logistics companies UPS (UPS) - Get United Parcel Service, Inc. Class B Report and FedEx (FDX) - Get FedEx Corporation Report: They will have to invest more in their infrastructures to meet new demands on their operating systems.
In an exclusive interview with TheStreet, UPS Chief Financial Officer Kurt Kuehn touched on how UPS intends to address those challenges, which also happen to represent long-term opportunities.
Blue Apron Takes on Amazon and Walmart with Unique Recipe
Best Buy Makes its Advance on Amazon
Clorox Grabs Market Share with Premium Trash Bag Gains
Brian Sozzi: What are the three things that you focus on daily/weekly/monthly to climb the ladder?
Kuehn: I'll start by saying one thing I do not focus on is the corporate ladder. That's not to say career advancement is not important or something we work toward. I just don't think making it a focus is productive for the individual or the organization. I think career advancement comes far more often to those who focus on helping their people and their organizations grow and reach their goals.
Throughout my career, I've looked for opportunities to do more. But at UPS I'm certainly not unique in this respect. Doing more is how most people at our company get the opportunity to take on new assignments with increasing responsibility. In a results-driven company such as ours, where there is also a culture of sharing the recognition for a job well done, doing more is part of our DNA.
My constant focus is on looking for new growth opportunities, minimizing financial risks and delivering more value to customers and shareholders. Along with all of our senior leaders, I take a keen interest in how megatrends such as emerging economies, sustainability and global B2C commerce are reshaping our world. We need to make sure that we understand these trends and how they affect our customers' businesses so we can adjust our service offerings appropriately.
Our company is also very focused on career development and the upward mobility of employees. So in any position that I have been in, I always have looked for opportunities to improve the performance of team members. Of course, individuals continually working to improve their performance puts a healthy pressure on me to do the same thing. So we get better together.
Sozzi: How would you compare/contrast the UPS culture relative to other large, well-established businesses and most importantly, how do you go about preserving that culture for generations to come?
Kuehn: I joined UPS in 1977 as a driver, so the UPS culture is the only one I know. Our culture has evolved from the values that were instilled by our founder, Jim Casey, who started the company more than 100 years ago. Jim gave the company a strong moral compass that points us individually and as an organization toward doing the right thing in any situation. The needs of our customers have changed dramatically over the years, and our business has adapted to keep pace and continue to meet those needs. But the thing that has not changed -- and never will -- is a set of beliefs and values that guided our founders and the men and women who have since led the company.
We're proud of our history and the legacy of fair, honest and ethical business practices for which UPS is known. Many of our employees have been with the company for 20, 30 even 40 years. So they help pass on our core values to younger employees. We also commit our beliefs in the form of policy and code of conduct books, which every employee receives when joining the company. Many of the meetings held throughout the company on a daily basis start with a brief review and discussion of one of these guidelines.
Sozzi: Can you point to three interesting investments you have green-lighted (or are considering) as CFO in the past year to make UPS even more competitive in this dynamic global climate?
Kuehn: We continue to make major investments in analytics, health care and sustainability.
Our On-Road Integrated Optimization Navigation analytics software known as ORION was launched in 2013 after a full decade in development. The proprietary operational technology project began as a commitment to reduce miles and fuel, as well as improve customer service. Using fleet telematics, advanced algorithms and customized online map data, ORION helps drivers select the most efficient delivery routes. In 2013 we deployed ORION on 10,000 routes and estimate that we are saving more than 1.5 million gallons of fuel and reducing carbon dioxide emissions by 14,000 metric tons per year. A reduction of just one mile each day per driver over the course of a year saves the company up to $50 million annually. We plan to deploy ORION on nearly half of our 55,000 U.S. routes by the end of this year.
Over the past few years we have made a number of health care acquisitions as well as expanded the number of facilities that we operate globally. We currently have more than 40 dedicated health care facilities around the world. We work with pharmaceutical companies to manage their supply chains and ship needed medications around the world. We also work with medical manufacturing companies to ship their products to global markets. Health care will continue to evolve with the growth of the middle class around the world and their needs to access live-saving drugs and medical devices. The rapidly aging population in the U.S. and in other advanced world econ­omies creates demand for new health care services. By 2050, the elderly population is expected to reach nearly 2 billion, with more than 1 in every 5 people on the planet becoming senior citizens. Fortunately, the advent of new Internet-enabled monitoring devices will allow more of the elderly to stay in their homes longer. The trend toward home-based care represents new opportunity for UPS as the delivery agent for some home-based products and services.
UPS has operated what we call our "rolling laboratory" since the early 1900s, when we used a fleet of electric vehicles to deliver in the metro New York area. Today, we have a fleet of more than 3,000 AFV vehicles that include Liquefied Natural Gas, Compressed Natural Gas, Hybrid Electric and Hydraulic Hybrid. We're even testing vehicles that run on chicken waste. UPS investments in alternative fuels not only lower our energy costs, but also make our services more appealing to business customers who are feeling public pressure to reduce their carbon footprint. I'm happy to say that UPS is on pace to drive more than 1 billion "green" miles by 2017.
Sozzi: What are your biggest operating challenges in emerging markets?
Kuehn: There's no doubt that emerging markets present some of the biggest opportunities for our company. As we've heard many times, 95% of the world's consumers now live outside the U.S. The majority of these new citizens are part of emerging markets and developing economies. This new global middle class will want to enjoy the same products and services they see being enjoyed in developed economies. It's our job at UPS to facilitate the commerce between our customers and these new consumers. And to do it in a way that is convenient, productive and cost-effective.
With 90,000 drivers and 82,000 vehicles and the world's most sophisticated mapping systems, we can deliver to just about any North American location you can imagine. But outside of North America, we don't have nearly the infrastructure we do here at home. Nor do we have the brand presence. So that makes our biggest opportunities also our biggest challenges. But to grow, we have no choice but to meet and overcome those challenges. So we're hard at work adding to our assets, building the infrastructure and increasing our brand awareness in the 220 countries and territories around the world where we operate.
(Kuehn told German newspaper Frankfurter Allgemeine Zeitung that UPS will invest $1 billion in its European operations in the next three to five years, mostly to expand logistics centers). 
Barriers to global trade in the form of excessive tariffs and bureaucratic red tape present far too many obstacles and frustrations to exporters and would-be exporters today. It would certainly help not only our company, but the rest of the U.S. economy too, if negotiators would push through the major trade agreements, including the Transatlantic Trade and investment Partnership and the Trans-Pacific Partnership, that are now on the table.
Sozzi: Telematics at UPS is interesting. Can you share a few of the most intriguing stats/information gleaned from this real-time information?
Kuehn: A part of the framework for the ORION system, telematics draws a detailed picture of the driver's-and the vehicle's-day, using sensors to capture data on more than 200 vehicle-related elements - everything from speed, RPMs and oil pressure to seatbelt use, the number of times the truck is placed in reverse, and the amount of time spent idling. This enables us to use our delivery vehicles as "rolling laboratories" in which we collect data, test ideas and hone our performance. Telematics also improve vehicle maintenance as we can make repairs to prevent breakdowns before they occur. Telematics, combined with preventative maintenance, allows us to maximize the life of our vehicle equipment, extending vehicle reliability. Through the use of telematics and other strategies, we were able to avoid 254 million minutes of idling time in 2013, equivalent to 1.8 million gallons of fuel and 17,000 metric tons of CO2. With more than 100,000 drivers traveling nearly 3 billion miles per year, safe driving habits are of the highest priority at UPS. We also employ telematics to reinforce safe-driving practices.
Sozzi: UPS has opened 14 new dedicated health care facilities in four continents in the past two years. Five years from today, how will this business be structurally different?
Kuehn: As mentioned earlier, health care is one of the key initiatives for the company. The rapidly aging population in the U.S. and in other advanced world economies creates demand for new health care services. Technology will play an increasingly important role in patient care and outcomes. For example, new Internet-enabled monitoring devices will allow more of the elderly to stay in their homes longer. What's more, the trend toward home-based care represents new opportunity for UPS as the delivery agent for some home-based products and services. We can envision the day when a specially trained UPS driver not only delivers a patient's medication, but also performs basic tests and monitoring procedures and relays the information electronically to physicians.
Sozzi:When talking with customers, what is the No. 1 thing they are seeing you do operationally in 2014 so they can win in 2015?
Kuehn: We are making significant investments to improve our performance over the 2013 holiday season when late deliveries disappointed many of our customers. We began working on plans for 2014 peak the day after Christmas, Dec. 26, 2013, identifying corrective actions and solutions. As a result, we've modified our volume forecasting to better reflect the growing impact of e-commerce and online sales. We've also added more than 6,000 additional package cars and built new buildings (and expanded others) to expand our sorting capabilities. We're also changing our communications process, so we can provide customers with timelier updates on the status of their deliveries.
Sozzi: What is the best employee innovation that got everyone in the executive meeting talking?
Kuehn: When Haiti was struck by a devastating earthquake in 2009, we quickly responded by delivering food, medicine, blankets and other necessities. Acting through the UPS Foundation, we are often among the first on the scene when disasters hit, as we were in Haiti. Our team had not been in Haiti long when they discovered a troubling situation. While volunteering at a Salvation Army center in Port-au-Prince, they learned that people were gaming the system. The system they were taking advantage of was pretty basic. It was based on paper index cards that had the handwritten names of families who were eligible for the supplies. But when some peopled arrived at the front of the line to claim their supplies, they learned that their cards had already been marked. Someone else had taken their supplies. Probably to sell on the black market.
That made our employees mad. It also got them thinking. Over a weekend, they went to work on a solution. Using a laptop computer, bar-coded identity cards and a tool called UPS Trackpad, they developed a new system ... one that soon put the bad guys out of business. By the way, that Trackpad system, which we originally developed to track packages inside office buildings, is still being used in Haiti. It's also been adopted at other disaster sites. Most importantly, the new system our folks hastily put together helped get supplies in the hands of the people who needed them.
-- By Brian Sozzi CEO of Belus Capital Advisors, analyst to TheStreet. This article represents the opinion of a contributor and not necessarily that of TheStreet or its editorial staff. At the time of this publication, Belus Capital Advisors rated Walmart a sell. Brian Sozzi is the CEO and Chief Equities Strategist of
. He is responsible for developing and managing an equities portfolio of mid- and large-cap positions, in addition to leading the firm's digital content initiatives. He is also a personal finance columnist for
Men's Health
magazine.