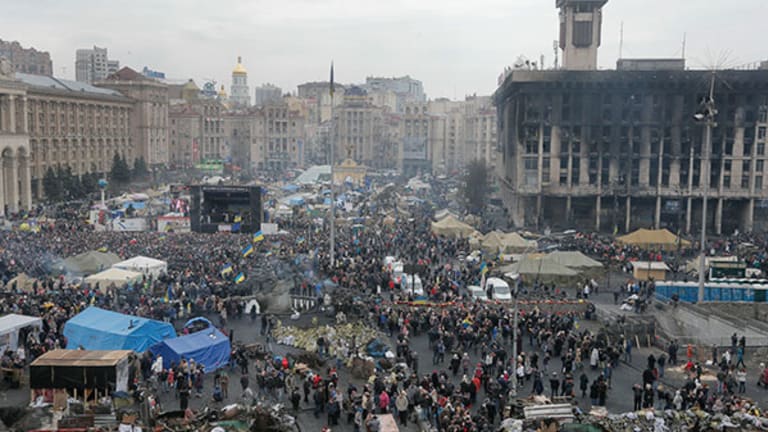 Ukraine's Lesson for Investors: Know What's in Your ETFs
Many ETFs have overly large exposures that can create headaches for their holders.
NEW YORK (TheStreet) -- The recent unrest in Ukraine offers an important lesson for investors: Know what's in the exchange-traded funds in your portfolio.
Last week's bloody protests killed scores of people and have led to the ouster of President Viktor Yanukovych. The country's parliament has appointed lawmaker Oleksandr Turchinov to take on the former president's duties until elections can be held in May, but there are fears the country may split in two.
At the root of the violence has been disagreement about whether the nation should move more toward the West as part of the European Union or align more closely with Russia.
Last week, Standard & Poor's lowered Ukraine's foreign currency rating to triple-C from triple-C-plus and warned that the government could default on its debt. This could spell trouble for emerging-market bond funds that have exposure to Ukraine debt.
According to ETF.com, the largest emerging-market bond fund according is the iShares JP Morgan USD Emerging Market Bond ETF (EMB) - Get iShares JP Morgan USD Emerging Markets Bond ETF Report. It has a 3.25% weighting in the Ukraine. Other funds with exposure include PowerShares Emerging Markets Sovereign Debt Portfolio (PCY) - Get Invesco Emerging Markets Sovereign Debt ETF Report, which has a 3.97% exposure, and the iShares Emerging Markets High Yield Bond ETF (EMHY) - Get iShares J.P. Morgan EM High Yield Bond ETF Report, which has slightly less than 3%.
Funds with no exposure include the WisdomTree Emerging Markets Local Debt Fund (ELD) - Get WisdomTree Emerging Markets Local Debt Fund Report, the Market Vectors EM Local Currency Bond ETF (EMLC) - Get VanEck J. P. Morgan EM Local Currency Bond ETF Report and the suite of ETFs recently launched by Emerging Global Advisors.
The fund with the largest exposure to the Ukraine that I could find was the ProShares Short Term USD Emerging Markets Bond ETF (EMSH) - Get ProShares Short Term USD Emerging Markets Bond ETF Report which is a relatively small fund with $11 million in assets. It has a 10% weighting.
There is a bigger point here about how to use exchange-traded products as part of a diversified portfolio.
Investors who construct portfolios with funds that have narrower focuses than broad funds such as SPDR S&P 500 (SPY) - Get SPDR S&P 500 ETF Trust Report, iShares MSCI EAFE ETF (EFA) - Get iShares MSCI EAFE ETF Report and  iShares Core Total US Bond Market ETF (AGG) - Get iShares Core U.S. Aggregate Bond ETF Report must be willing to devote some time to understanding a fund's holdings and then monitoring those holdings for news like the default threat in the Ukraine.
Certainly no one can know now whether the Ukraine will default on any of its debt, but we do know that the large a fund's weighting in Ukrainian debt, the large the potential hit in a default.
EMB and PCY each have billions in assets, and I'll bet they have shareholders who wouldn't discover they had exposure to Ukraine until after a default occurred.
Similarly, there are many equity ETFs with very large weightings in individual stocks or specific sectors that could overly influence the funds' performance. Investors need to understand and monitor these funds well, too.
A case in point is the weighting of Teva Pharmaceuticals (TEVA) - Get Teva Pharmaceutical Industries Limited American Depositary Shares Report in the iShares MSCI Israel Capped ETF (EIS) - Get iShares MSCI Israel ETF Report at 27% vs. just 13% in the Market Vectors Israel ETF (ISRA) - Get VanEck Israel ETF Report. TEVA's share price has struggled for much of the last couple of years in part because of concerns about the company's ability to grow its earnings.
TEVA's struggles have been apparent in the performance dispersion of the two funds. Since ISRA's inception in June 2013, it is up 22%. But EIS has gained only 13%.
It should be noted that TEVA has done well so far in 2014, but a 900-basis-point gap in less than a year for two funds tracking the same country is remarkable. Going forward, TEVA will continue to make a difference in the performance of these two funds.
An investor interested in exposure to Israel needs to keep tabs on TEVA just as investors in emerging-market bond ETFs need to keep tabs, for the moment, on the Ukraine. This sort of effect exists in dozens of funds, and with the transparency offered by ETFs, there is no reason to get blindsided by a fund's holdings.
At the time of publication, Nusbaum had no positions in stocks and ETFs mentioned.
This article represents the opinion of a contributor and not necessarily that of TheStreet or its editorial staff.