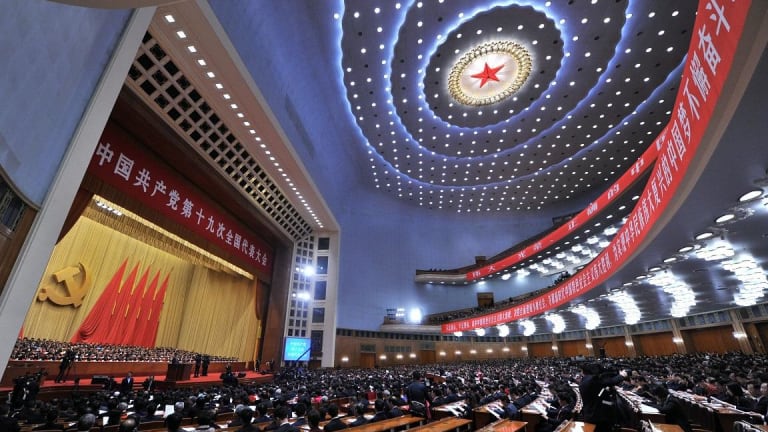 UBS Boosts China Bet With Mainland's First Foreign Stock Fund
UBS, which has a comprehensive plan to further develop its asset management business in China, expects to follow the stock fund with other investment options including fixed income and alternatives
The Swiss banking giant UBS AG (UBS) - Get Free Report has a two-decade history of firsts in China, from obtaining a license in 2003 that allowed foreign investors access to the country's stock markets to a permit this year authorizing private fund management.
This week, it notched another win, leveraging the most recent permit to introduce the first mainland China stock fund owned by a company outside the People's Republic. The UBS China Equity Private Fund Series 1, controlled by the company's Shanghai subsidiary, has completed its initial offering and will join the $45 billion in assets that the Zurich-based lender already manages in the world's second-largest economy.
"We've been consistent in identifying both Asia, and specifically, China, as an area of opportunity we hope to leverage our strengths as a franchise," William Ferri, head of Products & Solutions and head of Americas at UBS Asset Management, told reporters during a roundtable discussion last month. 
While Chinese stock markets, valued at $8 trillion at the end of 2015, are dominated by state-operated businesses, private companies are gaining share, particularly in consumer industries like health care, and investors now have broader access to them, UBS said in a report. Reforms such as "stock connect programs" that allowed investors in the open Hong Kong market to trade shares on both the more-restricted Shanghai and Shenzhen stock exchanges have opened about 80% of China's market cap to global buyers, including the "A" shares listed only on the mainland.
UBS's new fund, which will invest primarily in those shares, is open to both institutional holders and high net-worth individuals based in China, the firm said. It will be managed by Zizheng Wang, who has more than seven years of experience in researching and investing in "A" shares, through UBS Asset Management (Shanghai) Ltd.
"From a long-term perspective, UBS Asset Management sees sustainable growth in the Chinese economy and opportunities in the A-share market," Wang said in a statement. "Blue-chip stocks in the A-share market are fairly valued and leading companies across numerous sectors are enhancing their international competitiveness."
While China's growth is slowing from double digits a few years ago to as little as 6.8% this year and 6.4% next year, UBS says that's largely tied to President Xi Jinping's efforts to reduce government debt linked to state-owned companies. Private companies are expanding with little debt and will continue to growth faster than rivals in developed markets for the next several years, the lender said.
UBS, which has a comprehensive plan to further develop its asset management business in China, expects to follow the stock fund with other investment options including fixed income and alternatives, said Aries Tung, head of strategy in the country.
As of July, the Swiss company was one of about 41 foreign banks doing business in China through locally-incorporated firms, according to the U.S. government. Among them were eight American lenders, including JPMorgan Chase & Co. (JPM) - Get Free Report , Citigroup Inc. (C) - Get Free Report and Morgan Stanley (MS) - Get Free Report , who have to balance growth opportunities in China with President Donald Trump's often-stated concerns about trade imbalances between that country and the U.S.
Citigroup is a holding in Jim Cramer's Action Alerts PLUS charitable trust portfolio. Want to be alerted before Cramer and the AAP team buy or sell the stock? Learn more now.
During a visit to Beijing earlier this month in which he met with Xi, Trump described the economic playing field between the U.S. and China as "very one-sided and unfair," but said he didn't hold his host responsible.
"Who can blame a country for being able to take advantage of another country for the benefit of its citizens?" the president said. "I do blame past administrations for allowing this out-of-control trade deficit to take place and to grow. We have to fix this because it just doesn't work for our great American companies."
U.S. firms have made inroads, however. JPMorgan, the largest U.S. bank by both total assets and customer deposits, draws about $700 million in annual revenue from China, where it serves Chinese, American and international clients, CEO Jamie Dimon said in a letter to investors before this year's investor meeting in May.
While acknowledging the trade imbalances between the U.S. and China highlighted by Trump, there's "no inevitable or compelling reason that China and America have to clash," Dimon wrote. "In fact, improving political and economic relationships can be good for both parties. So while the issues here are not easy, I am hopeful they can be resolved in a way that is fair and constructive for the two countries."
More of What's Trending on TheStreet:
Here Are the Lessons 2007 Bull Market's Peak Can Teach Investors