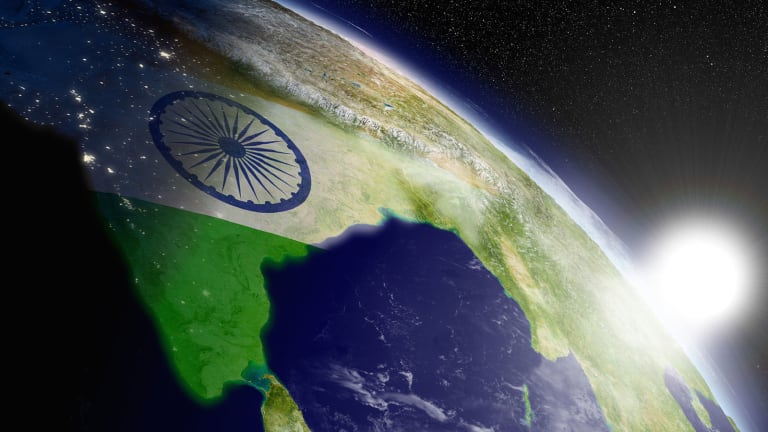 Turned Off by Brazil, Russia and China? Try India, the Last BRIC Standing
In India, as a rising middle class flocks to e-commerce and businesses demand cloud solutions, this homegrown tech company is tapped into enormous opportunity for growth.
Editors' pick: Originally published March 8.
As investors wring their hands over financial chaos and falling growth in Brazil, Russia, and China, they're losing sight of the "I" in BRIC, which is India. For technology growth amid a troubled global market, India remains the Jewel in the Crown.
Below, we examine an exchange-traded fund (ETF) that's best positioned to ride India's tech explosion, while broader markets languish and other emerging nations wallow in fear and uncertainty.
Morgan Stanleyrecently reported that e-commerce sales in India totaled $16 billion in 2015 and are on track to reach $119 billion by 2020. Over the next 15 years, India will witness more people come online than any other country.
Already a major destination for IT outsourcing, India's indigenous tech sector is booming, even as erstwhile emerging market leaders such as Brazil, Russia and China badly stumble.
Driving India's tech sector is the growing appetite for e-commerce among the country's increasingly affluent and tech-savvy middle class, as well as the clamor from businesses for cloud, storage, telecommunications, and data management solutions. Small wonder that e-commerce giant Amazon this month took steps to make India it's second-largest market, after America.
The optimal play on these trends is WisdomTree India Earnings ETF (EPI) - Get WisdomTree India Earnings Fund Report , which is comprised of companies incorporated and traded in India that are profitable and that are eligible to be purchased by foreign investors.
data by
With net assets of $1.2 billion, the WiscomTree ETF holds several bellwethers in the India technology sector, including Infosys and HCL Technologies.
This ETF allows you to leverage India's economic upside (especially in technology), while limiting the downside. Companies selected for the fund's portfolio are weighted based on their earnings in the previous fiscal year; those with negative earnings are excluded and those near break-even are given smaller weighting.
That said, WisdomTree India Earnings gives a larger allocation to small and mid cap stocks than similar India-focused ETFs, which in turn provides more exposure to up-and-coming tech firms.
WisdomTree India is down 7% year-to-date but over the past month it has gained 5.32%, as investors have turned away from other struggling emerging markets to pour capital into a comparatively stronger India.
Burnishing India's prospects in the eyes of investors lately are new reform initiatives from the Indian government to foster high-tech start-ups in the country, in an effort to kick-start growth and break through the bureaucratic red tape for which India is regrettably famous.
WisdomTree India Earnings is a safe and easy way to profit from the multi-year growth of India's tech sector. According to the same Morgan Stanley report, India will be a one-billion-person digital market by 2030. That's the sort of unstoppable investment trend into which you should put your money.
With the S&P 500 down 2.76% year to date (despite rallies in recent days) and analysts expecting mediocre returns in 2016 at best, or a full-blown correction at worst, now's an opportune time to consider this well-positioned ETF with the potential to beat an overall market downturn. The fund's excellent prospects show that India, in many ways, is the last BRIC standing.
As we've just explained, WisdomTree India Earnings ETF is an enticing play on India's tech boom. We've also found a small-cap "rocket stock" in the biotech sector that's about to take off. UCLA researchers are stunned by a Nobel Prize-winning cancer breakthrough that's proven in clinical trials to eliminate lethal forms of cancer with a single dose. One small company owns the patent to this life-saving treatment. Now trading at about $5 a share, the stock is projected to surge 2,700% on an imminent FDA announcement. To download the full report, click here.
John Persinos is editorial manager and investment analyst at Investing Daily. At the time of publication, the author held no positions in the stocks mentioned.