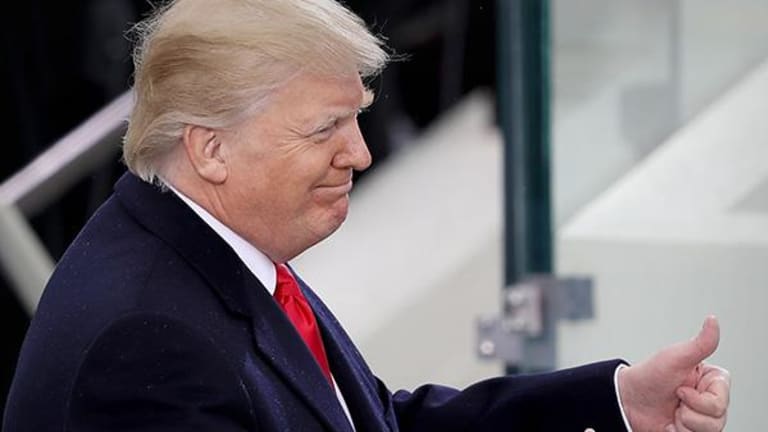 Trump's Rally Is Far From Finished
The Trump rally has cooled in the past month but the bull run isn't over, says Joseph Seydl, capital markets economist for JPMorgan Private Bank.
The Trump rally has cooled in the past month as gravity -- or perhaps reality -- has taken hold of stocks. But just because the market's post-Election Day surge has petered out does not mean the bull run is over, said Joseph Seydl, capital markets economist for JPMorgan Private Bank.
"We don't think the market has priced at all the potential effects of policy changes," said Seydl. "Our base case is for mid-single-digit earnings growth in the U.S., but tax reform of the type [President Donald] Trump is focused on could lift EPS by an additional 10%, by our estimates. This potential upside is attractive for investors looking to put cash to work today."
Seydl adds that Trump's election and the expectation for fiscal stimulus has been a driver of the market since November, but not the only one. He points to the economic data that have been improving since even before the US election as another force behind the rally.
"We are bullish on U.S. equities for fundamental reasons, and a possible boost from fiscal stimulus should be viewed as icing on the cake," said Seydl. He said he is a fan of the technology, telecom and energy sectors when it comes to domestic stocks.
As for foreign markets, Seydl said Europe and Japan should benefit directly from dollar strength and euro and yen weakness. He is especially bullish on Europe due to the negative sentiment surrounding the potential elections that could further fracture an already unsettled European Union.
"The sentiment is so bad that if political populism fails to gain further traction, then markets may melt up," said Seydl. "After nearly five years of declining earnings expectations in Europe, expectations are finally starting to improve. Accelerating growth in the U.S., if we get it, means the consensus around growth in Europe is too bearish, given the trade and financial linkages."
Seydl's emerging markets outlook is more uneven. He said the risks surrounding trade antagonism from Trump are real, and they are hurting sentiment in emerging markets. Dollar strength versus the Chinese renminbi also remains a key risk in his view.
Seydl's preferred approach is to focus in Southeast Asia -- India, Indonesia and China -- where solid secular tailwinds have been in place for years.
"Money is pouring into those economies. It's a good secular growth story to be excited about," said Seydl.