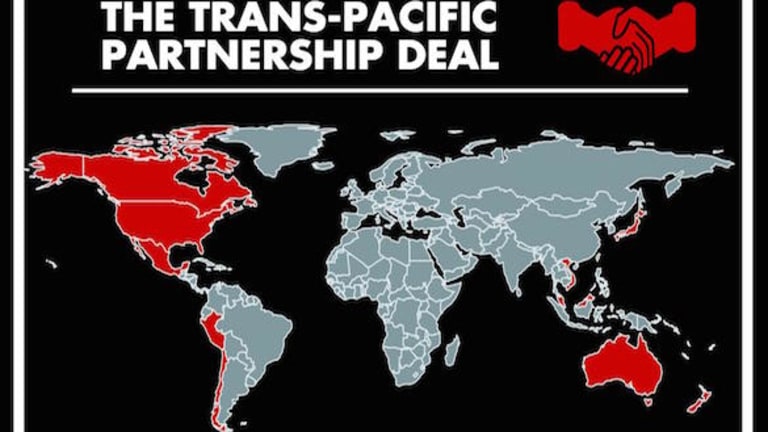 Trans-Pacific Partnership: Who Stands to Benefit and What Are the Main Concerns?
The Trans-Pacific Partnership is controversial, but part of the problem is that not enough people understand what it says.
NEW YORK ( TheStreet) -- The New York Times has called the Trans-Pacific Partnership (TPP) the "largest regional trade accord in history," and it may well become a law, provided it addresses the concerns of Congress' free-trade skeptics. They believe that such trade agreements hurt the U.S. worker by making it easier for overseas manufacturers who pay lesser wages to expand their businesses. That hurts U.S. competitors and ultimately workers, who may see their jobs exported. But proponents say that these pacts expand markets for U.S. companies. 
As is the case with many pieces of significant legislation, much of the Trans-Pacific Partnership is not well-understood. 
Below is a primer on TPP. 

1. What is TPP?
The Trans-Pacific Partnership is a trade deal that connects North America and parts of Latin America, Asia and the Pacific Rim. It is supposed to encourage trade among the U.S., Australia, Brunei, Canada, Chile, Japan, Malaysia, Mexico, New Zealand, Peru, Singapore and Vietnam. The twelve members in this partnership account for 40% of the world economy, according to Reuters.
The trade negotiators reached the deal in Atlanta on Monday, marking a major victory for President Barack Obama. The deal is supposed to cut trade barriers including tariffs, allowing the member nations to follow common environmental, labor and trade standards.

2. Why is TPP considered to be controversial?
Much of the deal remains unknown, which has fueled controvery. 
Secrecy: A pact that seems secretive may be a bigger worry than those agreements that are explained in detail, as it leaves little room for further discussions or debates. None other than the Huffington Post cited alleged "threats to interest groups" in various sectors.
Exclusion of China: A lot of criticism has surrounded China's exclusion from the deal. The New York Times calls the partnership President Obama's "pivot" to Asian markets that could challenge China's economic power. The President in his statement on Oct. 5, 2015 said: "When more than 95 percent of our potential customers live outside our borders, we can't let countries like China write the rules of the global economy. We should write those rules, opening new markets to American products while setting high standards for protecting workers and preserving our environment."
Although the trade deal includes rapidly developing economies like Malaysia, Vietnam and Chile, it ignores the world's second largest economy, China, along with the industrial economies of South Korea and Taiwan. While many say that China will be a part of TPP sooner or later, many have criticized its exclusion in the first stage of the trade deal. Fortune, criticized TPP for China's exclusion, calling the move an "absurd and confusing emergence of two overlapping trading blocs that need each other economically, but distrust each other intensely."
China, however, remains neutral as it is in process of finalizing its own free trade deal, the Regional Comprehensive Economic Partnership (RCEP), that will also include TPP members Australia, New Zealand, Brunei, Malaysia, Japan, Singapore and Vietnam besides non-TPP members, China, India, South Korea, Darussalam, Cambodia, Indonesia and Laos.
Fast Track: President Obama's trade agenda was approved for "fast track." That prevents the Senate from "filibustering" the trade deals. This means lawmakers will approve or reject the agreement through an up-or-down vote and will not be able to make amendments.
Threat to Domestic Economy: The regional trade deal is already facing criticism within Congress. Many Democrats and Republicans are already opposing the deal. Vermont Senator Bernie Sanders, a Democratic Presidential candidate, said that he was disappointed, because the trade deal will hurt consumers and cost Americans their jobs. According to Reuters, in a statement he added, "Wall Street and other big corporations have won again."
GOP frontrunner Donald Trump also criticized the deal by writing on his Twitter (TWTR) - Get Twitter Inc. Report account that the incompetence of our current administration is beyond comprehension. TPP is a terrible deal.'
However, in his statement President Obama mentioned that the partnership will benefit "farmers, ranchers, and manufacturers by eliminating more than 18,000 taxes that various countries put on our products."
Environmental Issues: The TPP has received much criticism from many environmentalists who believe that the partnership is far from being a "progressive" deal. An article in Huffington Post was skeptical about the environmental issues being included in TPP, especially in countries like Japan and Singapore where "commercial whaling and shark fin trade" remains a big issue.
Even if environmental standards were included, they will be covered in "vague and toothless language," the article added. It also said that with increases in liquefied natural gas (LNG), potential harm could be done to the ecosystem. The article also said that there could be a substantial increase in fracking and carbon emissions that are hazardous to the ecosystem.

Other 'undisclosed' Issues: Part of the controversy also lies in a classified document by WikiLeaks, which says that under the TPP deal, foreign firms will be allowed to "sue"  governments for "unlimited compensation." Such actions may in many cases, preserve the interest of a certain business but raise issues that could be damaging to the environment and established legal system. This could potentially also lead to a conflict between domestic and international interests.

3. In conclusion
An association with the U.S. under the terms of TPP will be a welcoming sign for many nations that want to improve domestic labor conditions and stringent trade laws. Some key concerns may be in the implementation of common international laws that favor one country more than another. That could lead to disagreements.
A free-trade advocate, President Obama in his opening speech said his "approach to trade has been guided by a unifying principle: leveling the playing field for American workers and businesses, so we can export more products stamped Made in America all over the world that support higher-paying American jobs here at home."
This article is commentary by an independent contributor. At the time of publication, the author held no positions in the stocks mentioned.