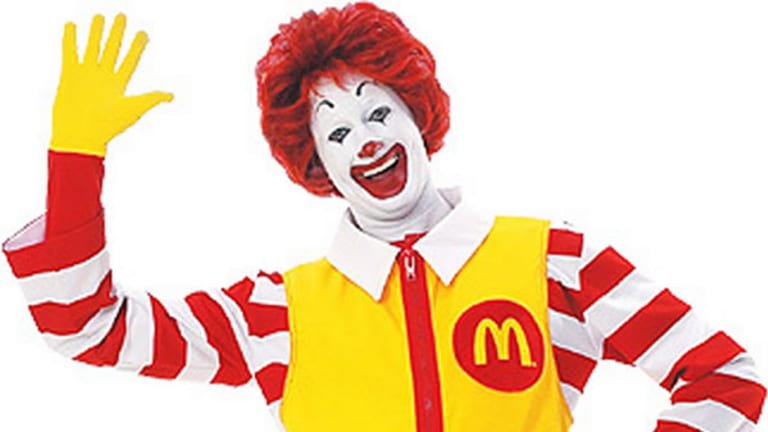 Top Ways Struggling McDonald's Is Trying to Reinvent Itself
The struggling fast food chain is pulling out all the stops in order to win back consumers.
NEW YORK ( TheStreet) -- Struggling McDonald's (MCD) - Get McDonald's Corporation (MCD) Report is pulling out all the stops in an attempt to turn around its sagging sales numbers. 
Its latest efforts include new primetime TV ad spots, multiple menu changes, and the introduction of new technology as it tries to win back consumers craving healthier, or more interesting, food at Chipotle (CMG) - Get Chipotle Mexican Grill, Inc. Report , Sonic (SONC) and Shake Shack. Its initial efforts have yet to show any financial benefits, but the impact of some of its other moves won't be known until later this year.  
"It's important to underscore that while these initiatives will take time for customers to notice and give us credit through increased visits, we are confident in our ability to change the sales trends," acknowledged McDonald's CFO Peter Bensen at a Nov. 20 investor conference. McDonald's  will announce its fourth-quarter results, capex plans for 2015 and January sales at the end of the month, giving investors a fresh glimpse into whether its ongoing rebranding initiatives in the U.S. are starting to work.
The burger chain garnered lots of attention recently for its "Signs" commercial that aired during the NFL playoffs and Golden Globes, but it's worth noting that the company failed to gain any sales traction in the U.S. from TV commercials that went viral in October focusing on ingredient quality for items like the McRib and Chicken McNugget. In October, McDonald's U.S. comparable sales decreased 1.0%, with the restaurant citing "strong competitive activity." McDonald's November U.S. comparable sales actually worsened vs. the rate seen in October, declining by 4.6% due to persistent competition.
Since Oct. 1, McDonald's shares have lost 0.1%, lagging the 5.5% and 6.5% respective gains in the S&P 500 and Dow Jones Industrial Average.
TheStreet takes a look at the main ways McDonald's is trying to return to the good graces of the increasingly health conscious U.S. consumer -- and its investor base.
1. Convincing customers that McDonald's isn't exactly the same place it was when they were kids. 
Caloric bombs like the Big Mac, large fry and quarter pounder lead the list of items that are central to McDonald's menu. The "core" of the menu, as McDonald's execs reference it, constitutes about 40% of its sales. But now McDonald's wants its customers to overlook images of waistline-killing double beef patty Big Macs and diabetic shock inducing McCafe frap iced coffees and give it credit for its healthier alternatives and ingredients that aren't that bad.
To change perception, McDonald's has begun to shift how it communicates to the hungry passersby's on the road home from work and those that are already home. On Jan. 3, McDonald's launched its latest iteration of its "I'm Lovin' it" campaign. The first TV spots mocked the health-conscious folks that are filling the registers of Chipotle with cash, saying the lettuce on its Big Macs will never be kale and its special sauce is definitely not Greek yogurt. A second commercial it sought to connect with moms buying Happy Meals for their children, spotlighting the inclusion last year of Cuties clementine's in those red, cardboard carry home boxes.
The newest, and perhaps most controversial in the TV marketing blitz, is the "Signs" commercial that debuted during Sunday's NFL Playoffs and Golden Globe Awards, which you can see below.
The spot featured messages on McDonald's tall road signs that were unique to the community, such as birthday wishes for a local or in the case of Boston, "Boston Strong" in a show of support for the tragic events at the Boston Marathon in 2013. However, the spot generated considerable backlash on social media, with some voicing concern that McDonald's was seeking to profit from national tragedies.
McDonald's shelled out $988 million -- $2.7 million a day -- on U.S. advertising in 2013, according to Kantar Media. It likely exceeded $1 billion in 2014 as it ramped up efforts to reverse negative consumer perceptions of its brand.
The fact that this significant budget has yet to move the needle in altering poor U.S. sales trends underscores the challenges that remain for McDonald's in its turnaround ambitions.  If anything, the revised advertising campaign has brought to the surface raw discontent -- in real-time on social media no less-- with the McDonald's brand, perhaps damaging the company's chances at reversing its financial fortunes in 2015.    
2. Simplifying the menu to speed up lines and encourage local differentiation.
McDonald's has started to trim its menu this month as a means to simplify the ordering process and speed up chaotic lines. Eight items will be cut from the menu. The number of Extra Value Meals will go from 16 to 11. It's possible that the next great, and permanent, addition to the McDonald's menu will be created this year as franchisees take their savings from food ordering and experiment with flavors local to their community.
It's a point not lost on McDonald's. "This simplification will create opportunities for local markets to pull products from our global pipeline to address the unique needs and taste of their customers, with products like the chorizo burrito, the cheddar bacon onion, the clubhouse burger and mozzarella stick just to name a few," said Bensen.
Time is of the essence for McDonald's to get its menu just right, since it's about to launch a global mobile app. McDonald's new global mobile app was fully deployed in Australia by the end of 2014, and will launch in the U.S. this year. The app will offer promotions and payment options at first, and then be followed by advance ordering (similar to what Starbucks is introducing in 2015) and loyalty program capabilities (in the spirit of Starbucks and Dunkin Donuts). By reducing menu complexity, McDonald's could avoid snafus with its advance ordering rollout and offer more specific rewards to users that will drive traffic.

3. Using new technology to give customers more choices.
As the video below shows, a key part of McDonald's new "Create Your Taste" program is allowing customers to select the buns and toppings for their sandwiches on large touchscreen devices. 

The restaurant is essentially copying the customized ordering processes that have worked with success at Sonic and Chipotle. At Sonic, customers drive up to individual parking spots and order from a customizable menu that features burgers and hot dogs. Chipotle, on the other hand, sends its hungry patrons down an assembly line to build their burritos and salad bowls from scratch.
McDonald's is in the process of installing these large touchscreens, and smaller tablets, in 2,000 of its 14,000 U.S restaurants this year.
Two roadblocks right out of the gate that McDonald's will have to overcome with the program -- a custom burger could take north of five minutes to prepare and set a penny-pinching consumer back $7. Furthermore, in order for McDonald's to reach its full potential with its order customization plans, its new marketing with a healthier pitch to consumers has to take root. After all, the consumer may continue to perceive they are still building something incredibly unhealthy. 
McDonald's must execute on this initiative to lure in traffic to its U.S. restaurants even as the formal eating out market is mired in slow growth. 
McDonald's U.S. comparable store sales declined by 1.7%, 1.5% and 3.3% from the first through third quarters of 2014, respectively, primarily due to undisclosed drops in guest traffic.
For 2015, McDonald's foresees a .8% growth in traffic, an improvement from 2014, as its efforts to reconnect with customers start to pay dividends. Summed up CFO Bensen in November, "Not a real robust market, and so in the U.S. and a lot of those other markets around the world, it continues to be a market share battle for us."
This article is commentary by an independent contributor. At the time of publication, the author held no positions in the stocks mentioned.