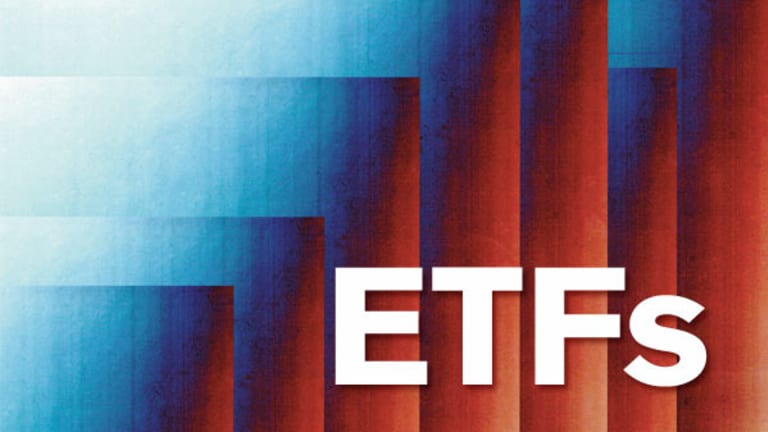 Three ETF Categories That Are Not Afraid of the Big Bad Cliff
These exchange-traded funds are performing well despite fears about the fiscal cliff.
NEW YORK (ETF Expert) -- The second presidential debate served up smoke, mirrors, sound and fury. However, it did very little to advance either candidate's prospects. In brief, the Kabuki theatrical production was entertaining, but it may not have swayed many voters.
Shockingly, for all the rhetoric about tax rates, neither candidate detailed a vision for avoiding a fiscal-cliff calamity. If Congress and the White House do not reach a deal by the end of 2012 or at least set out the framework of a deal that would be signed in January, severe recessionary hardship would be a certainty out of the 2013 gate.
Moreover, riskier market-based securities like stocks and commodities could begin selling off in advance of a stalemate if investors smell a repeat of the 2010 debt-ceiling negotiations.
The list of expiring tax breaks coupled with automatic spending cuts looms large. At the close of this year, payroll taxes on all employees would rise 2%, alternative minimum taxes will reach deeper into middle-class pockets and Bush era income tax rates would expire. Capital gains taxes would rise; dividend taxes would climb. There are even additional taxes to pay for the new health care law. And let's not forget, there are deep cuts slated for government programs (primarily defense) -- cuts that have ripple effects across the public and private sector.
In a sound-bite society, I wouldn't expect too many specifics from the candidates on how this country should deal with the deficit, debt and tax revenue simultaneously. A detailed explanation for maintaining/increasing tax revenue while simultaneously paying down the $16 trillion credit card bill may not have been feasible in the town hall setting.
Nevertheless, why on earth wouldn't the question come up? With whatever amount of respect we owe Ms. Crowley, why wouldn't she select a question pertaining to the way in which each candidate plans to handle fiscal-cliff negotiations? It would seem that few issues have as much impact on jobs, the overall economy and even security for diplomats to Libya than resolving fiscal-cliff differences in December/January.
Then again, perhaps I am missing the point. The reason that 80 exchange-traded funds from across the risk spectrum are sitting at 52-week highs is because investors wholeheartedly believe that the situation will find resolution. Or, more likely, investors may be comfortable with the way developed world governments kick the can further and further down the road.
In essence, there are three broad categories of ETFs that are sitting atop lofty perches. As long as a cliff-hanger election is followed by a bargain between Dems and Repubs, we might expect continued strength in the very same areas. Ergo, consider buying these members of the 52-week mile-high club on the inevitable dips. (And don't forget your risk management wet suit at
www.mypacificpark.com
!)
1.
Assets With Historically High Yield Spreads With Comparable Treasury Bonds
. Many have warned that increases in dividend and capital gains taxes would result in a massive selloff in yield producers. That hasn't happened at all. Instead, with the
Federal Reserve
policy helping to suppress Treasury yields, virtually everything with a better income stream continues to remain attractive.
Following are high-yield ETFs and their six-month percentage gains:
First Trust Dividend Leaders
(FDL) - Get First Trust Morningstar Dividend Leaders Index Fund Report
, 13.9%
iShares DJ Select Dividend
(DVY) - Get iShares Select Dividend ETF Report
, 8.3%
SPDR High Yield Corporate
(JNK) - Get SPDR Bloomberg High Yield Bond ETF Report
, 7.4%
iShares Preferred
(PFF) - Get iShares Preferred & Income Securities ETF Report
, 7.0%
PowerShares Senior Loan
(BKLN) - Get Invesco Senior Loan ETF Report
, 4.9%
2.
Assets That Have a Strong Measure of Safety yet Still Earn Real Returns After Inflation
. For all the developed world's debt woes, the emerging sovereigns are in pretty good fiscal shape. For that matter, the overwhelming majority of corporations have repaired, restored and enhanced their balance sheets. Those facts have made winners out of these income producers, especially when Treasuries yield negative real returns. Each ETF is followed by its six-month percentage gain.
PowerShares Emerging Market Sovereign
(PCY) - Get Invesco Emerging Markets Sovereign Debt ETF Report
, 14.2%
Vanguard Intermediate Corporate
(VCIT) - Get Vanguard Intermediate-Term Corporate Bond ETF Report
, 6.6%
Market Vectors Latin America Bond ETF
(BONO)
, 6.3%
WisdomTree Emerging Market Local Debt
(ELD) - Get WisdomTree Emerging Markets Local Debt Fund Report
, 3.3%
Vanguard Short-Term Corporate
(VCSH) - Get Vanguard Short-Term Corporate Bond ETF Report
, 3.0%
3.
China Has Wiggle Room to Ensure a Relatively Soft Landing
. If "Dr. Doom" (Nouriel Roubini) has his way, China will crash-land its economy in spectacular Depression-like fashion. Yet the markets themselves believe that the second largest economy in the world may indeed be stabilizing. The proof is in the emerging-market pudding where Asian neighbor ETFs continue to scale the relative-strength ladder. Following are those ETFs, followed by their three-month percentage gains:
iShares MSCI New Zealand
(ENZL) - Get iShares MSCI New Zealand ETF Report
, 17.5%
iShares MSCI Hong Kong
(EWH) - Get iShares MSCI Hong Kong ETF Report
, 10.3%
iShares MSCI Australia
(EWA) - Get iShares MSCI Australia ETF Report
, 9.7%
iShares MSCI Pacific Ex Japan
(EPP) - Get iShares MSCI Pacific ex-Japan ETF Report
, 9.3%
iShares MSCI Philippines
(EPHE) - Get iShares MSCI Philippines ETF Report
, 8.8%
This article is commentary by an independent contributor, separate from TheStreet's regular news coverage.
Disclosure Statement: ETF Expert is a Web site that makes the world of ETFs easier to understand. Gary Gordon, Pacific Park Financial and/or its clients may hold positions in ETFs, mutual funds and investment assets mentioned. The commentary does not constitute individualized investment advice. The opinions offered are not personalized recommendations to buy, sell or hold securities. At times, issuers of exchange-traded products compensate Pacific Park Financial or its subsidiaries for advertising at the ETF Expert website. ETF Expert content is created independently of any advertising relationships. You may review additional ETF Expert at the site.
Gary Gordon reads:
On Twitter, Gary Gordon follows: