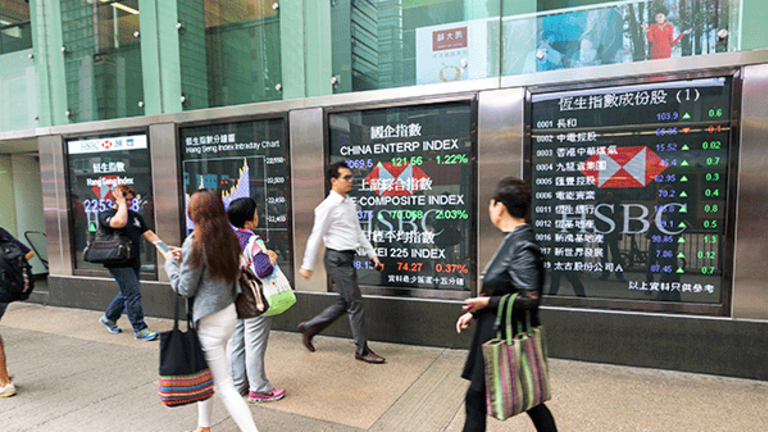 This One Economic Indicator Is Flashing 'Buy' for Hong Kong and Singapore Stocks
Investors should pay attention to the consumer confidence index, because it's a great market indicator.
It would make sense that if consumers are feeling good about their lives, jobs and incomes the stock market would benefit. But reality says something else.
Consumer confidence surveys ask consumers how they feel about economic factors such as employment, income and business conditions. In the U.S., the nonprofit research group The Conference Board conducts a monthly Consumer Confidence Survey. The results are then used to compute its Consumer Confidence Index, which is used to track consumer sentiment.
When the long-term results of the Consumer Confidence Index are compared to the long-term performance of the S&P 500, an interesting pattern emerges. And what it shows is that when consumers are happy, investors should worry.
In the U.S., consumer confidence and stock market performance move in tandem. So, consumers being at their happiest normally coincides with stock market highs. And when consumers are least positive about the future of the economy, it normally signals a stock market low.
In other words, unhappy consumers are a signal that the stock market should be heading higher. Right now in the U.S., the Consumer Confidence Index has been on the upswing (along with the S&P 500), but it's below its recent peak in March. Currently in the U.S., consumer confidence is not sending a clear signal about the stock market.
It's a different story in Singapore and Hong Kong, however.
Credit card company MasterCard regularly polls consumers throughout 17 Asia-Pacific countries. It asks them about their feelings on the economy, income, employment, the stock market and quality of life. The results are scored on a scale from 0 to 100, with 100 being irritatingly upbeat and 0 being suicidal.
In the latest survey, both Singapore and Hong Kong had scores in the low 30s, the lowest readings of the 17 countries surveyed. The highest scores went to Myanmar (99.8, feeling very optimistic) and India (97.6).
The last time consumer confidence in Singapore and Hong Kong was this low was June 2009. That was near the end of the global financial crisis. The latest results are 10 points lower than they were at the end of 2015.
As with the U.S., lower consumer confidence in Singapore and Hong Kong is a good signal that stocks will soon climb higher. Stock markets and consumer confidence in Asia also tend to bottom out at around the same time (which, as it turns out, is the best time to invest in the stock market).
Here's how the performance of Singapore's Straits Times Index compares to its consumer confidence index.
So far this century, low consumer confidence has preceded a STI recovery several times. December 2002, June 2009, December 2011 and December 2013 all marked lows in the consumer confidence index. And every time, the STI rallied (some rallies were bigger than others) at around the same time that consumer confidence was negative.
(This is one good reason to look at buying Singapore shares. Others are in our free report about Singapore's stock market that you can download here.)
It's the same story in Hong Kong. When Hong Kong consumers are pessimistic, the Hang Seng rallies soon after.
Why does low consumer confidence signal that stocks are bottoming? In general, the stock market "prices in" economic conditions before they become apparent to the general public. So by the time consumers are feeling optimistic about the economy, it's already reflected in share prices. This often means that stocks are setting up for a correction (so beware India's stock market at the moment).
But when consumer confidence is low, stocks have already absorbed the negative economic news, and are positioned to head higher.
Remember, the stock market is forward-looking. What investors think is going to happen is reflected in share prices. So, during normal times you can make money investing in stocks. But you'll see bigger gains if you're brave enough to invest when everyone believes the economy is doing poorly.
Consumer confidence can be a good indicator for long-term stock market performance. As the following chart shows, the best buying opportunities come at the point of maximum pessimism.
Cycle of Investor Emotions
The latest consumer confidence results could signal that Singapore and Hong Kong consumers are at the point of "despondency," and investors may be looking at their "maximum potential opportunity" in those markets.
Consumers can always get more pessimistic and markets can move lower. But based on what's happened in the past, investors should be feeling optimistic about Hong Kong and Singapore's stock market prospects.
To invest in Hong Kong shares, try the iShares MSCI Hong Kong ETF (EWH) . For Singapore, you can use the iShares MSCI Singapore ETF (EWS) .
Kim Iskyan is the founder of Truewealth Publishing, an independent investment research company based in Singapore. Click here to sign up to receive the Truewealth Asian Investment Daily in your inbox every day, for free.
This article is commentary by an independent contributor. At the time of publication, the author held no positions in the stocks mentioned.