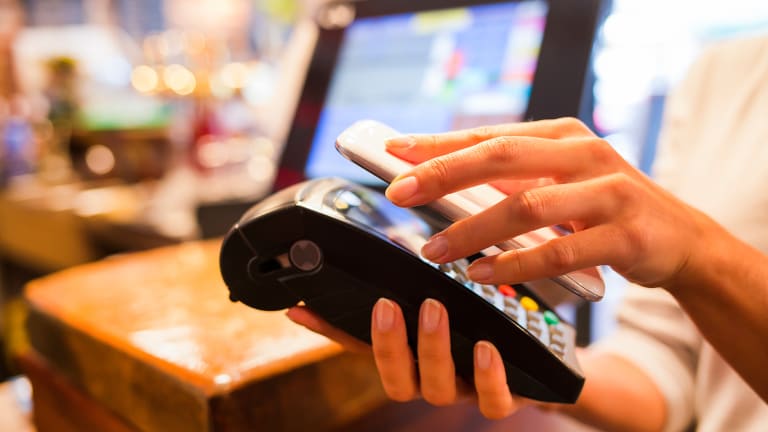 There's a Big World out There for Mobile Payments
U.S. is behind the curve, but the opportunities are growing.
The following was sent to Stocks Under $10 subscribers on Oct. 5. Click here to learn about this dynamic portfolio and market information service.
One of the stronger performers in the Stocks Under $10 portfolio thus far in 2017 is USA Technologies (USAT) . Year to date, the shares are up more than 45% and consumers continue to embrace digital payments in general and more specifically with USA Technologies at unattended point-of-sale vending machines and kiosks. 
This week we received a number of 2017 holiday shopping forecasts that on average call for holiday sales to climb 3.5% to 4% vs. 2016. Under the hood, however, e-commerce holiday sales are expected to climb 11%-16%, fueled in part by mobile shopping. All told, mobile shopping is slated to account for more than one-third of 2017 holiday e-commerce sales this year. 
Again, that's this year and if we strap on our forward-looking thinking caps, there are a variety of reasons why mobile payments will continue to take share vs. debit and credit cards as well as cash and checks. From greater ease of use as more retailers accept mobile payments, to security-related concerns, as well as the desire to crack down on graft and rein in costs associated with paper currencies, there are several forces at work. In India, for example, after Prime Minister Narendra Modi's government moved last year to take 86% of currency out of circulation to curb corruption and expand the addressable tax base, mobile payments exploded. 
The inadequate banking infrastructure relative to India's population is, of course, another factor spurring mobile payment adoption. Recent data show the number of bank branches per 1,000 Indian adults clocks in around 18.7 in urban markets vs. 7.8 in rural ones, while the country has all of 222,000 ATMs for a population of more than 1.3 billion. By comparison, the U.S. has 425,000 ATMs for its 323 million people. How about this for some perspective -- for India to have the same level of AMT saturation as the U.S., the country would require over 200 million more ATMs! Why would India install what is likely to be yesterday's technology that requires legacy infrastructure when it is deploying 4G wireless networks? 
We digress ... now back to mobile payments overtaking debit and credit cards.... 
According to a new study by the United Nations, online, mobile and digital currency payment systems are set to overtake credit and debit cards as the most popular ways to pay in e-commerce worldwide by 2019. Remember, we are already nearing the end of 2017, which means that timeline isn't too far off. According to the report, the share of credit and debit cards in global payments is expected to drop to 46% by 2019 from 51% in 2014. What's fascinating, at least to us, is where this adoption is really exploding and this United Nations report clearly calls it out: 
"In developed regions, digital payments are dominated by credit and debit cards, followed by e-wallets. But in some developing countries, where credit cards are rarely the most important payment method, new online and mobile payment methods are catching on. ... In China, the preferred payment method for business to consumer e-commerce was Alipay (BABA) , which is used by 68% of all online shoppers in the country, while in Kenya, mobile money, or accessing financial services via a mobile phone, is more common than credit cards for e-commerce, although cash on delivery remains the main method." 
In China, there are two mobile platforms -- Alibaba's Alipay and Tencent's TenPay, which account for roughly 90% of mobile payments, according to data published by iResearch. While Apple (AAPL) and Alphabet (GOOGL) look to crack the China market, they have to overcome the lack of point-of-sale machines that process Apple Pay and Android Pay. Perhaps this could be an opportunity for companies like VeriFone Systems (PAY) or Square (SQ) , but odds are we're likely to see Chinese banks do what Wells Fargo (WFC) did and introduce point-of-sale, card readers for smartphones, apps and other products that would stymie VeriFone and others looking to capitalize on the potential China opportunity. 
As an ever-increasing number of Chinese consumers binge on overseas spending, more and more merchants, sniffing out enormous business opportunities, have been catering to Chinese travelers with Chinese mobile payment. 
Yet mobile payments are not as popular in the U.S. as in China, as Americans are still used to paying with plastic. The disparity in payment habits may pose a challenge to Chinese mobile payment services and raise roadblocks to their expansion. 
Normally, we tend to associate technology development beginning in the U.S. and emanating forth. Radio. TV. VCR. Compact disc. The internet. IPod. IPhone. IPad and so on. In the case of mobile payments, however, it's shaping up to be the opposite. 
According to Forrester Research, mobile payments in the U.S. have hit $112 billion, which is a drop in the bucket compared to China, which saw its mobile payments hit $5.5 trillion in 2016, according to data from iResearch. That sharp disparity helps explain why Alipay recently partnered with First Data (FDC) to expand its presence in overseas mobile payment markets. This was the latest partnership to expand Alipay's reach and follows similar tie-ups with Emtek in Indonesia, South Korea's Kakao Pay, Philippines' fintech service Mynt and Thailand's payment firm Ascend Money. (Apple, Alphabet and First Data are part of TheStreet's Action Alerts PLUS portfolio.) 
Lest you think Alipay's competitor WeChat has been standing still, it hasn't. WeChat Pay has also been in expansion mode by partnering with Silicon Valley-based mobile payment startup CITCON (which also works with Alipay), to allow its WeChat users in the U.S to enjoy the same cashless payment experiences as they do in China. This brings the total number of countries in which WeChat Pay can be used to 15 across 12 currencies. 
Donning our investing cap, this all means a few things. First, when assessing the potential payment opportunity to be had for Alphabet and Apple, odds are their strategy is to entice shoppers to buy their smartphones and other devices by getting them hooked on their mobile payment services. In other words, mobile payment adoption in and of itself isn't likely to spur their operating profits, a key determinant of EPS. In the developed markets, where consumers are shifting to mobile payments from debit and credit cards, it likely doesn't mean much incremental growth for MasterCard (MA) , Visa (V) and others because they have already benefited by the shift to cards from cash and checks. The emerging markets, however, are another story and investors continue to wait for China to open its borders and allow foreign payment processing networks. 
One of our investing strategies is to "buy the bullets, not the guns," which in layman's terms means looking for key suppliers of technology. In this case, this means putting a company like On Track Innovations undefined under the microscope. It's a cashless payment solutions company that thus far has focused on retail, mass transit, parking and other applications. From a Stocks Under $10 perspective, it's one that we'll take a pass on as it falls below our market cap and trading volume constraints, but it's one that may be of interest to investors with a greater risk appetite than we are allowed to have at Stocks Under $10. 
Another strategy would be to look for emerging-market companies that are positioned to ride the tailwind of mobile payments in China, India and other markets. One such company is PayTM in India, and it allows people to accept payments, buy and sell goods as well as track food allowances, something similar to our now digital food stamps here in the U.S. The issue with PayTM is its parent, One97 Communications, is not publicly traded in the U.S. 
That brings us to another player, Money on Mobile (MOMT) , which we touched on several weeks ago. The favorable dynamics remain very much intact and at the end of June, the company had over 335,000 participating agents where consumers can load cash-related services in over 700 cities across India in all states -- that's head and shoulders above the number of banks and ATMs in-country. That presence has allowed Money on Mobile to serve between 3 million and 5 million customers each month over the past year. Given the microcap status, MOMT shares are speculative in nature and given the trading volume dynamics it's one the Stocks Under $10 portfolio will have to watch develop. As we say that, we'd note the company's footprint and metrics could make it a takeout candidate that would give a presence in India to any company angling for something bigger than a toehold in the payments space. 
For investors looking to buy a basket of companies ranging from PayPal (PYPL) to Visa and Worldpay Group that have exposure to the global growth in mobile payments, one answer is the ETFMG Prime Mobile Payments ETF (IPAY) that holds positions in 32 such companies. 
Here at the Stocks Under $10 portfolio, we continue to hold our USAT shares as we look to uncover other stocks that meet our investing criteria and are riding the multiyear tailwind of mobile payment adoption.
More of What's Trending on TheStreet:
Editors' pick: Originally published Oct. 7.
At the time of publication, Versace had no positions in the stocks mentioned.