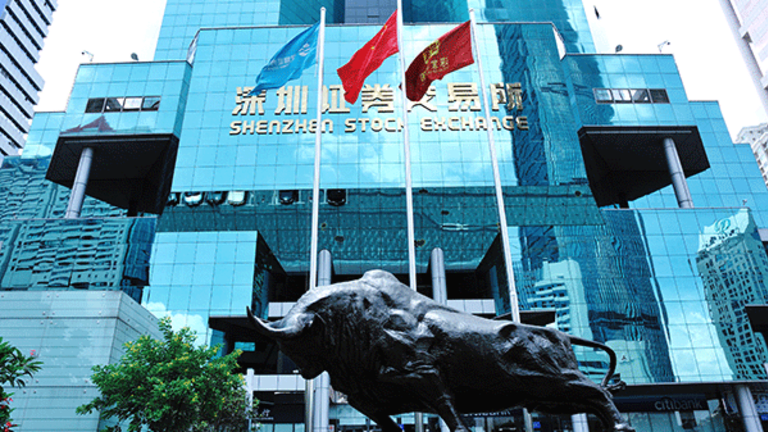 The Stocks of the World's Second-Largest Economy Finally Come on the World Stage
MSCI will include China's A-share listings in its emerging-markets index for the first time, with a tiny weighting but causing a headache for managers of $1.7 trillion in assets.
In Asia, we woke today to the news that MSCI has decided that, as of June 2018, the index provider will be including Chinese A shares in the MSCI Emerging Markets Index. It's been a long time coming.
The decision will cheer Beijing heartily. China's economic emergence has seen its leaders keen to claim a seat at the table for most economic and commercial matters. But the apparent lack of respect for its stock markets in Shanghai and Shenzhen rankled officials.
The move is at this stage largely symbolic -- an acceptance of China's capital markets outside its borders. It may also place pressure on Chinese companies to live up to international accounting standards, and ultimately push the much-needed reform of China's inefficient state-owned enterprises.
MSCI will add 222 large-cap Chinese stocks to its index, but they will account for only a 0.73% weighting of the MSCI Emerging Markets Index. MSCI is also including A shares in its All Country World Index. There will be a two-step process of including them in the indexes, in May and August 2018.
While small at this stage, their inclusion does create a headache for fund managers with products that track MSCI's indexes. Whereas active managers may already include Chinese shares in their portfolios, passive managers and index trackers now must, too. 
Products with around $1.6 trillion in assets track the emerging-markets index. Inclusion will see around $17 billion of global assets move into Chinese shares initially, MSCI said. But full inclusion of the China market could lead, long term, to more than $340 billion in overseas capital move into the country, the company stated, according to Reuters.
Market participants said the infusion had largely been priced into Chinese large-caps. MSCI originally intended to include only the 169 Chinese stocks in the Stock Connect schemes, but it decided also to add companies that have listings both in China and Hong Kong. Still, the number of stocks included now is half that in the previous proposals to include Chinese shares.
The CSI 300 index, which tracks the largest A shares, was up 0.6% in afternoon trade on Wednesday, but the broader Shanghai Composite index was up only 0.1% and the Shenzhen Composite essentially flat with a gain of 0.02%. The Shanghai and Shenzhen indexes were even earlier in the red on the first day for investors to react to the news. 
Fund managers must now gain exposure to the Chinese shares or replicate their performance somehow. Given the difficulty in tapping mainland markets, where there are high barriers to entry for investment houses looking to secure a quota, many fund managers track A shares synthetically via derivatives.
There's good reason why the A shares were not included in MSCI indexes for so long, and were rejected for three years running. For one thing, it's very difficult to buy them for non-Chinese investors. Quotas are strictly monitored, and normally snapped up quickly.
MSCI said it was encouraged by China's moves to make Chinese shares more accessible, including the Stock Connect program linking certain Shanghai and Shenzhen shares with Hong Kong. It also praised easier pre-approval requirements on the Chinese exchanges, which had been restricting the creation of index-linked funds.
The investors that MSCI consulted on China's inclusion said they are concerned by the large number of share suspensions on the Shanghai and Shenzhen bourses. It's not unusual for companies that run into financial difficulty to remain suspended for weeks, if not months. At one point during the market turmoil of 2015, more than half of all Chinese listings were suspended. The rate of suspensions is now falling but is still an "outlier" compared to other international markets, MSCI said. 
Remy Briand, the chairman of the MSCI index-policy committee, said the expansion of the stock-connect scheme "has been a game changer" in opening up access to China A shares.
MSCI said it expects to give Chinese shares a heavier weighting in the emerging-markets index in the future. The index provider "is very hopeful that the momentum of positive change witnessed in China over the past years will continue to accelerate," Briand said.
There's a complex alphabet soup of Chinese shares. H shares are companies based in mainland China but listed in Hong Kong. Red chips are companies that do the bulk of their business in China but are incorporated elsewhere, and listed in Hong Kong.
Then you have companies such as Alibaba (BABA) , Chinese but that opted for a New York listing. Its shareholding structure wasn't permitted on the Hong Kong exchange.
Foreign-listed Chinese companies, including those in Hong Kong, already account for around 28% of the MSCI emerging-markets index, meaning that even indirectly China has the largest weighting by nation. But A shares could ultimately make up 40% of the index, since the listings in Shanghai and Shenzhen are combined worth around $7.5 trillion, second only to New York.
On the mainland exchanges, B shares are traded in foreign currencies, typically U.S. dollars. A shares are the "regular" Chinese listings -- Chinese companies listed in China and trading in Chinese yuan. The A shares trade at higher multiples than all the other sorts of Chinese stocks, because they're one of the few options for retail investors in China, who dominate trading.
A-share inclusion should be a boon to Chinese stock exchanges. Hong Kong's Securities and Futures Commission said it would work with its Chinese counterpart, the China Securities Regulatory Commission, on "smooth implementation."
A CSRC spokesman said MSCI's inclusion "manifests their confidence in stable and promising prospects of China's economy and robustness of its financial markets." The regulator has "always been welcoming to see it happen." Inclusion does, however, bring challenges as well as opportunity, the regulator said, vowing to push on with reforms.
Investors of all kinds are always worried about the ability to move money made in China out of China. International investors have found that easier to do as of this year, and limits on foreign trading of Chinese bonds have been lightened, with limits on the repatriation of dividends removed entirely.
Although China got what it wanted this time around out of MSCI, Argentina was disappointed. It failed to get an upgrade to emerging status from the index provider, leaving it stuck as a frontier market, tracked by a much-smaller index.
This article originally appeared at 06:30 ET on Real Money, our premium site for active traders. Click here to get great columns like this from Jim Cramer and other writers even earlier in the trading day.
At the time of publication, Alex McMillan had no positions in the stocks mentioned.