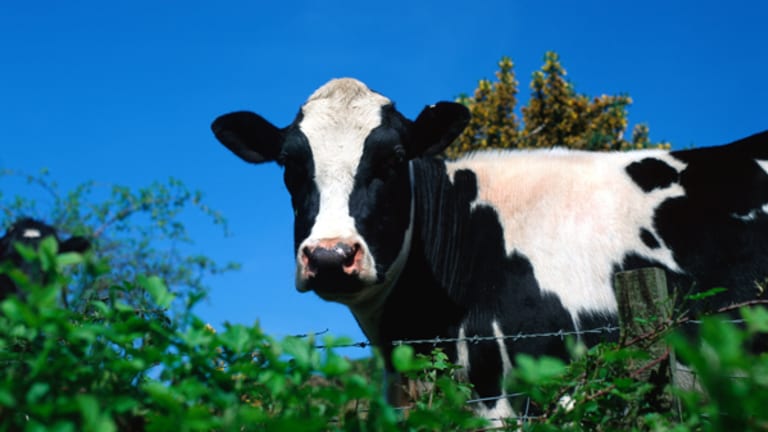 The News For New Zealand's Fonterra Gets Worse
With a second milk powder contamination found, It might be a while before the news gets better.
NEW YORK (TheStreet) -- At the beginning of August, New Zealand dairy co-operative Fonterra made global headlines when it disclosed that 38 tons of whey powder exported to China was contaminated with a bacteria that can cause botulism.
The contamination was blamed on a seldom-used but not sufficiently clean pipe through which the powder passed. Fortunately, there were no reported illnesses as most of the powder was isolated and recalled. However, the incident cast a negative light on Fonterra, which is the largest company in what is arguably New Zealand's most important industry.
The whey powder incident set off a series of steps taken by the company to improve quality control and damage control. As bad as the news seemed to be, shareholders have not panicked. After in initial knee-jerk reaction on Aug. 5, the stock is only down 2.95% versus a 0.74% drop for the benchmark NZ 50 Index. There are no Fonterra ADRs. U.S.-based investors interested in trading the stock need to do so directly in New Zealand.
Markets seemed to be moving on from the news as the company was hopefully putting it behind them. However, this week news broke of a second contamination.
This time it involved unacceptably high levels of nitrates in a 42-ton batch of milk powder headed for China. The health threat is that high levels of nitrates can prevent blood from properly oxygenating.
The milk powder was tested when it left New Zealand and had an acceptable nitrate level of 1.4-1.8 parts per million. When it arrived in China it was tested again and had a 2.4-2.8 parts per million nitrate level. The allowable limit is 2.0 parts per million.
Separately, news broke of problems in Sri Lanka. The company was found to be in contempt of court for violating a two-week ban on marketing and distribution of products under the Fonterra Brands Lanka label because of another suspected contamination in milk products and alleged misleading advertisements. The milk in Sri Lanka is believed to be contaminated with dicyandiamide, which is an agricultural chemical.
After the first incident came to light, CEO Theo Spierings said that "Fonterra will check, double check and triple check, if necessary" in the context of quality control. The second contamination actually occurred before the first contamination was made public. The Fonterra Web site has not been updated with specifics yet of the latest news or how the company intends improve its processes.
Fonterra is not the only company to have problems of this nature in China.
Yum! Brands
(YUM) - Get Yum! Brands Inc. Report
has had problems with its KFC unit. KFC is a very successful brand in China, accounting for 40% of YUM's profit in China. Last December it was alleged the company was using unapproved hormones and antibiotics in its chicken, which caused a serious backlash that is still hurting the company today. Same-store sales for KFC China were down double digits in July.
The reaction in the stock price after the second contamination has been minimal, dropping 4 cents, or about 2/3rd of a percent, generally in line with the broad market.
Fonterra is not a holding in the
iShares MSCI New Zealand Capped ETF
(ENZL) - Get iShares MSCI New Zealand ETF Report
. In fact there are no agricultural companies represented in the fund. But the industry plays a large role in the country's economy, accounting for more than 15% of GDP.
Fonterra has 33 plants in New Zealand and does business in 140 countries, which sets an expectation that it could take several months to implement the necessary improvements in quality control. So it would not be a surprise if there was more bad news to come.
However, the fact is that China's and New Zealand's other trade partners need dairy products and Fonterra has them, which might be why the stock price has not tumbled.
At the time of publication the author had no position in any of the stocks mentioned.
This article was written by an independent contributor, separate from TheStreet's regular news coverage.
This contributor reads:
On Twitter, this contributor follows: