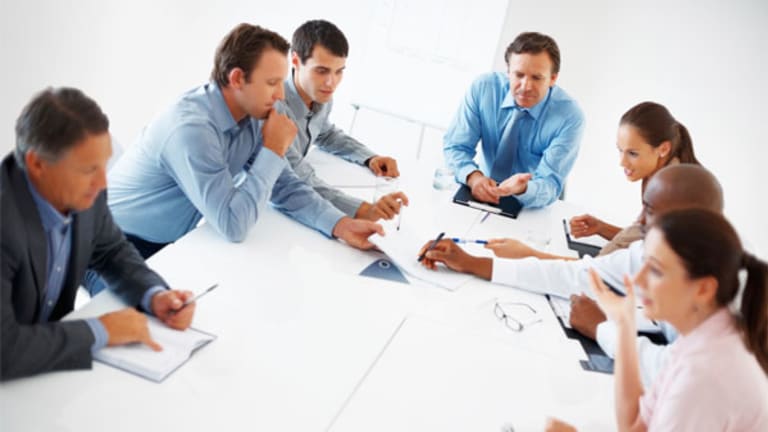 The Future of Global Trade
Recent data from the OECD and WTO provide plenty of food for thought.
NEW YORK (TheStreet) -- Thanks to the joint efforts of the World Trade Organization and Organization for Economic Co-operation and Development, the case for free trade got a whole lot stronger last week.
The organizations devised a new way to measure global trade, which captures how much value different countries add to a given nation's exports. The results could very well change the way the world thinks about trade policy.
Before last Wednesday, global trade data didn't properly measure the global value chain. It told us how much a given country exported in total, but it didn't quantify how much of those exports included imported supplies or technology. This system worked more or less fine before modern globalization, when many components were sourced domestically.
But in today's world, it's badly antiquated. For example, we've long known China manufactures products using resources imported from Africa and Latin America and components from South Korea and Japan, but just how much those intermediate countries contribute to the value of China's exports wasn't clear.
Now, thanks to the new "Trade in Value Added" series, that's changing. Not only do the data measure the value of imported raw materials and intermediate goods that contribute to a country's total exports, but they measure the value added by foreign services -- research and development, logistics and the like.
Mind you, all sweeping indexes like this are somewhat flawed, but this seems a much smarter way to measure trade. It shows just how interconnected the global economy is, and the results are eye-opening.
Thus far, the dataset only includes OECD countries and Brazil, China, India, Indonesia and South Africa in 2005, 2008 and 2009, but the WTO and OECD plan to include many more countries and historical data back to 1995 in future releases. In the meantime, the 2009 data provide plenty of food for thought.
Let's look at China, an oft-cited source of American trade angst. In 2009, China had a world-leading $1.39 trillion in total exports ($296 billion to the US, per the US Census Bureau)--but foreign countries (including the US) were responsible for about 28.5% of that $1.39 trillion (Exhibit 1).
Exhibit 1: Value Added to Chinese Exports (Domestic vs. Foreign), 2009
Data from WTO, OECD
And of the $397.5 billion contributed by other countries, Korea, Japan and the US account for over 30% (Exhibit 2).
Exhibit 2: Foreign Value added to Chinese Exports by Country, 2009
Data from WTO, OECD
Seen this way, you could interpret America's trade deficit with China as not quite as big as previous headline numbers implied. Perhaps as striking is how dependent China is on high-tech components from Korea and Japan -- just another sign China's fast growth doesn't benefit China alone.
In our view though, the broader trade policy implications are perhaps most compelling: The $397.5 billion added by foreign countries includes the costs of every trade barrier between China and its partners. Imagine you buy a smartphone that's made in China but contains flash memory and a microprocessor from Korea, wi-fi hardware from Japan, semiconductors from Taiwan, touchscreen control technology from the US and an accelerometer from Italy (just to name a few)--the price you pay includes the tariff on each of those components as well as the finished product.
In fact, because tariffs accrue to a product's cost (similar to VAT), they inflate the final import duty--it's levied on the product's end value, which includes all the penalties assessed along the way. And if you're a US consumer, you're essentially paying double on all U.S.-sourced components.
Thus, if you've ever bought goods made in China, you shouldn't just be clamoring for a US/China free trade agreement -- you should also be rooting for China to complete its long-discussed trilateral FTA with Japan and Korea and the 16-member Asia/Pacific free trade bloc. Heck, you should be rooting for zero protectionism globally -- even goods made at home would become cheaper, as foreign countries add a lot of value to U.S. products, too.
Now, at the grassroots level, there's not much consumers can do to influence global trade policy. But these new data could spur the world's trade ministers and representatives to lobby their peers to make trade freer. Perhaps U.S., UK and EU trade representatives will feel compelled to ring up China, Korea and Japan's negotiators and urge them to stop letting their various maritime disputes stall FTA negotiations.
As complex products take up an ever larger share of global trade, perhaps all the world's policymakers will stop allowing agricultural trade barriers (like Japan's 777.7% rice tariffs) to prevent free trade deals from moving forward.
We live in the future, folks. It's high time global trade policy reflected this.
This article was written by an independent contributor, separate from TheStreet's regular news coverage.