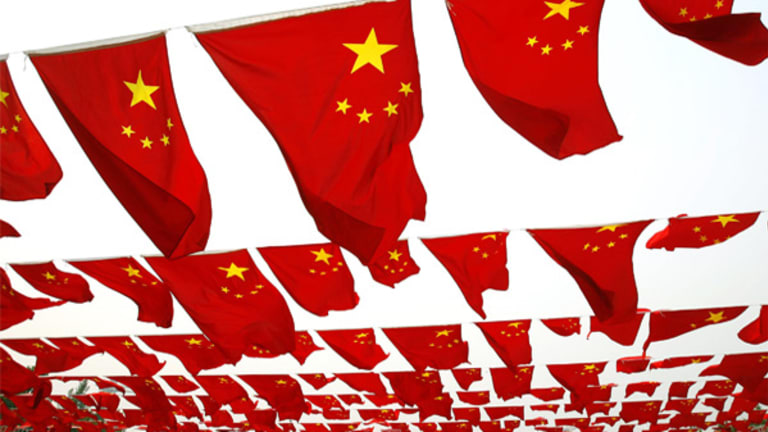 The China Credit Crisis, Part 2
It's human nature to deny reality when it is extremely unpleasant. Denial is what is happening now about the China situation.
It's human nature to deny reality when it is extremely unpleasant. Denial is what is happening now about the China situation.
NEW YORK (TheStreet) -- Last month we saw the start of a very important credit crisis in China. Lending has come to a standstill. This means that most short-term loans to businesses cannot be rolled over. There will be massive corporate defaults. Even worse is the repercussions on individual savers.
About $10 trillion of loans are in the "shadow" banking system. This is largely financed by individual savers who want to get a higher return than is available on savings accounts. It's probable that most of these loans will go up in smoke. That will be devastating for the savers, and will have significant economic repercussions.
This crisis is still largely ignored by market commentators in the U.S. It's treated like a small thunderstorm in the summer. Analysts still cite the fictitious 7.5% GDP growth number from the government, although all the evidence suggests to me that the private sector in China is now in recession.
Wait until Wall Street wakes up to that reality! Most people didn't believe us in 2007 when we warned of a monumental credit crisis to occur the following year. It happened.
It's human nature to deny reality when it is extremely unpleasant. Denial is what is happening now about the China situation.
Normally a credit crunch is the result of one or more of the following:
A shortage of lendable funds, Governmental lending restrictions, or Banks being unable to find creditworthy borrowers, All of the above.
The June liquidity shock in China came from the realization that the government was no longer willing to provide infinite liquidity. In fact, it is trying to get control over the unregulated shadow banking system.
The bulls say China is not having a credit crisis because its money supply (M2) growth in May was up 15.8% compared to one year ago. They say that since there is plenty of money growth, there is no credit crunch.
But a credit crunch means that no one can get credit, even other banks. The growth of the money supply does not determine whether or not there is a credit crunch.? The availability of credit depends on confidence of the lenders.
Take the case of the U.S. at the start of the 2007-2008 credit crisis. Credit markets became totally frozen. The commercial paper (90-day corporate IOUs) market froze and even large companies like
General Electric
(GE) - Get Report
couldn't roll their paper on expiration. We saw this right away as a crisis scenario, but amazingly no one in the financial media rang the alarm bells.
And what was U.S. money supply growth at the time? Like China, it too was in the double-digits, rising from a 12% to a 15% growth rate by the end of 2007. In spite of this, the credit crisis intensified culminating in an Armageddon scenario in 2008.
During the last six months China has injected nearly $1.6 trillion in new credit (21% of GDP) into the economy. If a credit crunch can occur even with that much credit being added to the system, then you know that the problems are big.
The June crisis in China was serious. In my opinion, it was probably the start of a more serious situation. Reportedly, a number have banks halted all lending because of "liquidity shortages." This included branches of the Bank of China and Industrial & Commercial Bank of China.
The above banks are among the largest in China, and are all government-controlled. An official from the huge ICBC was quoted as saying: "All of our loans have been put on hold. There may be some credit lines when it comes to July, but it will definitely be used up in a few days."
On June 23, ICBC customers had trouble using its online, counter and ATM services. This included making withdrawals and paying bills. The same thing happened to BOC users a day later.
Imagine, "all loans have been put on hold." That's what precipitates every credit crisis. During the June crunch, interbank lending rates spiked to an all-time high of 25% on June 20.
Unable to rely on the government to maintain liquidity levels, banks are quickly losing confidence in each other. Thus, they stop lending to each other. That produces a wave of credit restrictions, which produces even more bankruptcies in the private sector. To us, this is reminiscent of how the 2007-2009 global crisis started in the U.S.
The next phase will be when banks stop issuing letters of credit to companies that need to import products or materials. That will make the economy come to a screeching halt.
I hope it won't happen. A China crisis would infect the entire globe. But at least let this article put you on alert.
This article is commentary by an independent contributor, separate from TheStreet's regular news coverage.
Bert Dohmen is founder of the
, now in its 34th year. He also is editor of the acclaimed Wellington Letter, now in its 34th year, and author of the Special Report The Coming China Crisis. Dohmen also wrote two books: Prelude To Meltdown (2007) and Financial Apocalypse (2011). He has been rated top market timer, including the No. 1 rating (Timers Digest).