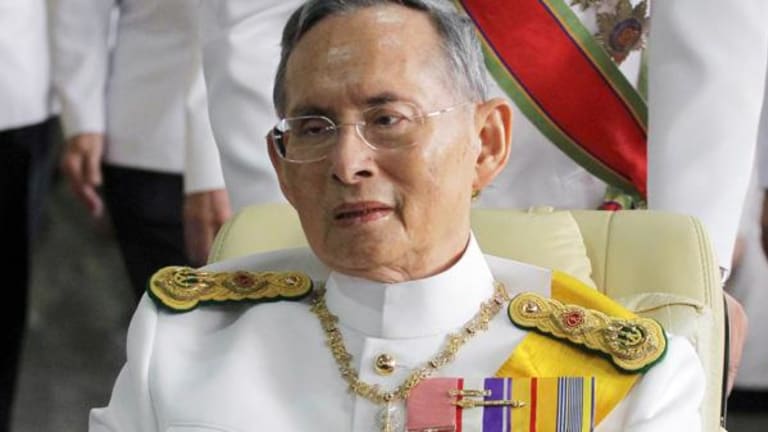 Thailand's Stability in Difficult Times Means Few Discounts for Stock Investors
The death of Thailand's beloved king Bhumibol Adulyadej is unlikely to lead to a dramatic shift in the country's stock market.
With all due respect to the recently deceased Thai king, did his death just create a great investment opportunity?
Probably not. The country's stock market has remained stable through a number of traumatic events in recent years, including a tsunami and coup.
But the "Death Watch" investment strategy is an interesting one to consider.
Here's how the strategy works: In countries where one person has a lot of power and influence, that person's death can affect asset prices. An entire government can be thrown into chaos when a prominent political leader dies. This creates uncertainty, and markets hate uncertainty.
The resulting chaos -- from investors dumping assets because they don't know what will happen next -- often results in some great opportunities to buy great stocks (and other assets) at discount prices.
Thailand seems to fit the Death Watch strategy perfectly. King Bhumibol Adulyadej passed away two weeks ago at the age of 88. He had been Thailand's monarch since 1946 and was revered by nearly everyone in the country. His near-holy status enabled him to bring the country's different -- and often divided -- factions together.
To make matters worse, Crown Prince Maha Vajiralongkorn, the king's son, gambles, womanizes and is in his third marriage. He will be a terrible replacement, if he even becomes king. He's disliked in Thailand as much as his father was adored.
But Thailand has been in a constant state of political crisis for decades. Since 1932, the military has overthrown the government 12 times.
The latest coup was in May 2014. There was a national curfew. There were screaming, angry protesters, and the police protected themselves with large plastic shields. A talking head on TV claimed "This is a one-in-100-years type of political crisis," forgetting Thailand's volatile political history.
I was there at the time but didn't know what to expect. Would there be a coup and camouflaged soldiers on every corner holding submachine guns? Protests on every street corner?
None of the above. This is what I wrote at the time:
"I saw no soldiers, no tanks... not even any police. During my entire time in Thailand, I saw nothing remotely out of the ordinary.

"Of course, every coup is different, but Bangkok was just another city going about its regular business. I didn't see any protests while I was there. And as far as I could tell, Bangkok under martial law was just like Bangkok any other day... except that because of the curfew, the day ended at 10 p.m... and there was no CNN or BBC to watch, as a number of television channels were blocked after the coup."
Many Thai people were glad the military stepped in. The stock market even went up months after the coup. So, what does this tell us about what will happen next in Thailand following the death of the king?
Business Will Get Back to (Relatively) Normal
The king's death was not a surprise. He had been sickly for years. There were also deepening fissures in Thai society due to years of strife. There also hasn't been an election in Thailand since the May 2014 coup, and it will be at least a year or two before the next one.
Despite the political uncertainty, Thailand's stock market has been one of the best performing in Southeast Asia in 2016. Share prices dropped the week following the king's death, but the market is still up 17% so far this year.
This is nothing new for Thailand's stock market. In the weeks following past political uncertainty, like previous coups, the Thai stock market has risen.
Because markets and most investors hate uncertainty, including political risk, stock market valuations (like the price-to-earnings ratio) in countries with a lot of political risk are often lower than those in more politically stable countries.
This makes sense. When you expect stability, and there's less risk of big government and policy changes, you're willing to pay more (that is, a higher valuation) for shares.
The fact that Thailand has attracted investment despite all the coups, natural disasters (like the 2004 tsunami), protests and turmoil has earned the country the nickname "Teflon Thailand".
Today, the Thai stock market's P/E is just over 19. That is slightly higher than the MSCI ex Japan index's P/E of 15.1, Hong Kong's P/E of 12.8, and Singapore's P/E of 12.1. It's almost as high as the U.S.-dominated MSCI All Countries index.
Thai stocks have a relatively high valuation because the index's component companies are seeing 6% earnings growth (in dollar terms). That's much better than the expected 3% decline for the companies that make up the MSCI Asia ex Japan index (and a drop of 9% for Hong Kong and 5% for Singapore). Investors will pay more for earnings growth than for stocks with falling earnings.
The valuation for Thai shares is relatively high compared to other markets in the region. So, even if the king's death has no effect on markets, it's unlikely that any new political uncertainty will attract "Death Watch" investors.
At the moment, I don't think there is a "Death Watch" opportunity in Thailand. But if you would still like to play the Thai stock market, try the iShares MSCI Thailand Capped ETF (THD) - Get iShares MSCI Thailand ETF Report on the New York Stock Exchange.
This article is commentary by an independent contributor. At the time of publication, the author held no positions in the stocks mentioned.
Kim Iskyan is the founder of Truewealth Publishing, an independent investment research company based in Singapore. Click here to sign up to receive the Truewealth Asian Investment Daily in your inbox every day, for free.