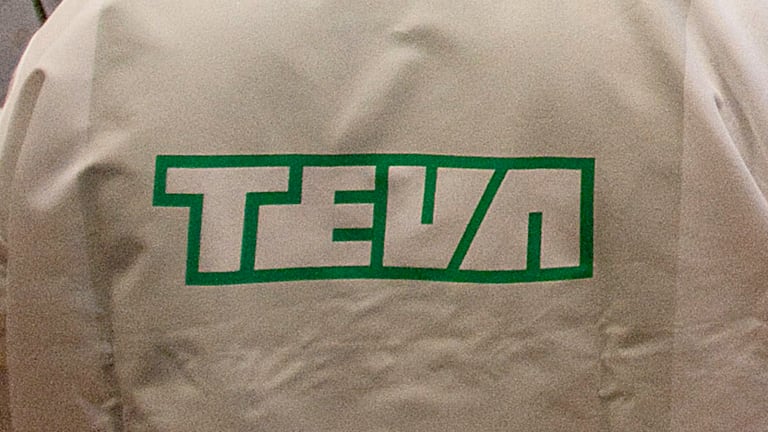 Teva Spikes in Pre-Market Amid Reports of Significant U.S. Job Cuts
Teva Pharmaceuticals, the world's biggest generic drugmaker, could be preparing major cuts to its 6,800-strong U.S. workforce amid slumping profits and falling prices.
Teva Pharmaceutical (TEVA) - Get Free Report  shares were indicated sharply higher in pre-market trading Friday amid reports that the world's biggest generic drugmaker is prepping massive job cuts in both the United States and its home market of Israel.
Teva shares were marked 3.8% higher in New York, indicating an opening price of $13.98 each, around 50 cents higher than their Wednesday close that would trim their three-month loss to around 30%. The stock closed 4.6% higher in Tel Aviv Thursday.
Israel's 'Calcalist', a financial news website, reported Thursday that Teva is preparing to lay off "tens of percent" of its U.S. workforce -- and as much as 25% globally -- amid slumping profits the company has previously linked to falling prices for generic drugs in key markets. Israel's Economy Minister Eli Cohen told the Reuters news agency that the job cut numbers were "not accurate", didn't dispute that layoffs were on the way.
Teva missed Wall Street estimates for its fiscal third-quarter earnings earlier this month, sending its shares into a tailspin and trigger a move by Fitch to cut its debt rating into 'junk' status. Teva also cut the bottom end of its revenue guidance to around $22.2 billion to $23.2 billion, from prior guide of $22.8 billion to $23.2 billion. 
Non-GAAP earnings expectations were cut to $3.77 to $3.87, from a prior range of $4.30 to $4.50. From the midpoint, that's a 15.8% reduction. Operating cash flow plunged, with management now looking for $3.15 billion to $3.3 billion, vs. prior expectations of $4.4 billion to $4.5 billion, a 27.5% cut.
More of What's Trending on TheStreet: