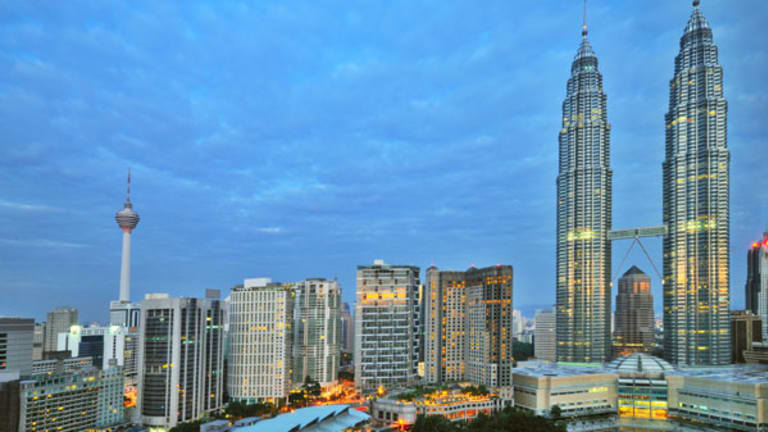 Taking the Long-Term View on Malaysia
It's a 'feast or famine' investment that requires patience now and a long-term perspective.
It's a 'feast or famine' investment that requires patience now and a long-term perspective.
NEW YORK (TheStreet) -- Malaysia made news earlier this week when the ruling coalition government narrowly held control in elections whose outcome was far from certain.
The uncertain outcome has been cited as reason for Malaysia's Kuala Lumpur Composite index lagging other countries in the region. After the election the market rallied as a sort of sigh of relief.
Malaysia is not a new investment destination but it can be a frustrating investment destination. There are no Malaysian ADRs traded on the New York Stock Exchange or the Nasdaq. There are plenty of Malaysian stocks on the pink sheets to choose from but liquidity and market data on these shares can be hard to come by. For many years the easiest investment option has been the
iShares MSCI Malaysia ETF
(EWM) - Get Report
.
Malaysia is an economically important country as a heavy exporter of electronics (think contract manufacturers), energy products and it is the world's second-largest producer of palm oil (although palm oil exports have recently decreased).
EWM is a broad-based fund that serves as a proxy for the Malaysian stock market. Like many Asian markets, the financial sector is by far the largest at 31% followed by industrials and telecom at 12% and consumer staples, consumer discretionary and utilities all at 10%.
Malayan Banking Berhad
and
CIMB Group Holdings
, both banks, are the largest positions in the fund with each one having a 9% weighting. Both banks appear to have a close price correlation with each other and EWM, so it will be difficult for the fund to do well in the face of a downturn in the country's financial sector.
>>Also see: Warren Buffett Can Go to Hell: Delta Declares Dividend >>
It is also worth noting how little volatility there is in the two bank stocks and the fund. iShares reports that EWM's beta is only 0.22. Beta is a measure of volatility where the
S&P 500
is considered to have a beta of 1.00. The lower the beta, the less-volatile the stock or fund is thought to be.
The typically low volatility does not mean the fund can't go down dramatically. During the 1997 "Asian contagion" it fell 80%, and then in the financial crisis a few years ago it fell 52%. It is also a good bet that whenever the next global crisis comes, EWM will again have a large decline.
The ruling National Front is viewed as being market-friendly, which is part of the bull case for Malaysia. There is not a very strong bear case currently but the long-term performance shows multi-year periods of underperformance.
The middle of the last decade was the heyday for emerging-market investing. During a four-year run ending in May 2007 the
iShares MSCI Emerging Market ETF
(EEM) - Get Report
was up 310%. In that same period, EWM was only up 129%. Since the March 2009 low, however, EWM is up 145% while EEM is up 109%.
Despite the "feast or famine" dynamic to past returns, holding EWM as part of a diversified portfolio for the last 10 years would have added value versus just owning the
SPDR S&P 500
(SPY) - Get Report
.
>>Also see: Homeownership Equals Unemployment >>
This raises a larger and very critical point of understanding for long-term investing, which is patience.
No holding can outperform every part of every market cycle. But for the last 10 years EWM is up three times as much as SPY, with lower volatility. A better return with less volatility is a holy grail of investing.
That makes for long-term success but requires short-term patience.
At the time of publication the author had no position in any of the stocks mentioned.
This article was written by an independent contributor, separate from TheStreet's regular news coverage.
This contributor reads:
On Twitter, this contributor follows: