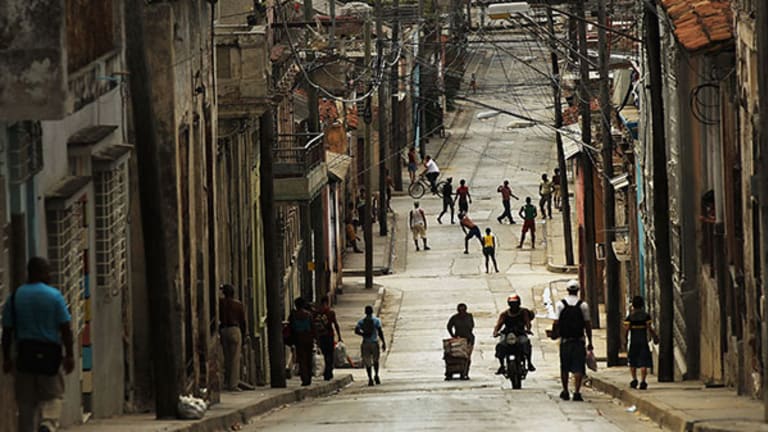 Super Smart Ways to Intelligently Invest in Communist Cuba
Bullish on Cuba? A fund and some individual stocks you want to consider.
NEW YORK (TheStreet) -- The U.S. and Cuba took a major step toward normalizing relations last week, so the average retail investor may be wondering how to invest to benefit from expanded trade relations between the longtime enemies.
Here are ways to do it.
The Herzfeld Caribbean Basin Fund (CUBA) - Get Free Report , sporting a ticker that is sure to give it outsized attention, is a closed-end fund designed specifically to benefit from the thawing of trade relations with the island nation. The fund consists of 10 stocks from different industries that are likely to increase sales as economic activity expands with Cuba.
But beware of what you're buying: Don't rush to buy this fund just because it sounds like it makes sense. Changes in U.S. and Cuban economic activity are likely to be glacial. It's very important to understand not only what companies the fund is comprised of, but how it derives its value.
A closed-end fund trades on the secondary market, just as a normal stock does, and in doing so is subjected to being overvalued relative to its net asset value. What this means is it can trade at a higher price than the actual value of the assets minus liabilities within the fund. The Herzfeld Caribbean Basin Fund shot up dramatically when news broke of Pres. Obama taking steps to end the embargo, and then quickly found a price closer to reality.
Though it fell some 15% the day after Christmas, the fund is still priced over 16% to its NAV at a market price of $9.60 when its NAV valuation places it at $8.27 a share.
However, you don't have to own the fund itself to benefit from its holdings. Below are the 10 individual companies that have not experienced a commensurate increase in value to the Herzfeld Fund. Investors should consider owning them if they are bullish on Cuba for the long term:
1. Coca-Cola Femsa (KOF) - Get Free Report : Coca-Cola Femsa is the largest franchise bottler of Coca-Cola trademark beverages in the world, delivering more than four billion unit cases a year. It services predominantly the Latin American market and will benefit from the sale of Coca-Cola products in the Cuban marketplace.
2. Lennar (LEN) - Get Free Report : A homebuilder with a heavy focus on the Florida housing market. It is headquartered out of Miami. With Cuba just 90 miles away from Florida, it is logical to think increased Cuban immigration should help this homebuilder.
3. Seaboard (SEB) - Get Free Report : Seaboard is an agribusiness and transportation company. It is engaged in the production, processing and ocean transportation of pork worldwide. It will benefit from increased food exports to Cuba.
4. Copa Holdings (CPA) - Get Free Report : Copa Holdings is an airline passenger and cargo service in Latin America. It provides services within Colombia and international flights from various cities in Colombia to Panama, Venezuela, Ecuador, México, Cuba, Guatemala and Costa Rica. Increased Cuban tourism and travel only serves to aid the bottom line.
5. MasTec (MTZ) - Get Free Report : MasTec is an infrastructure construction company and provides engineering, building, installation, maintenance and upgrade services for energy, utility and communications infrastructure. This is more a play on energy infrastructure in an auspicious location relative to Cuba. The company is headquartered out of Coral Gables, Florida. 
6. Royal Caribbean Cruises (RCL) - Get Free Report : Another logical investment because of the expected increase in tourism and cruise vacationing to Cuba.  
7. Watsco  (WSO) - Get Free Report : Watsco distributes air conditioning, heating, and refrigeration equipment, as well as related parts and supplies in the United States, Canada, Mexico and Puerto Rico. Like Lennar, it could profit on increased housing and appliances via Cuban immigration. 
8. Banco Latinoamericano de Comercio Exterior (BLX) - Get Free Report   The Panamanian company provides trade finance services to corporations, sovereign, middle-market companies and banking and financial institutions in Latin America and the Caribbean. It serves to benefit from increased American and Cuban fiscal and economic activity.
9. Bancolombia (CIB) - Get Free Report : This full-service financial institution provides various banking products and services to individual and corporate customers. It is also a play on increased financing and banking activity in absence of the embargo.
10. Consolidated Water (CWCO) - Get Free Report : Consolidated Water develops and operates seawater desalination plants and water distribution systems:, making more clean drinking water. An odd investment at first glance, it becomes more logical once you consider the state of Cuba's access to clean drinking water. As tourism and interaction with Cuba increases, so will its need for ubiquitous access to clean water. Consolidated Water should benefit handsomely from this.
This article is commentary by an independent contributor. At the time of publication, the author held no positions in the stocks mentioned.