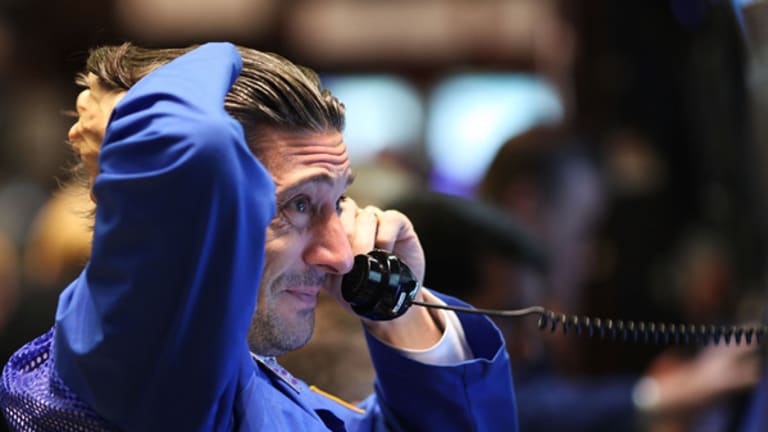 Summer ETF Watch List Revisited
Don Dion checks in on the ETFs that he has been closely following this summer.
Don Dion checks in on the ETFs that he has been closely following this summer.
NEW YORK (TheStreet) -- Heading into August, I thought it would be a good opportunity to revisit my ETFs to watch this summer.
iPath S&P 500 VIX Short Term Futures ETN
(VXX) - Get Report
When I first put together this list at the end of May, Europe was in the midst of a debt crisis and China's government was taking steps to cool the nation's overheating housing market. These factors were helped to construct an investing environment riddled with uncertainty.
Today, the same macro issues persist and volatility is still present making the VXX an exciting fund to watch. However, overall, this fund has struggled to return to the same heights seen in the final weeks of May.
Claymore/MAC Global Solar Energy Index ETF
(TAN) - Get Report
The sun has certainly been shining here in the Berkshires, driving the mercury to near triple-digit levels. As I predicted, the solar energy ETF was a fair weather fund and it has staged an impressive comeback over the past month, erasing nearly all of the losses suffered in May. Although its recent ascension has been impressive, the macro tensions that still facing the European continent will ensure that the outlook for solar and other alternative energy sources remains shaded by uncertainty.
Claymore/NYSE Arca Airline Index ETF (FAA)
The Icelandic volcano, which wreaked havoc on the European airline industry in the first half of 2010, has managed to stay largely dormant. However, this has not helped keep FAA on a clear flight path higher. Rather, the fund witnessed some choppy trading in June, approaching previous 2010 highs before tumbling back towards May lows.
In July, the fund appears to have found some strength thanks to strong earnings reports from major U.S. firms including UAL,
Continental Airlines
(CAL) - Get Report
and
Delta Airlines
(DAL) - Get Report
.
iShares MSCI Thailand Investable Market Index Fund
(THD) - Get Report
The bloody political protests that plagued this nation in May have died down and, according to the nation's central bank, the overall economic impact was minimal.
While it admitted that risks still remain, in late July the Bank of Thailand provided the Thai markets with a positive outlook and raised its 2010 economic growth forecast.
THD has seen some strong action since the start of the summer, powering along a near uninterrupted upward trajectory and locking in new highs for the year.
Global X Silver Miners ETF
(SIL) - Get Report
The price of gold and silver continued to rally through June as investors turned to shiny metals as a way to avoid the tensions stemming from the European debt crisis. However, in late July, the paths of these two commodities diverged. Gold prices have taken a hit while silver has managed to remain relatively stable.
The miners have performed similarly, with SIL starting to outperform
Market Vectors Gold Miners
(GDX) - Get Report
.
While shaky, the U.S. and global markets remain on the road to recovery and the torrent of strong earnings reports hitting the markets in recent weeks appear to have stoked some confidence in the hearts of investors. A good outlook for the markets will bode well for industry-dependent silver.
ProShares UltraShort Euro
(EUO) - Get Report
Debt issues continue to threaten the euro-union's economic picture. However, the currency itself has performed a dramatic about-face. After peaking in early June, EUO has since reversed back to levels last seen at the start of May.
While the euro's performance in recent weeks has been impressive and it may continue to rally in August, the outlook for the currency and the EU region remain clouded in uncertainty.
PowerShares Dynamic Leisure & Entertainment Portfolio
(PEJ) - Get Report
Consumers have taken some time off to enjoy the summer sun but the leisure ETF has not seen the pop one would expect. Through June, PEJ stuck to the downward trend that it had remained locked in since late April.
While it has faced its fair share of pressure at the start of the summer season, the next few weeks may prove strong for PEJ. Optimistic earnings reports from index constituents including
Marriott
(MAR) - Get Report
and
McDonalds
(MCD) - Get Report
have helped the fund lock in new higher lows indicating that the negative trend may have broken.
SPDR KBW Regional Banking ETF
(KRE) - Get Report
Much to the chagrin of Wall Street giants, Washington lawmakers have at last succeeded in passing the massive sweeping financial reform bill.
While the regional banks underlying KRE have lagged large cap financial ETFs so far this summer, I believe this is more due to the broad market volatility than Washington reform. I continue to stand by the belief that smaller financial institutions are far more likely to avoid taking a hit as regulators brandish their newly strengthened hammer.
-- Written by Don Dion in Williamstown, Mass.
At the time of publication, Dion Money Management was long iShares MSCI Thailand Investable Market Index Fund.
Don Dion is president and founder of
, a fee-based investment advisory firm to affluent individuals, families and nonprofit organizations, where he is responsible for setting investment policy, creating custom portfolios and overseeing the performance of client accounts. Founded in 1996 and based in Williamstown, Mass., Dion Money Management manages assets for clients in 49 states and 11 countries. Dion is a licensed attorney in Massachusetts and Maine and has more than 25 years' experience working in the financial markets, having founded and run two publicly traded companies before establishing Dion Money Management.
Dion also is publisher of the Fidelity Independent Adviser family of newsletters, which provides to a broad range of investors his commentary on the financial markets, with a specific emphasis on mutual funds and exchange-traded funds. With more than 100,000 subscribers in the U.S. and 29 other countries, Fidelity Independent Adviser publishes six monthly newsletters and three weekly newsletters. Its flagship publication, Fidelity Independent Adviser, has been published monthly for 11 years and reaches 40,000 subscribers.