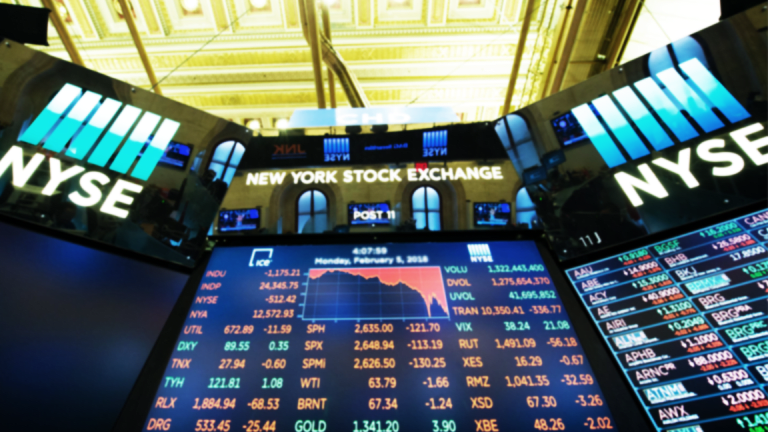 Publish date:
Stocks Rebound on Tariff Exemption Talk; China Warning Keeps Investors Cautious
Global stocks rebounded amid speculation that some countries might be exempt from potential U.S. trade tariffs, but China's warning of a "justified" response reminds investors that the spectre of a global trade war has not yet faded.
Global stocks rebounded amid speculation that some countries might be exempt from potential U.S. trade tariffs, but China's warning of a "justified" response reminds investors that the spectre of a global trade war has not yet faded.
3 Hot Things Happening in the Markets Right Now
It took just over a decade, but the S&P Financials sector has almost erased the massive losses inflicted by the Great Recession, notes Yardeni Research. The sector's stock price index is just 5.8% off its peak 11 years ago on February 7, 2007.
Cigna (CI) - Get Report will buy Express Scripts (ESRX) in a monster $67 billion deal. The question now: who will Amazon (AMZN) - Get Report buy in the healthcare space.
There is an almost 60 point percentage gap between how FAANG member Netflix's (NFLX) - Get Report stock has performed this year vs. fellow club member Facebook (FB) - Get Report .
Market Snapshot
Global stocks rebounded Thursday, pulling Wall Street futures into the green, as investors reacted to reports that the U.S. may exempt certain countries from its impending trade tariffs and largely shrugged-off a warming from China that it could make a "justified and necessary response" should a trade war between the world's two biggest economies escalate.
U.S. equity futures suggest markets may nudge higher at the opening bell on Wall Street, with contracts tied to the Dow Jones Industrial Average marked 49 points higher from their Wednesday close and those tied to the broader S&P 500 seen 9 points, or 0.33% to the upside. Futures linked to the tech-focused Nasdaq gained 37.75 points. 
Express Scripts Holding Co. (ESRX) shares were an early market mover after U.S. health insurance giant Cigna Corp. (CI) - Get Report said it would pay $67 billion for the benefits management group.
Cigna said it will pay $48.75 in cash and 0.2434 shares of stock of the combined company per Express Scripts share, a deal that values the equity of the St. Louis, Mo.-based Express at $54 billion. Adding $15 billion in Express Scripts debt takes the enterprise value to around $67 billion, the companies said.
Express Scripts shares were marked 17.13% higher in pre-market trading in New York, indicating an opening bell price of $86 each, the highest since January 2016, in a move that would value the St. Louis, Mo.-based group at just over $49 billion. Cigna Corp shares, meanwhile, traded 5% lower during the after-hours session, suggesting a start to the trading day of $184.5 per share, a move that would extend its year-to-date decline to around 10%.
A more nuanced message from Washington, however, alongside data showing robust China imports and continued economic growth in Japan, boosted shares in Europe and Asia even though investors started the trading day cautiously this morning ahead of a key policy meeting from the European Central Bank in Frankfurt, where President Mario Draghi will issue fresh growth and inflation forecasts and possibly hint at plans to exit the Bank's myriad stimulus policies later this year.
The Stoxx Europe 600 index, the region's broadest measure of share prices, rose 0.18% to 373.38 points by mid-day in Frankfurt trading as markets around the Continent flitted in-and-out of positive territory. Britain's FTSE 100 was modestly lower from last night's close as the pound eased 0.1% against the U.S. dollar to 1.3881.
The dollar index, which gauges the greenback against a basket of six global currencies, was little changed at a near one-month low of 89.63, while benchmark 10-year U.S. Treasury note yield held steady at 2.87%.
White House trade spokesman Peter Navarro told reporters Wednesday that President Donald Trump is planning "a provision which will exclude Canada and Mexico until the Nafta thing is concluded one way or another," suggesting temporary exemptions within the existing treaty for his planned 25% tariff on imported steel and 10% levy on non-American aluminium, which is likely to be formalised by the end of the week.
China's response, however, reminded investors that any decision Trump ultimately takes will have echoes around the global economy - whose growth remains a key pillar of the current bull market.
"A trade war is never the right solution," said China's Foreign Minister Wang Yi. "In a globalised world, it is particularly unhelpful, as it will harm both the initiator and the target countries. In the event of a trade war, China will make a justified and necessary response."
The comments followed data which indicated China's exports surged 44.5% last month -- the fastest pace in three years -- and its trade surplus with the United States swelled to $49.92 billion for the first two months of the year. Japan is also roaring, with Q4 GDP revised to an annualised rate of 1.6%, taking its run of quarterly gains to eight, the longest winning streak in at least three decades for the world's third-largest economy.
Global oil markets were steady, as well, with investors holding prices in place following yesterday's smaller-than-expected buildup in U.S. crude inventors and questions over any change in the pace of global trading if tariffs and retaliatory measures are put in place by some of the world's biggest energy importers.
Brent crude futures for May delivery, the global benchmark for prices, slipped 23 cents from last night' New York close in early European trading to change hands at $64.12 per barrel. WTI contracts for April were also modestly higher, falling 14 cents a barrel to $61.01.
Watch all of Jim Cramer's full NYSE live shows right here: