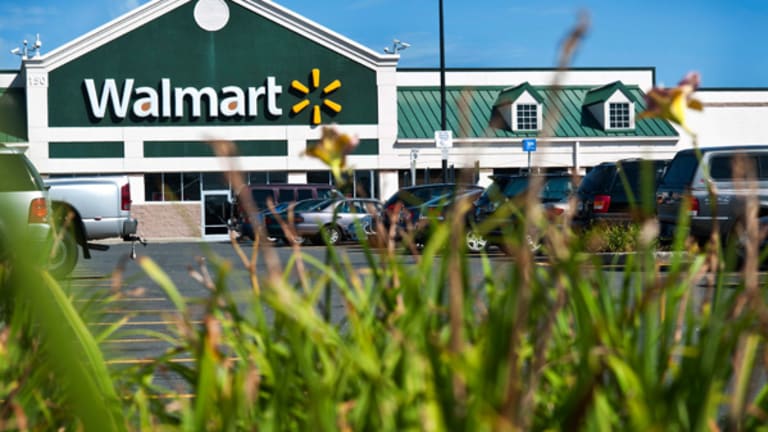 NEW YORK (TheStreet) -- Walmart (WMT) - Get Walmart Inc. Report has a tendency to make splashy announcements when it has a major new initiative. At its annual shareholder event each year that is full of pomp and circumstance, Walmart execs will share interesting facts and figures on slick-looking PowerPoint slides. The strange thing, as it pertains to all of this in-your-face activity, is that the company rarely updates investors on the progress of these major new initiatives! It's as if investors are left gauging progress on pet projects by studying three quarters of sales and margin trends but, by then, they are underwater in their position following the latest disappointing earnings outlook (commonplace for Walmart since early 2013...).
Here is the buried treasure I have discovered on Walmart, developments that have been lost in the sauce but, theoretically, are still receiving attention by the executive team and less senior workers.
OCTOBER 2012: INVESTOR DAY
Development: Walmart commits to investing $6 billion in lower prices through 2017 ($2 billion through 2014), mostly in food and consumables.
What has happened since: U.S. same-store sales were negative in each month of 2013, indicating that: (1) Walmart has not lowered prices enough in the real-time price discovery market that is online and Amazon (AMZN) - Get Amazon.com, Inc. Report led; and (2) the announcement by Walmart has caused Target (TGT) - Get Target Corporation Report, Best Buy (BBY) - Get Best Buy Co., Inc. Report, JC Penney (JCP) - Get J. C. Penney Company, Inc. Report, and others to become more competitive on price. As a result, Walmart hasn't gained its desired market share. If Walmart was gaining market share on a consistent basis, the bottom line is that same-store sales wouldn't be negative for four straight quarters.
JANUARY 2011: EVENT IN WASHINGTON WITH FIRST LADY MICHELLE OBAMA
Development: Walmart announces the reformation of thousands of everyday packaged food items by 2015. Sodium is outlined to be curtailed by 25%, non-natural sugars by 10%, and trans fats banished. Moreover, Walmart stressed its laser focus on filling in food desserts (or low income areas that don't have access to fresh food).
What has happened since: Not sure-  Walmart's gross margin hasn't exactly jumped as you would have anticipated if suppliers are re-doing product ingredients to include less of a specific item, with Walmart knowing full well and driving a harder line at the negotiating table. On the other hand, Walmart is executing on its food dessert promise by opening Neighborhood Markets averaging 38,000 square feet in closed supermarkets across the country.
OCTOBER 2013: INVESTOR DAY
Development: Management shares that 300 or so Walmart stores in the U.S. are producing negative same-store sales of around 7%.
What has happened since: No updates have been provided on the status of these laggard stores. I continue to expect Walmart to announce a store closure plan this year related to its large pool of underperforming locations. Note that Target will have closed seven stores by August of this year.
It pays to keep great notes.
-- By Brian Sozzi CEO of Belus Capital Advisors, analyst to TheStreet.
This article represents the opinion of a contributor and not necessarily that of TheStreet or its editorial staff.
At the time of publication, Sozzi held no position in the stocks mentioned.