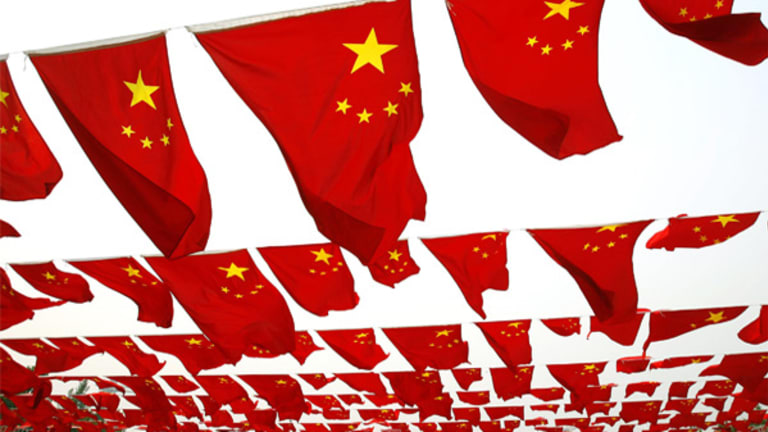 Some Chinese ETFs Soar, Others Fall to Earth
Investors are embracing the expanding Internet sector in China.
NEW YORK ( TheStreet ) -- This has been a wild time for China exchange-traded funds. Some funds have soared while others sank.
For this year, iShares China Large-Cap (FXI) - Get iShares China Large-Cap ETF Report lost 1.9%, according to Morningstar. During the same time, SPDR S&P China (GXC) - Get SPDR S&P China ETF Report gained 7.4%, and PowerShares Golden Dragon China (PGJ) - Get Invesco Golden Dragon China ETF Report returned 53.3%.
As the varied results suggest, the 30 China ETFs follow a wide range of strategies. Some funds focus on lumbering state-owned businesses, while other portfolios emphasize private-sector technology companies. Worried about mounting debt levels, investors shunned big banks in recent months.
At the same time, the markets contracted a case of Internet fever. This year many shares of fast-growing technology companies doubled, and price-to-earnings ratios topped 30. "The Chinese ETFs that have done well are the ones focused on the Internet and consumers," says Dennis Hudachek, an ETF analyst for IndexUniverse.com.
Despite the variety of the ETFs, no one choice may suit the needs of passive investors who seek to cover an entire market. Most China ETFs focus on narrow niches or subgroups such as stocks that trade outside the mainland. Hudachek recommends that passive investors start with SPDR S&P China, which is among the broadest choices. The ETF holds 230 stocks, with 27% in financial services, 17% in technology, and the rest scattered in sectors such as energy and materials. The portfolio includes stocks that trade in China and abroad.
The SPDR fund does not include A shares, stocks that are incorporated on the mainland and only trade there. In the past, foreign investors could not own A shares. But now foreigners can get access through a new ETF, db X-trackers Harvest CSI 300 China A-Shares (ASHR) - Get Xtrackers Harvest CSI 300 China A-Shares ETF Report. By combining the new fund with the older SPDR choice, investors can cover all the bases, says Hudachek.
The biggest and oldest ETF is iShares China Large-Cap, with $5.7 billion in assets. Holding only 25 stocks, the fund has 52% of assets in financials and 7% in technology. Because the portfolio only includes stocks that are traded in Hong Kong, the ETF cannot own some of the biggest Internet names. Among the stocks that are off-limits is Baidu (BIDU) - Get Baidu Inc. Report, a search engine giant that trades in New York and has a market capitalization of $50 billion.

Among the top-performing ETFs lately is KraneShares CSI China Five Year Plan (KFYP) - Get KraneShares CICC China Leaders 100 Index ETF Report, which began operating in July. During the past three months, the fund returned 7.6%, compared to 1.6% for the broad SPDR fund. KraneShares aims to hold stocks that will benefit from the government's massive efforts to reform the country.
In its latest five-year plan, the regime describes how it aims to modernize the economy and tackle problems such as air pollution and a lack of consumer goods. The Chinese plan calls for huge expenditures on sectors such as health care, clean energy, and the Internet. The KraneShares fund has 40% of assets in technology, 27% in consumer stocks and 5% in healthcare. "The Chinese leadership is implementing big changes -- and not just paying lip service to reform," says Brendan Ahern, managing director of KraneShares.
Huge growth in the Internet has boosted technology ETFs. During the past year, Guggenheim China Technology (CQQQ) - Get Invesco China Technology ETF Report returned 60.2%. Chinese consumers have embraced Internet shopping. There are now 190 million online shoppers, more than in the U.S. In the next few years, the country plans to spend billions of dollars to spread Internet shopping to cities in the interior that still have limited access.
Much of the excitement has focused on the coming initial public offering of Alibaba, the biggest Chinese e-commerce company, which has features of Amazon.com (AMZN) - Get Amazon.com, Inc. Report and eBay (EBAY) - Get eBay Inc. Report. In the second quarter the company's revenue jumped 60% to $1.7 billion, while net income more than doubled to $707 million. Alibaba is expected to sell about $10 billion in shares and have a market capitalization of around $100 billion.
While Chinese Internet companies are showing impressive growth, the stocks could be getting rich, says Dennis Hudachek of IndexUniverse.com. He cautions that Internet shares could retreat after the excitement of the Alibaba IPO dies down. Hudachek compares the Chinese surge to the rally of U.S. Internet shares that occurred in anticipation of the Facebook (FB) - Get Meta Platforms Inc. Class A Report IPO in May 2012. Once Facebook launched, you had a little bit of a hangover and some companies sold off, he says.
At the time of publication the author had no position in any of the stocks mentioned.
This article was written by an independent contributor, separate from TheStreet's regular news coverage.
Stan Luxenberg is a freelance writer specializing in mutual funds and investing. He was executive editor of Individual Investor magazine.