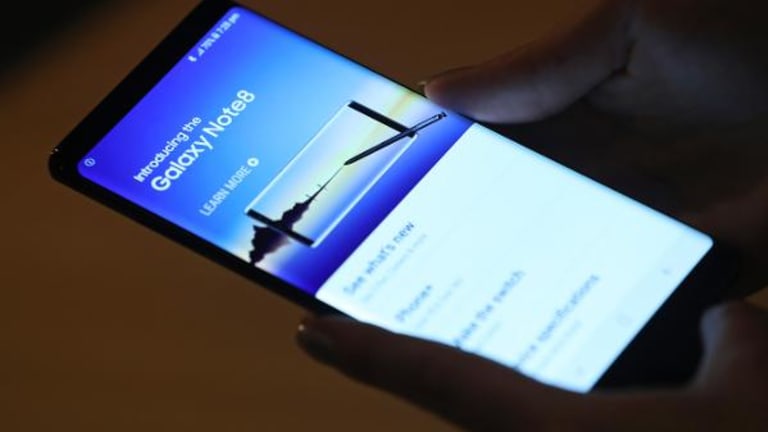 Samsung Reveals That It Already Has a Huge Jump on Apple's iPhone X
Samsung's Galaxy Note 8 demand looks good and Apple's anniversary iPhone looks hot, but hefty price tags could keep buyers' noses pressed against the showroom window.
Samsung Electronics (SSNLF) looked to steal some of Apple Inc's (AAPL) - Get Apple Inc. Report iPhone launch thunder Tuesday by touting the success of its pending Galaxy Note 8 release as the two tech giants square off in what could be their most important battle for global smartphone dominance.
The Seoul, South Korea-based group said pre-orders for its flagship Galaxy Note 8, which will hit stores Friday, have topped 650,000 and have steamed well past the demand recorded for Samsung's ill-fated Note 7 release last year, despite what some consider to be a hefty price tag that approaches $1,000 for even its cheapest version.
Samsung's update, and indeed the Friday sales debut for the Note 8 device, appear timed to establish a foothold in the sector's news cycle amid what is expected to be another gala product launch from Apple later today at the company's gleaming new campus in Cupertino, California. Three new iPhones, including an anniversary edition that could top the $1,000 mark once data fees are included, are expected to be unveiled by CEO Tim Cook, as well as updates to the company's Apple Watch and Apple TV offerings.
The twin launches come at a sensitive time for the world's top smartphone makers, both of which have lost market share this year as low-cost alternatives from Chinese firms captured new customers with aggressive marketing campaigns and innovative new features.
Samsung's piece of the global smartphone pie slipped 2.6 percentage points to 20.7% over the first quarter, according to industry trackers Gartner, while Apple's dipped to 13.7% from 14.8%. That said, the two groups still shifted a collective 130.6 million units, or just over one third of the worldwide total, during the first three months of the year.
However, both groups could also be courting fate as they head into 2018 with premium phones price in the $1,000 region just as customers in key Asia markets look to be more interested in cheaper options and buyers in Western European and North America suffer from "upgrade fatigue" as they hit their own personal ceiling on smartphone capabilities. 
Investor expectations, as well, may have set a bar for this year's twin set of launches that's too high for even the world's biggest tech companies to clear. Apple shares neared their all-time high in New York Monday after rising 1.81% on the session and pushing the S&P 500 towards its own record close. The group is now valued at just over $834 billion.
But are either the new anniversary iPhone, with its modestly larger screen and facial recognition software, or the new Galaxy Note 8, with its dual camera technology and 6GB of RAM, bold enough to command a $1,000 price tag? Especially when you consider that, in today's dollars, new iPhones will costs some 112% more than they did when they were first sold in 2007.
Apple is certainly betting that way: last month, Cook & Co. said they expect to see revenue over its fiscal fourth quarter -- which ends in September -- to be in the region of $49 billion to $52 billion, a figure that topped analysts' forecasts and suggests that rumours of production and technical delays linked to the 10th anniversary iPhone release later this year were unfounded.
Samsung, for its part is hoping that a $300 rebate will offset the sticker-shock of shelling out $930, plus installation fees, for its cheapest Galaxy Note 8 on offer. 
TheStreet's Jim Cramer, however, isn't so sure that the price tag will be the biggest impediment to Apple's high expectations.
"It's a problem in some countries, but it's certainly not a problem in this country, where people don't even seem to know how much they pay," he said. "Having just bought the 7 a year ago, I'm going to take a hard look at the 8. But people who own the 5 or the 6 are likely to upgrade."  
Apple is a holding in Jim Cramer's Action Alerts PLUS Charitable Trust Portfolio. Want to be alerted before Cramer and the AAP team buy or sell AAPL? Learn more now.
More of What's Trending on TheStreet: