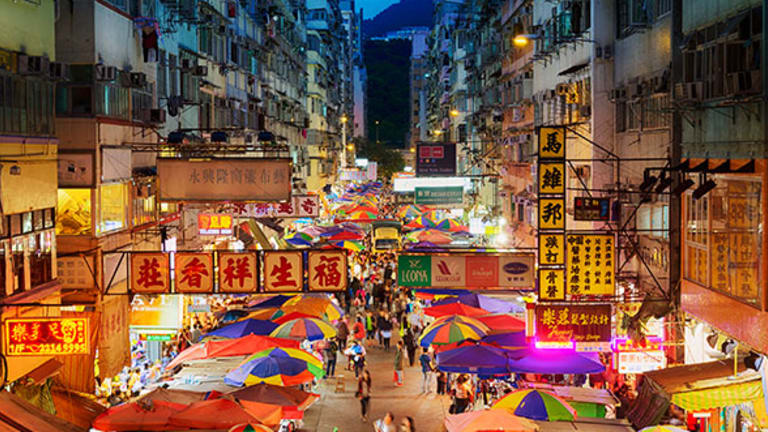 Slowdown in China or Recovery in U.S. Bigger Worry for Emerging Markets Economies?
Caught in the middle of two of the world's strongest economies, emerging markets remain vulnerable when these two markets move in different directions and are in different economic phases.
NEW YORK (TheStreet) -- Emerging markets are in a tough spot, trapped between two huge economies that are moving in completely different directions.
As the world's largest economy moves towards recovery, China seems to be in an economic turmoil and sending mixed signals to emerging markets. The reactions to any news coming from China or the U.S. seem to be driving the markets in directions that are making it difficult for any strong predictions. 
China: With falling stock markets, bad economic reports on its output data and investment growth, nothing seems to be going well for China. Amidst all this mayhem, the investors seem to be losing confidence and fleeing to safer markets. Whatever the reason for China's devaluation of the yuan, the fact remains that the emerging markets are caught between the devil and the deep blue sea and the worse may not be over yet. According to the Economist, the fluctuation in the "emerging-market currencies that have occurred so far may be a sign of more trouble to come."
Emerging markets at one time had pinned their hopes on China, when the developing economy took some bold steps in announcing New Development Bank in Shanghai (a bank led by five countries: Brazil, Russia, India, China and South Africa) and Asian Infrastructural Investment Bank (AIIB) in Beijing. The step was to get emerging Asian countries to rely less on international institutions like the World Bank and the International Monetary Fund. However, China's official reason for creating the new banks was entirely different -- to meet Asia's massive infrastructure-funding space.
The recent fall in China has many neighboring emerging markets worried. A classic example of this contagion effect was the turmoil in the emerging markets when China decided to suddenly depreciate its own currency, the renminbi (also known as the yuan). Stock markets in emerging economies tumbled, spooked by the specter of currency wars. Many emerging economies lowered the value of their currencies, so as to avoid trade losses. Low commodity prices and China's slowdown are already burdening the economies of Vietnam and Kazakhstan, which devalued their currencies. GDP growth in Singapore has gone to its lowest in three years below 2%.
U.S.: Emerging markets are also being pulled in a different direction by the U.S. While the U.S. economy is by far the least bad place when compared to other economies, it still can send many stock markets tumbling through changes in its policies and through the strength of its currency. According Salman Ahmed, global fixed-income strategist at Lombard Odier in London, "An emerging market relief rally won't come unless there is a clear sign that Chinese growth is stabilizing, whether the Fed hikes or not."
For emerging markets to remain positive and surge upwards, China may have a bigger role to play than what the Fed decides for the U.S. in terms of monetary policy. Hence, the good news from China could counterbalance the effect of whatever decisions the Fed makes in the foreseeable future. Maarten-Jan Bakkum, a senior emerging-markets strategist at NN Investment Partners in The Hague, said by e-mail to Bloomberg, "In emerging markets, China is at least as important a factor as the Fed. So if the Chinese market rises, investors are willing to believe that this can offset some of the Fed risk."
A strong dollar has put immense pressure on emerging currencies since the value of their U.S. dollar denominated debt has significantly increased. With an interest rate hike, which didn't happen in September but should happen soon, Brazil, Turkey, Indonesia, Russia and South Africa may face tough economic conditions in the second half of 2015, due to high borrowing costs.
Amid this mayhem, emerging markets also face their own domestic issues that also need immediate attention. According to Moody's, Fed tightening could make Turkey and South Africa vulnerable, as domestic issues contribute to financial instability. Russia faces recession due to combination of oil prices, western sanctions and massive devaluation of the ruble. After downgrading Russian government debt to junk status, Standard and Poor's downgraded Brazil's debt status to junk status as well. The country is confronted with huge current account deficits, political crisis and multibillion-dollar corruption scandal. Economies of Indonesia and Malaysia are also struggling with lower demand for commodities exports. Malaysia announced a multi-billion-dollar plan to help stabilize the country's struggling economy.
Emerging economies will react differently to both the Fed's rate decisions and China's policies, since their domestic issues and macroeconomic factors are very distinctive from one another. While many countries may see more fluctuations in markets by one decision, a stronger emerging economy may remain buffered from the same news.
This article is commentary by an independent contributor. At the time of publication, the author held no positions in the stocks mentioned.