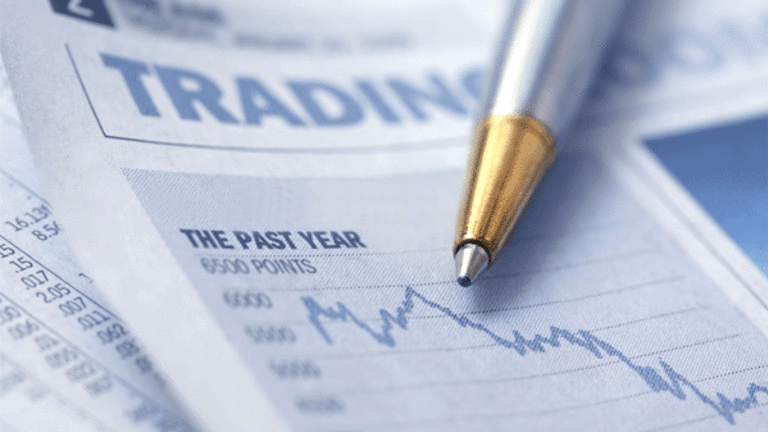 Six ETFs to Watch This Week
The turbulent protests in Egypt have made the Market Vectors Egypt ETF one of the most closely watched global funds.
NEW YORK (TheStreet) - Here are six ETFs to watch this week.
Market Vectors Agribusiness ETF
(MOO)
The agriculture industry remains on the minds of investors as rising food prices continue to steal headlines around the globe. Investors looking for equity exposure to this industry should turn their attention to MOO.
Boasting exposure to equipment producers such as
Deere
(DE)
and agriculture chemical firms such as
Potash of Saskatchewan
(POT)
, MOO provides investors with broad access to companies responsible for satisfying global food demand.
On Tuesday, top MOO component
Archer Daniels Midland
(ADM)
will release its quarterly earnings performance. The bar appears high because earnings performance so far from other agribusiness players including DE, POT,
Monsanto
(MON)
and
Mosaic
(MOS)
have been impressive.
Market Vectors Egypt ETF
(EGPT)
As investors attempted to gain access to the ongoing protests taking place in Egypt at the end of last week, EGPT went from being a lightly traded, largely ignored international ETF to one of the most closely watched global funds of the day.
With an average trading volume of only 28,000 shares, EGPT has had trouble gaining steam in the past. However, interest in the nation's political situation sent investors pouring into the fund, causing its volume to see a dramatic spike at the close of the week, breaching the 1 million mark on Friday.
While exciting to watch, I do not recommend that conservative investors attempt to try their luck with EGPT due to the volatile nature of the Egyptian marketplace. Additionally, it is unclear if this recent spike in trading volume will persist. If investors lose interest and EGPT's volume reverts back it its low levels after the riots fall out of the headlines, those left with large positions could have trouble unloading.
Guggenheim Timber ETF
(CUT)
The timber sector will be heavily influenced by this week's loaded earnings calendar with major industry players including
Wyerhauser
(WY)
,
Plum Creek Timber
(PCL)
, Nippon Paper Group, UPM-Kymmene, and
International Paper
(IP)
scheduled to report.
Guggenheim's CUT offer the strongest, most liquid way to gain direct exposure to target the performance of these companies.
CUT has seen a strong run up throughout the opening weeks of 2010, leading the fund to recapture levels seen prior to the 2008 economic meltdown. While a round of strong earnings could help propel the fund higher, investors should remain cautious.
Looking ahead, it will be important to keep a close watch on the real estate industry when attempting to navigate this region of the market. In the event that storms gather, timber demand could head south.
Market Vectors India Small Cap Index ETF
(SCIF)
It has been a tough couple of weeks for the India-related ETF universe. Since the start of the year, inflation fears have weighed heavily on the nation's markets, leading funds such as
PowerShares India Portfolio
(PIN)
and
WisdomTree India Earnings ETF
(EPI)
to tumble, undoing most of gains seen throughout the closing months of 2010.
The smaller, more volatile companies underlying SCIF have been hit particularly hard, leading the fund to test all-time lows.
Emerging markets remain attractive for internationally-minded investors. However, as evidenced by India's recent showing, it is important not to overlook their volatile nature. Until the skies clear, investors should approach this nation's markets with caution.
PowerShares Dynamic Media Portfolio
(PBS)
PBS will be a focus this week as a number of major media players step up to the plate to report their quarterly earnings performance and provide insight into the state of industries including television and news media. Some companies on tap include
Gannett
(GCI)
,
Viacom
(VIA.B)
,
McGraw Hill
(MHP)
, and
Time Warner
(TMX)
. Together, these four firms account for 16% of PBS' total portfolio.
Though not listed among PBS' holdings, the earnings from the
New York Times
(NYT)
and
News Corporation
(NWSA)
will likely influence the performance of PBS as well.
iShares MSCI Japan Index Fund
(EWJ)
A number of the Japanese market's largest components are scheduled to report their earnings number this week, making for an exciting environment for investors holding EWJ. In total, eight of the fund's top 10 positions will step up to the plate.
On top of releasing their earnings numbers, EWJ top components,
Toyota Motors
(TM)
and
Honda
(HMC)
will likely be closely watched on Tuesday when auto sales numbers are released. Together, these two firms account for 7% of the fund's total index.
Written by Don Dion in Williamstown, Mass.
RELATED ARTICLES:
>>Goldman's 8 Best Tech Stocks for 2011
>>5 Gold Mining Stocks Under $5
At the time of publication, Dion Money Management owned iShares MSCI Japan Index Fund.
This commentary comes from an independent investor or market observer as part of TheStreet guest contributor program. The views expressed are those of the author and do not necessarily represent the views of TheStreet or its management.