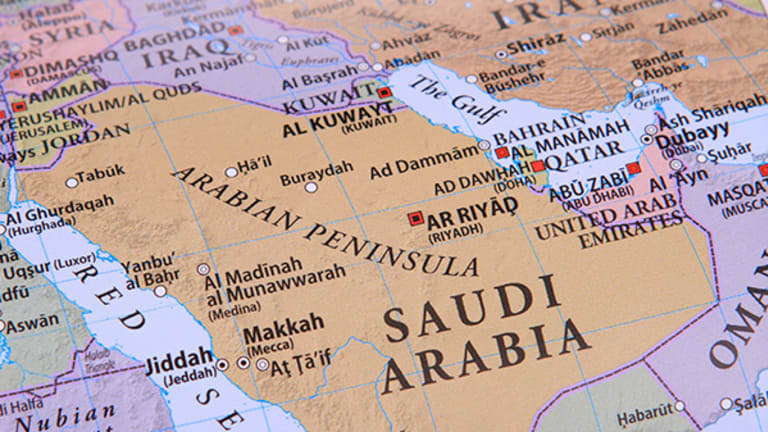 Saudi Arabia's Vision 2030 to Transform Its Oil-Dependent Economy
Everything you ever wanted to know about Saudi Arabia's ambitious plan to live without oil, which is supported by Deputy Crown Prince Mohammed bin Salman. But is the plan realistic?
The oil-dependent Kingdom of Saudi Arabia has a long-term blueprint to transform itself into a more diversified economy, with non-oil government revenue projected to increase six-fold to SAR1tn by 2030.
It is an ambitious dream to transform an economy that relies on crude oil exports for more than 70% of government revenue.
Deputy Crown Prince Mohammed bin Salman's 15-year economic plan is the boldest attempt yet in the kingdom's history to spur additional revenue streams amid a steep fall in commodity prices.
Saudi Vision 2030 is built around three key themes: a vibrant society, a thriving economy and an ambitious nation, which is a proxy for an efficient government.
The road map outlines numerous commitments under each theme with tangible goals to be achieved in the next five to 15 years. The planned economic diversification emphasizes increased participation of the private sector, with its share of total gross domestic product  projected to rise to 65% by 2030 from less than 40%.
The reforms would focus on key non-oil sectors including education, health care, manufacturing, mining, retail and tourism. The diversification is aimed at creating job opportunities for the growing workforce in the kingdom, where about half the population is younger than 25. 
Saudi Arabia aims to leverage its investment capabilities to become a global investment powerhouse.
A vital part of the plan encompasses the restructuring of its public investment fund, which is hoped to become the world's largest sovereign-wealth fund after the transfer of funds from the sale of a stake in Arabian American Oil Co.
Saudi Arabia intends to sell less than a 5% stake in Aramco, the value of which is pegged at about $2 trillion to $2.5 trillion. In addition to contributing to the fund's stake sale in Aramco and what is expected to be the world's largest initial public offering, the initiative would provide much needed depth and breadth to Tadawul, the Saudi stock exchange.
Most importantly, the fund would provide the necessary capital for the development of strategic sectors and establishing national corporations.
The plan also outlines more radical changes such as the women's empowerment program to alter the kingdom's ultra-conservative image. Saudi Arabia is determined to increase the participation of women in its workforce to 30% by 2030, from 22%.
The government has already begun working to achieve its Vision 2030 with numerous transformational programs. Moreover, an economic council headed by Deputy Crown Prince bin Salman would be responsible for the implementation of the plan.
Saudi Arabia is expected to release further details of the plan, a package of state budget reforms, regulatory changes and policy initiatives for the next five years known as the National Transformation Plan, by next month.
But despite strong local support for Saudi Vision 2030 and the backing of Deputy Crown Prince bin Salman, the execution of the plan would be a formidable challenge for the kingdom.
Broadly, each of the key themes under the plan contains specific goals and objectives to be achieved by 2020 and 2030, with certain objectives extending and overlapping within themes.
Here is a comprehensive look at what the plan entails, point by point.
1. A Vibrant Society
As written in the document, the first theme, to create a "vibrant society," is critical to achieving a strong foundation for economic prosperity.
"Our nation is the core of the Arab and Islamic worlds and represents the heart of Islam," according to the plan. "We are confident that, God willing, we will build a brighter future, one based on the bedrock of Islamic principles."
The plan's goals and commitments to attain a vibrant society include:
Rank among the top 15 economies, up from 19th now
Rank among the top 10 countries on the Global Competitiveness Index, up from 25th
Increase household spending on cultural and entertainment activities inside the kingdom to 6% from 2.9%
Rank 25th on the Logistics Performance Index, up from 49th, and to ensure that the kingdom is a regional leader
Rank 10th on the Social Capital Index, up from 26th
Increase capacity to welcome Umrah pilgrimage visitors to 30 million every year from 8 million
Have three Saudi cities recognized among the top 100 in the world
Increase household savings as a proportion of total household income to 10% from 6%.
Increase the ratio of people exercising at least once a week to 40% of the population from 13%
More than double the number of Saudi heritage sites registered with UNESCO
Increase the average life expectancy to 80 from 74
Increase women's participation in the workforce to 30% from 22%
Lower the unemployment rate to 7% from 11.6%
2. A Thriving Economy
As written in the plan: "A thriving economy provides opportunities for all by building an education system aligned with market needs and creating economic opportunities for entrepreneurs, small enterprises, and large corporations."
Those goals include:
Increase the private sector's contribution to 65% of GDP from 40%
Raise the share of non-oil exports in non-oil GDP to 50% from 16%
Increase non-oil government revenue to SAR1tn from SAR163bn
Increase the public investment fund to more than SAR7tn from SAR600bn
Increase the localization of the oil and gas sector to 75% from 40%
Increase the contribution of small- and medium-sized enterprises to the GDP to 35% from 20%
Increase foreign direct investment to the global level of 5.7% of GDP from 3.8%
Raise the non-profit sector's contribution to the GDP to 5% from less than 1%
Rally 1 million volunteers each year, compared with 11,000 now
3. An Ambitious Nation
The kingdom wants to "apply efficiency and responsibility at all levels. Our third theme is built on an effective, transparent, accountable, enabling and high-performing government," according to the plan.
The goals are:
Rank 20th on the Government Effectiveness Index, up from 80th
Rank among the top five nations on the E-Government Survey Index, up from 36th
Improve the efficiency of various government departments and establish committees to review them
Reduce bureaucracy and improve transparency in government programs
The government has set optimistic goals but has yet to announce a detailed plan to achieve these goals. However, it has marked certain milestones that it hopes to achieve by 2020.
Vision 2030 Goals: Key Sectors and Themes
These include some of what was already outlined and in some cases fall under these categories, in addition to other goals:
1. Privatization/Divestment
The kingdom plans to value state oil company Aramco at more than $2 trillion ahead of the sale of less than 5% of the company through an IPO.
The government will further develop the sophistication of investment vehicles, particularly after transferring the ownership of Aramco to the Public Investment Fund, which will become the largest sovereign-wealth fund in the world. It will increase the efficiency of the fund's management and improve its return on investment, with the aim of diversifying government resources and the economy.
Emphasis would be placed on facilitating the process of listing private Saudi companies and state-owned enterprises, including Saudi Aramco. This will require deepening liquidity in capital markets, fortifying the role of the debt market and paving the way for the derivatives market.
Deputy Crown Prince bin Salman plans to transform Aramco from an oil-producing company into a global industrial conglomerate.
2. Public Investment Fund
At the center of the plan is the restructuring of this fund, which Prince bin Salman said would become a hub for the country's overseas investments, partly by raising money through the sale of shares in Aramco.
The kingdom would raise the fund's capital to $2 trillion from $160 billion.
3. Tourism
By improving the quality of the services offered to Umrah visitors by 2020, the plan aims to welcome more than 15 millions Muslims each year. Separately, the former member of the National Haj and Umrah Committee of the Makkah Chamber of Commerce and Industry estimated revenue generated by the Umrah season to increase to SAR20bn by 2020.
The government has begun the third phase of expansion of the holy mosques. It is also modernizing airports and increasing their capacity. It has launched the Makkah Metro project to complement railroad and train projects. The metro service would cater to visitors to the holy mosques and other holy sites. Furthermore, it has strengthened the transport network to help pilgrims complete their visit with greater ease and convenience. The plan also proposes to establish more museums, tourist and historical sites, and cultural venues, and improve pilgrims' experience.
The plan proposes to build an Islamic museum in accordance with global standards. The museum will boast the latest methods of collection, preservation, presentation and documentation. It will also serve as an international hub for erudition and include a world-class library and research center.
4. Education
By 2030, the government plans to have at least five Saudi universities among the top 200 universities globally.
By 2020, the government aims to ensure that 80% of parents engage in their children's school and learning activities. The government will launch the Irtiqaa program, which will measure how effectively schools are engaging parents in their children's education. It will establish parent-led boards in schools to open discussion forums and further engage with parents.
The plan emphasizes building an education system aligned with market needs and creating economic opportunities for entrepreneurs, small enterprises and large corporations.
5. Small- and Medium Enterprises
Saudi Arabia's SMEs are minor contributors to the GDP, especially when compared with advanced economies. Therefore, the kingdom will strive to create suitable job opportunities for citizens by supporting SME entrepreneurship, privatization, and investment in new industries.
The government aims to create suitable job opportunities for citizens by supporting SME entrepreneurship, privatization and investment in new industries. To help achieve this goal, it has established the SME Authority and will continue to encourage young entrepreneurs through business-friendly regulations, easy access to funding, international partnerships, and a greater share in national procurement and government bids.
The government will strive to facilitate enhanced access to funding and encourage financial institutions to allocate up to 20% of their overall funding to SMEs by 2030.
6. Expatriates
The government plans to improve living and working conditions for non-Saudis by extending their ability to own real estate in certain areas, improving the quality of life, permitting the establishment of more private schools, and adopting an effective and simple system for issuing visas and residence permits.
In a televised interview, Deputy Crown Prince bin Salman discussed plans to introduce a "green card" system within five years to allow resident expatriates in the kingdom to have more rights, thereby improving its investment climate.
7. Social
Increase the share of Saudi families that own homes by 5% by 2020.
Launch the National Labor Gateway and establish sector councils that will determine the skills and knowledge required by each socio-economic sector.
Expand vocational training in order to drive economic development.
Work toward promoting private medical insurance to improve access to medical services and reduce wait times for appointments with specialists and consultants.
8. Housing
Increase the housing ownership rate by 5% until 2020. The government will introduce laws and regulations, encourage the private sector to build houses, and provide funding, mortgage solutions and ownership schemes to citizens.
Achieve housing coverage of more than 90% in densely populated cities and 66% in other urban zones.
9. Subsidies and Taxes
Subsidies for fuel, food, water and electricity will be better used by redirecting them to the needy.
The criteria for subsidies will be created based on the maturity of all economic sectors, their ability to compete locally and internationally, and their actual need for subsidies, without endangering promising and strategic sectors.
There will be no taxes on citizens' income or wealth, or on basic goods. The government will keep prices stable over the long term and provide Saudi citizens greater economic security.
10. Military
Cater to half the country's military needs locally to create more job opportunities for citizens and retain more resources in the country.
Localize more than 50% spending on military equipment by 2030.
11. Diversification of Economy
Privatize state-owned assets, including leading companies, properties and other assets.
Provide better opportunities for partnerships with the private sector through three pillars: the kingdom's position as the heart of the Arab and Islamic worlds, the country's strategic geographical position, and leading investment capabilities.
Localize the renewable energy and industrial equipment sectors, and generate 9.5 gigawatts of renewable energy.
Create tourist attractions, improve visa issuance procedures for visitors, and develop historical and heritage sites.
Achieve a digital economy and boost the technology sector.
The mining sector is expected to reach SAR97bn by 2020. The government will provide incentives to encourage companies to explore and develop the kingdom's mineral resources. Furthermore, it aims to create 90,000 jobs in the sector.
Localize the oil and gas sector, double gas production, and construct a national-gas distribution network.
Increase the contribution of modern trade and e-commerce to the retail sector to 80% by 2020 and create jobs in the sector.
Partner with the private sector to develop quality telecom and information technology infrastructure, especially high-speed broadband.
Increase telecommunications and IT coverage within and around cities.
Create special economic zones in the King Abdullah Financial District with visa exemptions and direct links to King Khaled International Airport.
Other Qualitative Goals
Improve the quality of services by privatizing government services, especially in health care, improving the business environment, attracting the finest talent and best investments globally, and leveraging the country's unique strategic location.
Create a conducive environment for citizens, the private sector, and the non-profit sector to assume responsibilities, face challenges and seize opportunities.
Encourage citizens to lead a healthy lifestyle and promote physical, psychological and social well-being.
Enhance the role of government funds, while attracting local and international investors and create partnerships with international entertainment corporations.
Provide land for cultural and entertainment projects and support talented writers, authors and directors.
Encourage participation in sports and athletics and work in partnership with the private sector to establish additional dedicated facilities and programs.
Promote safety and security in cities, drive infrastructure development, and provide high-quality services such as water, electricity, public transport and roads.
Ensure waste management, establish comprehensive recycling projects, reduce pollution and tackle desertification.
Promote optimal use of water resources by reducing consumption and using treated and renewable water.
Protecting and rehabilitating beaches, natural reserves and islands and open them to the general public.
Review regulations to simplify the establishment and registration of amateur, social and cultural clubs.
Launch Daem, a national program to enhance the quality of cultural activities and entertainment.
Establish more than 450 registered and professionally organized amateur clubs by 2020 for cultural activities and entertainment events.
Push for a common Gulf Cooperation Council market. Unify customs, economic and legal policies, and construct shared road and railway networks.
Collaborate with consumers, food manufacturers and distributors to reduce resource wastage.
The government hasn't outlined a step-by-step plan to achieve its 2030 goals.
It has however, announced 13 programs to achieve the targets. Some of the programs are already under way.
There are six key initiatives under way:
1. Government restructuring program. The Saudi government has started eliminating supreme councils. Furthermore, it has established the Council of Political and Security Affairs and the Council of Economic and Development Affairs, which have expedited strategy development and decision-making, and resulted in better governance. The government plans to continue with its restructuring policy.
2. Strategic directions program. The government has reviewed the existing roles of various government agencies to align them with the country's future economic and social needs. This was done on the basis of detailed studies and benchmarks as well as a comprehensive analysis of each agency's programs, plans and relevant performance indicators.
3. Fiscal balance program. The government has formed committees and new departments to review relevant regulations and capital expenditure, their approval mechanism, and measurable economic impact. It plans to continue diversifying non-oil revenue in the coming years by introducing new measures.
4. Project management program. In order to coordinate its efforts toward reforms and transformation, the government has adopted an effective approach to project management and established expert project management offices under the Council of Economic and Development Affairs and other government agencies. It has also set up a central delivery unit.
5. Regulations review program. The government reviewed existing laws and enacted new laws in the past year, including company laws, non-governmental organizations' law, General Authority for Endowments law, and the law concerning fees on non-used land. It plans to continue this process to ensure that the country' laws are in line with the kingdom's priorities.
6. Performance measurement program. The government has established the Center for Performance Management of Government Agencies to institutionalize the principle of performance measurement for the evaluation of all government agencies, their programs, initiatives and executives. In addition, it has built performance dashboards to promote accountability and transparency.
There are also seven key initiatives that are planned:
1. Saudi Aramco strategic transformation program. The government is working on a transformation program, which will position state-run Saudi Aramco as a leader in other sectors besides oil.
2. Public Investment Fund restructuring program. Following the restructuring of the fund, the government is working on refining its investment capabilities and enabling the fund to manage a broader portfolio of assets, in a bid to convert it into the world's largest sovereign-wealth fund.
3. Human capital program. The government plans to launch a program for nurturing human talent. The program will assess the efficiency of civil services and support government agencies with regard to staff, assessments, consultations and strategic partnerships related to human capital.
4. National transformation program. Under this program, government agencies are working on identifying partnership opportunities with the private sector as well as innovative administrative and funding approaches.
5. Strategic partnerships program. The Saudi government is working to build new strategic partnerships with the kingdom's economic partners around the world, with the aim of connecting with three continents (Africa, Asia and Europe) and enhancing exports.
6. Privatization program. The government is working on determining additional sectors suitable for privatization, with the aim of creating a comprehensive privatization program by employing international best practices and enabling the transfer of knowledge.
7. Program for strengthening public-sector governance. The government aims to restructure government agencies on a continuous basis to eliminate redundant roles, unify efforts, streamline procedures and define responsibilities. A strategic management office will be established under the Council of Economic and Development Affairs to facilitate coordination between government programs and ensure their alignment with the national vision. A Decision Support Center will be established at the Royal Court to support decision-making through analytical and evidence-based information and reports.
Although Vision 2030 is the most comprehensive program aiming to overhaul the country, it isn't the first attempt. In the past, smaller incremental changes have already been undertaken on a regular basis, making it a continuum of reforms.
Past Measures Taken by the KSA's Government to Open the Economy
Deputy Crown Prince bin Salman foresees the kingdom being able to "live without oil by 2020."
With the launch of Vision 2030, the kingdom has taken a significant step in the right direction. Nonetheless, the timing and pace of reforms to achieve the long-term objectives is uncertain.
Moreover, the kingdom has been criticized in the past for slow reforms.
The path will be extremely challenging with several roadblocks, especially for the cultural reforms aimed at changing the ultra-conservative social structure. The implementation of these reforms is expected to result in significant backlash from the conservative parts of Saudi society.
However, persistently low oil prices and a rapidly rising population provide a strong impetus to the government to diversify its economy away from crude oil exports.
Several positive developments have recently been recorded in Saudi Arabia, including a cabinet reshuffle, wherein princes who held ministerial rank were replaced with civil servants with PhDs and other degrees from Western universities. Moreover, the deputy crown prince demonstrates a strong drive for change, which could help turn Vision 2030 into a reality and allow the kingdom to make its mark.
Nonetheless, the overall transformation plan would require sustained long-term commitment from the government. The actual transformation of the kingdom would depend on the efficiency, timing and pace of implementation of the plan.
This article has been co-written by Nikhil Salvi, Samia Hazuria and Subarna Poddar, analysts, Investment Research & Analytics, Aranca Research.
Nikhil Salvi
Nikhil specialises in macroeconomic research across major developed economies as well as emerging economies, especially India and the Middle east, as part of his eight years of experience working in the capital markets.
Samia Hazuria
Samia has over four years of experience in investment research, covering equities in the US, Australia and African region in the Media, Food & Beverages, Retail and Technology sectors.
Subarna Poddar
Subarna has more than eight years of experience in sell-side investment research, covering Middle East, US, and Indian equities in the Banking, Shipping, and Pharmaceutical sectors.
This article is commentary by an independent contributor. At the time of publication, the author held no positions in the stocks mentioned.