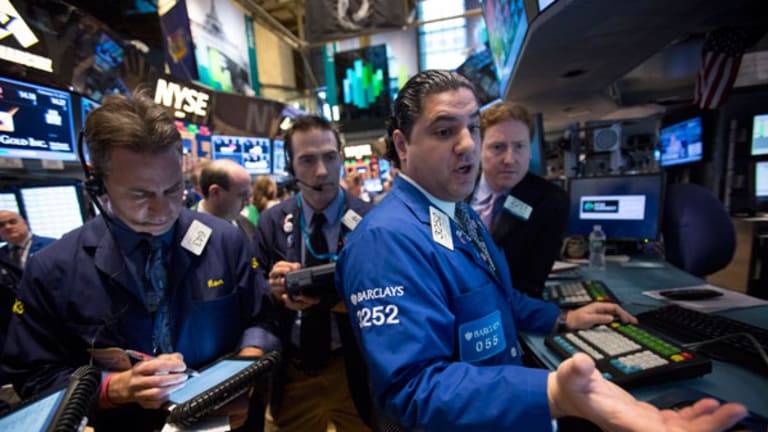 Rupee Set for Prolonged Weakness
Policy changes by India's central bank could create undesirable consequences if foreign investors start looking for emerging market alternatives.
Policy changes by India's central bank could create undesirable consequences if foreign investors start looking for emerging market alternatives.
NEW YORK (TheStreet) -- The Indian rupee is one of the world's worst-performing currencies this year, falling to record lows against the U.S. dollar and prompting drastic policy changes from the Reserve Bank of India (RBI).
Most of this currency weakness is being propelled by the country's growing current account deficit, but there are reasons to believe recent efforts to reduce imports and boost capital inflows will have little impact. The rupee is already showing losses of nearly 30% when we look at price activity over the last two years, and it is quickly becoming clear that India could be facing one of its world financial crises in decades.
Restrictions on precious metals imports, the imposition of tighter cash supply, and limitations placed on currency derivatives make up the bulk of the RBI's plans to defend its currency. But these programs do little to attract overseas investment and could have unintended consequences if foreign investors start to view these restrictions unfavorably, withdraw capital, and start to look for new areas to gain exposure to emerging markets.
Most likely, the RBI's strategies will increase borrowing costs both for companies and the government itself, damping prospects for India's GDP outlook into 2014. Add to this the fact that currency defense is a very difficult practice when a country has a large current account deficit, and the chances of success at the RBI deteriorate even further. Official figures suggest India's current account deficit has increased to 4.8% of GDP (another troublesome record), and if capital restrictions negatively influence corporate profits, incentives for investment in the country will be scarce.
At this stage, markets are positioning for reduced stimulus injections from the
Federal Reserve
, and all of this points to increased uncertainty in emerging markets.
Since the end of May, foreign investors have sold nearly $12 billion in Indian debt, prompting proposals to ease restrictions on foreign investment in some industry sectors. To counter these trends, the RBI will need to make credible assurances that India is be able to attract foreign investment in a sustainable way. But with growing difficulties seen in several major emerging market economies, this will prove to be a difficult task.
The first priority for the RBI is to stabilize the rupee in order to avoid scenarios similar to what was seen in the Indian financial crisis of the 1990s. In 1991, GDP growth dropped to 2.1% (down from 5.6% a year earlier) as deepening budget and current account deficits led to currency declines of nearly 40% over a two-year period. This forced the government to request $2.2 billion in emergency loans from the IMF, and led to drastic reforms in India's foreign investment policies. In the years since, growth rates have seen significant improvement -- with GDP topping out above 9% from 2005 to 2008.
On the positive side, India's $280 billion in foreign reserves put the country in a better position to buy time and reverse some of the negative trends we are seeing now. This amount is sufficient to cover import costs for roughly six months. In 1991, India's reserves were enough to cover imports for only two months. But while the current situation is not as dire as what has been seen in previous years, there is still real cause for concern, and a period of prolonged volatility should be expected for the rupee.
India's GDP is growing at 5%, which is the slowest rate since 2003. The RBI has also revised downward its projections for next year, with a 5.5% print now expected.
The real risk for the country's economy would be seen if foreign investors respond negatively to the RBI's latest policy changes and begin withdrawing capital at faster rates. If this occurs, the RBI's policy changes would actually contribute to the economic negatives those changes were meant to correct.
Either way, the Indian rupee will likely experience a period of continued weakness until meaningful progress is made in balancing its international trade flows. With all this in mind, the rupee remains a sell on rallies.
At the time of publication the author held no positions in any of the stocks mentioned.
This article is commentary by an independent contributor, separate from TheStreet's regular news coverage.
Richard Cox is based in China, and has lectured at several universities there on international trade and finance, focusing primarily on macroeconomics and price behavior in equity markets. His articles appear on a variety of Web sites, including MarketBulls.net, Seeking Alpha, FX Street and others. Investing strategies are based on technical and fundamental analysis of all the major asset classes (stock indices, currencies, and commodities). Trade ideas are generally based on time horizons of one to six months.